BFD of the Month: Brandi Carlile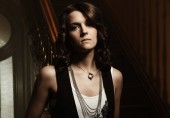 Everyone's short on cash and time these days. If you have just one cultural outing this month, let it be our BFD.
I remember when Brandi Carlile opened for pianist Vienna Teng at The Neighborhood Theatre and blew the place away. I've never seen so high a percentage of an audience bolt for the merch table during intermission to buy the opener's CD. I had just witnessed an early performance of someone who was going to be big.
Carlile is my favorite thing to come out of Seattle since the northwest capital gave us good coffee. Rolling Stone named her one of "Ten Artists to Watch" in 2005, and her popularity has grown steadily since. She's good enough for Elton John to have collaborated with her; it was on her sweet, raucous song about missing her niece, Caroline, when she's on the road. Dave Matthews is also a fan.
The hard-working folk rocker has toured almost constantly since she began her career … in high school. This is her first solo tour; expect it to sell out. Do everything possible to be in the audience at the Knight Theater on Nov 11. Details.