Big Goals: Will Charlotte FC Draw the High Numbers It Anticipates?
Charlotte's new Major League Soccer team has slogged through COVID, indignation over ticket prices, and other complications before it's built a roster, much less played its first match. Team officials say they expect a packed stadium for first kick anyway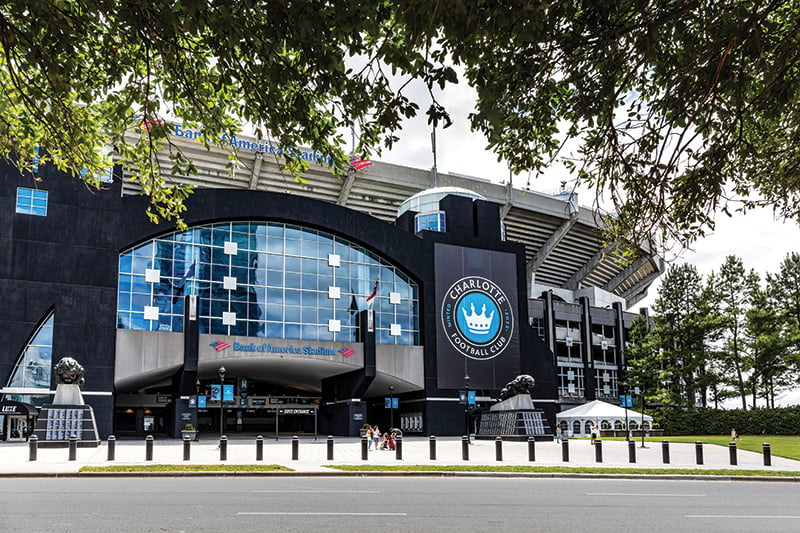 If you wonder whether Charlotte is ready for Major League Soccer, consider this: Charlotte Football Club, the fledgling franchise that will kick off next spring, has weathered a pandemic, a yearlong delay, and a ticket pricing backlash. Yet team officials hope—no, expect—to set an MLS attendance record for its opening match next March.
"Our expectation is crystal-clear," Charlotte FC President Nick Kelly tells me by phone in May. "We want to be 74,000-plus. We can do that at Bank of America Stadium. We think if we can create a first game with 74,000-plus Charlotte and Carolina soccer fans, that'll set the precedent of what to expect for the remainder of the year."
Bank of America seats 75,000 for Carolina Panthers games. While it'll typically be configured to seat 38,000 in the lower bowl for soccer, and the team expects most games to draw about 30,000 fans, Charlotte FC aims to fill the upper deck for "first kick" in 2022. So much for tempering expectations in financially tenuous times. "Given the capacity of Bank of America Stadium, the demand we've seen since our club's announcement, and the chance to be a part of the first MLS match ever for Charlotte FC leads us to believe this is an attainable target," Kelly says. "A lofty one, but attainable."
The FC draws much of its confidence from the success of its future rival to the southwest, Atlanta United, which owns the attendance record Charlotte FC is trying to break: 73,019 for a 2018 playoff game at Mercedes-Benz Stadium. The United has maintained one of MLS' most ardent fan bases since its debut season in 2017. The United made the playoffs that year and won the MLS Cup in 2018, and the team is considered the gold standard for MLS expansion success. Charlotte shares not just a rivalry but a similar Southern sensibility, a booming young professional class, and a growing international influence. "If we're not looking at them," Kelly says, "we're not setting the right standard."
But Charlotte FC entered the league under circumstances Atlanta United didn't face. Carolina Panthers owner David Tepper paid a record expansion fee of $325 million to secure the 30th MLS franchise, announced in December 2019. A few months later came the COVID lockdown, a burden for all pro sports franchises but especially onerous for one just getting started. "We got stuck with one of the hardest challenges probably in professional sports," Kelly says.
Of course, COVID and economic hardship landed heavily on Charlotte FC's potential fans, too—which caused concern and anger when they heard how much it might cost to attend the games.
***
The club hired Kelly, nationally known for his sports marketing work for Anheuser-Busch, in December 2020. Two months later, Charlotte FC announced it would require season ticket holders to buy personal seat licenses, or PSLs, in addition to some of the highest season ticket prices in MLS. The PSL, a one-time fee that ranges from $350-$900, is a first for an MLS franchise. With the PSL factored in, the per-game cost of an average season ticket is $54—highest in MLS.
The prices stunned even some enthusiastic Charlotte soccer fans, especially considering the team's own estimation of its fan base compared to the Panthers': five times more likely to be between 18 and 34 years old and four times as likely to be Hispanic. The city's Latino community comprises a large number of low- and working-class residents.
"The one thing that we basically made very clear to (disgruntled fans) was that we respect your opinion on the PSL," Kelly says. "We hear you, but we'd still love to have you to a match. If the season ticket model is not for you, we're going to have affordable ways for every fan in the Carolinas to get in the building." After a news conference in late May, Kelly stressed that when single-game tickets go on sale—price range to be determined, as they hadn't gone on sale as of this writing—that "we'll be sure we price at a level that allows fans to attend a match in our inaugural season."
Other fans say they understand the need for the team to balance affordability and profitability. "I get it, from a business perspective, why they would do PSLs, because they've got a product that people want to watch and buy into," says David Gusler, president of Mint City Collective, a 2,000-member Charlotte FC supporters' group. "If you have the ability to do that and get funding to invest back into the stadium, I get it. But then from a fan perspective, it's not the most fan-friendly option when you already have a stadium built. It just doesn't seem to rub some soccer fans very well."
Gusler bought season tickets in the standing-room supporters' section, which doesn't require a PSL and averages $27 per game. So did Kristin Bobenage, a Panthers season ticket holder. "I feel like the (season) ticket prices are not overly expensive," Bobenage says. "If you're committed to going to every single match, then it might be, but I feel like hopefully there are opportunities for it to be inexpensive just to fill some of the seats."
Despite the pricing objections, Kelly says, a "very, very low number" of people asked for refunds of their season-ticket deposits, and many of those canceled because of relocation or COVID-related financial issues. Of the 10,000 deposits the team secured after the December 2019 announcement, Kelly says in May, more than half have converted to season tickets, and the club had "thousands" yet to contact. "We're far exceeding where we thought we would be three months into ticket sales," he says.
Far enough to draw a record crowd for the first game and 30,000 per match after that? Club officials are still working on that part. The team planned to build on initial demand over the summer with a marketing blitz it calls the For the Crown Tour, with initial stops at the Coca-Cola 600 at Charlotte Motor Speedway on Memorial Day weekend and the Carolina Country Music Festival in Myrtle Beach, South Carolina, in mid-June. "The purpose of the tour is to reach an audience that might not yet be engaged with our club," Kelly says.
In the fall, the team plans to take advantage of $50 million in soccer-specific renovations at the stadium, which Panthers fans will see all season, not to mention Clemson and Georgia fans who'll converge there for a college football game Sept. 4. "It'll be hard to miss," Kelly says.
And as the FC builds its roster, players will join the campaign. "Oh, we're going to wear out our players this fall," he says. "They'll be at every tailgate out there."
***
Fans thrilled with the announcement at the end of 2019 were surprised 10 months later when the team and city announced a change in location for the team headquarters. When Tepper initially stood before a crowd and bank of cameras at the Mint Museum Uptown, he and team officials expected to house the headquarters at the long-vacant Eastland Mall site, the hub of Charlotte's east side and the heart of the city's largest Latino community.
In October, though, the team revealed that it would locate its headquarters at the stadium and reserve part of the old mall site only for its elite Academy youth program, which practices at Manchester Meadows in Rock Hill but expects to move to Eastland in July 2022. The main factor was the city's hesitation to spend an estimated $110 million in public money to prepare the Eastland site and surrounding area for the headquarters; the revised plan requires only a $35 million public investment, $25 million of that amount for the city's share of stadium improvements and construction around it. Kelly, who says Charlotte FC will be headquartered at the stadium "for the foreseeable future," adds that the centralized location makes sense given the Panthers' planned relocation of its headquarters to Rock Hill, South Carolina, in summer 2023.
"We're going to take a lot of the practice fields, the Atrium Dome (indoor practice facility), even the weight room, and convert it over to be soccer-specific," he says. "Literally overnight, we would be able to turn this into one of the best soccer facilities in the world … even when you start looking over in Europe. Our practice facility would be in uptown. Our headquarters would be in uptown. We're not in a suburb coming in town for a soccer match. For a lot of these international players to have the ability to live, play, work, all within an uptown, South End type of lifestyle, is an extremely attractive option when we're recruiting talent to come here."
The switch turned out to be less of a concern for many in Charlotte's Latino community than ticket prices. "There were mixed feelings about (the headquarters) anyway," says José Hernández-Paris, the executive director of the Latin American Coalition. The LAC is Charlotte's most prominent Latino advocacy organization, and Hernández-Paris' office is 1,000 feet from the Eastland site. "I've been to training sites in other countries, and I've seen the training. … It's a large field with a fence. I'm not sure what impact that would have on the community surrounding it."
On the whole, he says, the Latino community eagerly awaits the first season.
"I didn't really expect the community to be as excited as I've seen it—to be able to support a local team," Hernández-Paris says. "Many people in the community have made Charlotte home, and it's very traditional in most of Latin America that each city has their own team that symbolizes a pride or a connection to the city. I think people are finding that it's an opportunity to connect to Charlotte and to have the pride of being a Charlottean, particularly in a sport like soccer, which is so ingrained in our culture."
Even with the team's uptown location and the extensive renovations to accommodate soccer—including a new synthetic-turf field to replace the natural surface the stadium has sported since its opening in 1996—some city officials expect Tepper and his organization, Tepper Sports and Entertainment, to eventually come back to the city for more public investment.
"We had intentions of having a big discussion on everything all at once: Eastland, soccer, headquarters, football, and an entertainment district around the stadium," says Tariq Bokhari, a Republican who chairs the City Council's workforce and business development committee. "COVID happened, other things happened, and we had a smaller initial discussion. We know that there are other discussions that likely have to still be had."
Still, Bokhari, as the representative for District 6 in south Charlotte and a soccer dad to three young children, says he sees MLS as a great opportunity for the city. For him, the vision crystallized when he toured Mercedes-Benz Stadium in Atlanta with his fellow council members in 2018.
"What we learned primarily on that Atlanta trip—and why they had such drastic success so quickly—was the deep connection and leveraging of the fan base," Bokhari says. "Getting that excitement roaring hot and allowing that to fuel them going on this dominant journey where they control the airwaves, they control the ratings, and they won the championship. … I walked away from that knowing that the key to success or failure lies within the fan base."
Carroll R. Walton, a former sportswriter for The Atlanta Journal-Constitution, is a freelance writer in Charlotte. Senior editor Greg Lacour contributed.