Birdsong Brewing celebrates 2 years with special bottle release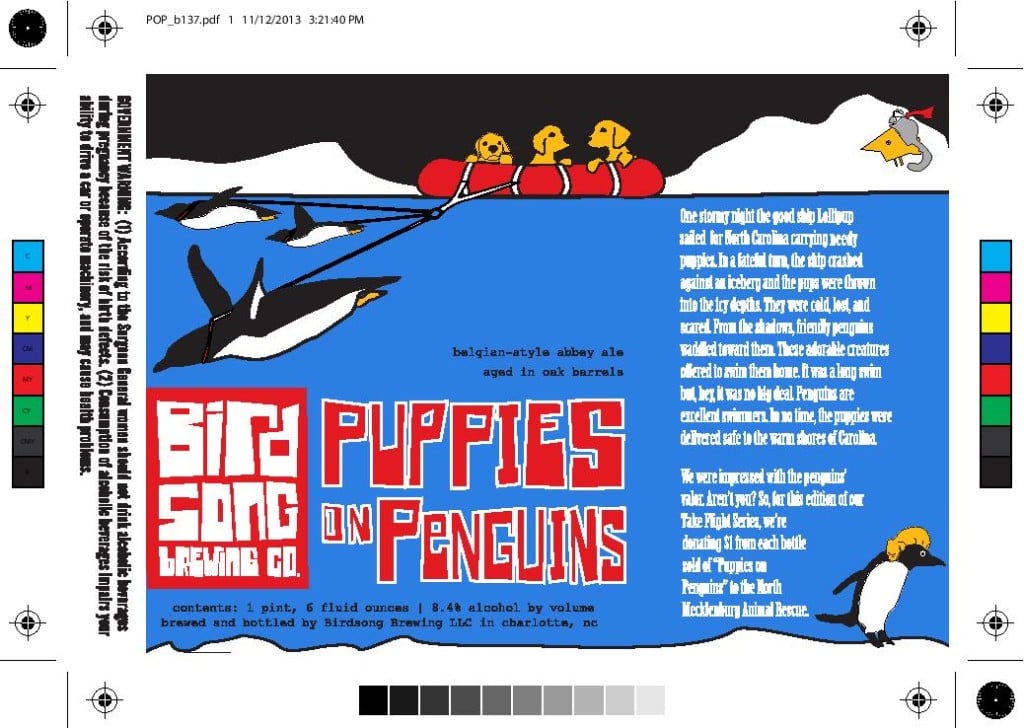 The first time I had the pleasure of trying a beer from Birdsong Brewing Co. was at the inaugural Queen City Brewer's Festival. Head brewer Conor Robinson poured me a glass of Jalapeño Pale Ale, and it was unlike any beer I'd ever tried. On the spot, I bought a growler to take to my friends for a Christmas party.
Two years later, the brewery's beer (including the signature Jalapeño) is now widespread throughout Charlotte-area restaurants, bars and bottle shops. And to celebrate its second anniversary, Birdsong is releasing its second bottled beer this Sunday in the taproom, along with a number of other specialty beers.
Part of the Take Flight Series, "Puppies on Penguins" will have a familiar taste to Birdsong fans. It's actually The Pride Abbey Ale from 2012 that has been aging in red wine barrels for a year. The folks at Birdsong then added in handpicked sweet cherries from an orchard in Virginia. Coming in at 8.4 percent ABV, these bottles will only be available at the taproom. Puppies on Penguin bottles are $12 each, with $1 from each sale donated to the North Mecklenburg Animal Shelter.
This beer follows Birdsong's first release, "Squirrels on Geese," which was the brewery's Higher Ground IPA aged in Chardonnay barrels. And just like SOG, Puppies on Penguins has an interesting story on the name. (Click on the picture to see the entire tale.)
The bottle release is just one of several events Sunday surrounding Birdsong's two-year anniversary. The brewery will also be offering a special Pride flight that includes the 2012 Pride, Puppies on Penguins, this year's Pride and a cask of Pride. Other one-offs include a coffee vanilla porter, Say It to My Face red IPA and the bourbon barrel-aged St. Tuber, along with Birdsong's regular beers on tap.
Birdsong's two-year anniversary this Sunday (Dec. 8) is from noon to 9 p.m. There will be live music throughout the day from The Loose Lugnuts, The Dimestore Saints and a special appearance from the Irish Pipe Band. The Queen City Q food truck will also be on location.