Birdsong Brewing Co. debuts its first bottle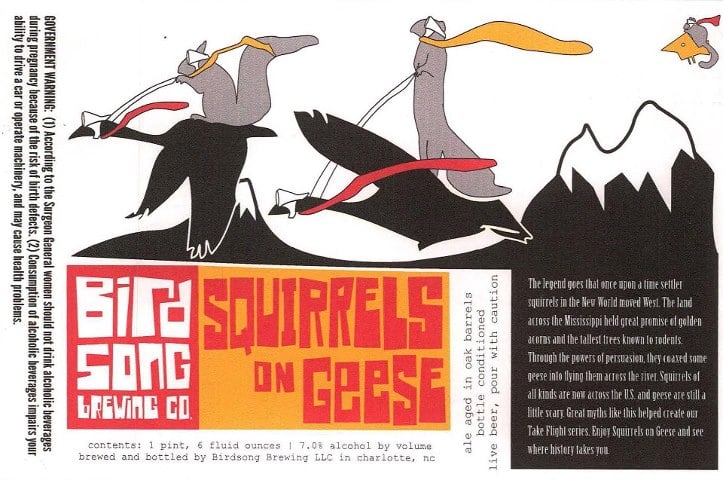 Charlotte's breweries are getting into the bottling business more and more these days. Olde Mecklenburg started it all off and currently have eight bottles you can purchase at various times of the year, including the ever-popular Copper (available year-round) and Rein Pale Ale (which had its 2013 version released a few weeks ago).
NoDa's first bottle, TriUmphant, was recently re-released after being introduced last March. The brewery followed with Pacific Reign and later added Imperial Coco Loco as the first bottle in its "Top Shelf Series." (NoDa also plans on having Hop, Drop 'n Roll and regular Coco Loco in bottles at some point during the next month or two.)
Also, Triple C's first offering, Baby Maker Double IPA, has been on shelves of local bottle shops and at the brewery for nearly three months.
Now, Birdsong is taking flight with its first-ever bottle, and the brewery picked a fantastic name for its inaugural release.
Squirrels on Geese is described on Birdsong's Facebook page as "our Chardonnay Barrel Aged Higher Ground." The Higher Ground IPA is already a fantastic beer by itself, so I'm really looking forward to trying this barrel-aged version.
And what's behind the name? Well, the label tells a story of "settler squirrels in the New World moving West" and persuading geese to fly them across the Mississippi River. Sounds like there's more to this, maybe a good reason to pull up a seat at the brewery.
Like Higher Ground, Squirrels on Geese will have a 7.0 percent ABV. The folks at Birdsong worked over the weekend bottling SOG and in all, 52 cases were produced. The release is planned sometime in mid-June. I'll keep everyone posted when a firmer date is announced, along with the price.