Birdsong Brewing debuts newest can, Lazy Bird Brown Ale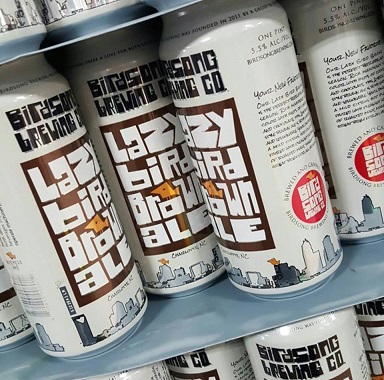 When Birdsong opened its new space last year, one of the new features was a canning line for the brewery. That was put to immediate use with arguably Birdsong's flagship beer, Jalapeno Pale Ale, much to the delight of local craft beer lovers.
Now, Birdsong is set for its second (well, actually third, more on that in a second) can run, and it's chosen Lazy Bird Brown Ale. Cans of Lazy Bird will be available at the taproom beginning today (Jan. 5), with each 4-pack costing $10.
Coming in at 5.5 percent ABV, Lazy Bird has notable coffee and chocolate characteristics which, combined with the roasted malts, makes for a terrific brown ale. If you recall, Birdsong also aged Lazy Brown in rum barrels from Muddy River Distillery for its most recent bottle release, Mongeese on Monkeys.
You'll be able to get Lazy Bird at Birdsong's taproom immediately, and the brewery plans to send the cans into local distribution beginning next week. And you won't have to wait too long for Birdsong's next can, as the brewery has already announced it will be doing a limited, taproom-only run of Honey Pie Double IPA cans to coincide with the beer's release on January 14 (This is similar to when Birdsong did a small can release of its MexiCali Stout a few months ago).