Birdsong busy in early 2018 with expansion, cans and new beer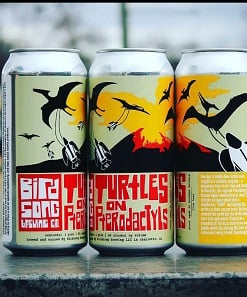 Not long after celebrating its sixth anniversary, Birdsong is kicking off the new year with a flock of announcements, including expanding its distribution footprint, an old favorite returning in a new package and another entry in its continued IPA series.
Already available in Columbia, Fort Mill and Rock Hill, Birdsong will extend its wingspan into the Greenville/Spartanburg area in mid-February. The brewery will work with Greenco Beverage Co. to distribute its year-round beers as well as seasonals.
Speaking of which, one of Birdsong's most popular seasonals returns this week with some new flair. Turtles on Pterodactyls will be released in the brewery's taproom beginning at 3 p.m. As owner Chris Goulet told me late last year, Birdsong is no longer bottling for the time being, meaning all of its former beers in bottles are moving to cans (this began with Puppies on Penguins, which was discontinued after its most recent release a few months ago).
In essence, Turtles on Pterodactyls is the barrel-aged version of Birdsong's wonderfully-done MexiCali Stout. This year, the brewery aged the beer in Buffalo Trace bourbon barrels for the first time. As mentioned, ToP will be in 4-packs of 16-ounce cans ($18 each), as well as on draft Thursday.
Looking ahead, Birdsong will release the second of its IPA series with Turn to Stone. This beer uses a brand new series of hops called Medusa, and is described by the brewery as having "bright aromatics of melon and guava with a light bitterness that leaves a clean and pleasant finish." Cans of Turn to Stone will be available at Birdsong Saturday, Feb. 10, and look for future IPA series cans throughout the year, likely one per month.