Birdsong celebrates six years eyeing solar, sexy and sustainability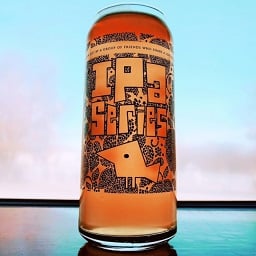 The idea for Tara and Chris Goulet was straightforward: create a space where the couple and their friends could enjoy their beer. A standard bar with tables throughout, no TVs and let's offer free peanuts as well as a perfect complement to the beer.
Approaching six years later, that small thought has grown many times over, as Birdsong Brewing Co. has since added cans and bottles to its repertoire and even moved into a larger facility. Birdsong's sixth anniversary party is this Saturday beginning at noon, and it makes Tara laugh a bit thinking back to the beginning.
"Our vision of what we were doing at the time was very much, 'Can we even make this happen?,'" says Tara, co-owner of Birdsong with husband Chris. "We just wanted a place where we could hang out and drink our own beer. That was how simple we were thinking.
"We always said, 'Oh we'll never put our beer in a package; we're just going to keg.' That's the things you think of when you're young. But as you grow, you get more comfortable and realize the things you can do once you feel confident in the product. Baby steps, is what I always say."
Even with opening its new facility in 2015 and local distribution of core beers and seasonals, some things remain the same. There are still no TVs in the taproom – the idea is for friends to share a beer and catch up or perhaps strike up conversations with strangers/soon-to-be friends. And Birdsong's brew staff hand-cuts each jalapeño used to make the fantastic Jalapeño Pale Ale. Bowls of peanuts are always readily available, too
"Looking back we never thought that we'd be in the situation where we are: grow into a new building, build a whole new brewery – and that's all thanks to the great response to the beer," Tara says. "People have a good feeling about us … and we have just so many great people on our staff. They feel like family and are so invested in the company, brand and beer. We've been really fortunate."
One thing that's also never changed with Birdsong through the years is its sustainability consciousness. The brewery donates much of its spent grain (and peanut shells) to farmers, and each year organizes a cleanup with customers of a nearby portion of Little Sugar Creek Greenway. Birdsong has also been recognized by the Brewers Association for using the lowest amount of water per barrel created for its sized brewery.
Most recently, Birdsong made its most "green" investment yet by installing 220 solar panels on top of the brewery, which is poised to cut its monthly power bill almost in half. The installation is near completion and awaiting permitting, with the hope to be fully operational by the end of year.
"It's important to us that we're remembering to give back to the community and be a responsible business and neighbor and think about our impact a bit," Tara says. "Obviously we're a manufacturing facility and do generate waste that adds up. With the solar panels, we plan to put a display in the taproom so everyone can see how it works and the energy we're generating from it. We just want people to think about it."
"Generating our own energy is such a cool thing. We're doing something that feels good and this is a big step that gets us in that constant vision of always looking to be more efficient."
Those coming to the anniversary party will see the panels on the drive in, and also be treated to a day full of special tappings and events. To start, Saturday will see the canned debut of "Sexy Hop," a beer that was actually first brewed last year but will be the start of Birdsong's IPA series. (The first 100 people coming to the party will also get a free Sexy Hop glass.)
In 2018, expect this series to also contain an NE-style IPA, a black IPA and others. All will be available in cans and while there isn't a set schedule of how many in the series and release dates, Chris believes 10 is an accurate number. The IPA series will be taproom-only mostly with a very limited amount going out to accounts.
"The inspiration of this came from Jeff, our lead brewer, and Alex, another brewer, went out to Oregon for hop selection," Tara says. "They got to try out and experience all these new hop varietals that are being created specifically for the IPA style. And they came back so excited at what they saw and coming up with new recipes. So we decided, 'Why don't we do an IPA series and that way you all can play around with these?'"
Other beers for Saturday's party include Sex Machine, a sour brown ale; Prehistoric Dog, a Russian imperial stout; Let's Stay Together, a barleywine; bourbon barrel-aged St. Tuber, Turtles on Pterodactyls and 2015 and '16 Puppies on Penguins, among others. Beer tickets ($5 each, cash or credit accepted) will be sold at the door.
Going into 2018, Chris also says Birdsong is going to cans only, meaning former bottles in Turtles on Pterodactyls and any other Take Flight series produced next year will move to new packaging. It's yet another change for a brewery that has welcomed growth – at its own pace.
"It's really all crazy when you think about it," Chris says. "We were simply trying to brew a recipe on a 10-barrel system. It was basically me, (head brewer) Conor (Robinson) and Tara at the very beginning and we were just figuring out the mechanics of running a brewery. So I guess we've figured that out but now it's interesting because we have to spend a lot more time on the business side.
"It's a lot more strategy and planning, when early on it was straight-up survival – 'OK, we've got to get this Higher Ground in kegs; otherwise we're out.' So it's a different feel but we're enjoying both versions. We have 30 employees now, so it's now less that you're doing directly and the more you have to depend on your team. And we have some pretty good folks here."