Birdsong, Free Range collaborate on barrel-aged Rice Rice Baby release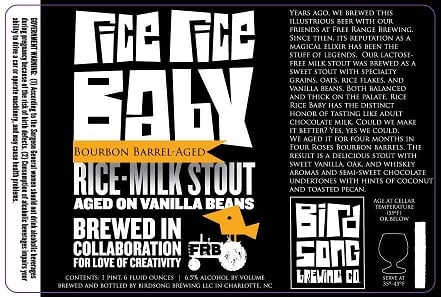 Thanks to NoDa neighbors Birdsong and Free Range Brewing, a popular beer among the local craft community is finally getting its long-awaited release.
Before Free Range found its permanent location in the NoDa neighborhood, the brewery would pop up at various festivals with several beers. One of those was Rice Rice Baby, a milk stout brewed in collaboration with Birdsong. It didn't take long for word to get around about this beer, but you'd always have to wait until the next festival and hope it'd be on tap.
In March, this beer was resurrected as part of Charlotte Craft Beer Week. Little did we know there were even grander plans ahead, and that time comes Tuesday when a barrel-aged version of Rice Rice Baby will be released in Birdsong's taproom.
Rice Rice Baby is brewed with rice flakes (obviously), specialty grains, oats and vanilla beans, giving the beer a sweet flavor that also goes down smoothly (on the beer's label, it references "adult chocolate milk," and that's pretty spot on). For this bottled version, it was aged for four months in Four Roses barrels, and comes in at 6.5 percent ABV.
The price for each 22-ounce bomber is $14, and there will be a limit of 4 bottles per person. Birdsong's taproom opens at 4:30 p.m. and there's limited availability, so you'd be wise to get there sooner rather than later.