Birdsong releasing its newest can: Fake Plastic Trees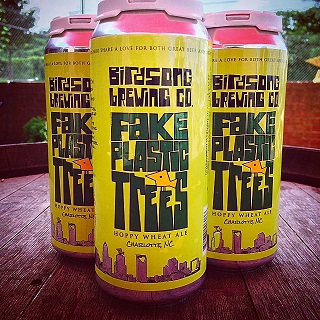 Birdsong Brewing Co. recently celebrated a year of canning its beer. So far, more than 300,000 cans have gone through the canning line, including Jalapeno Pale Ale, MexiCali Stout, Doin' Thyme Witbier, Lazy Bird Brown Ale and Honey Pie Double IPA.
One could say all this canning wears them out.
But Birdsong can't help the feeling of getting cans out to Charlotte – which with all the apartments going up at a rapid rate, is easily classified as a town full of rubber plans. The brewery's next release is Fake Plastic Trees, and you can turn and run (remember that gravity always wins, though) to get the four-packs beginning Thursday in the taproom.
Fake Plastic Trees looks and tastes like the real thing – the same summer seasonal that previously was only available on draft the past couple years. Head brewer Conor Robinson took an American wheat ale and dry-hopped it with Cascade, Columbus and Sorachi Ace hops to create this hoppy wheat beer. And this isn't a green plastic watering can; rather it's a yellow aluminum one – complete with the requisite Charlotte skyline and Birdsong bird featured on the brewery's other cans.
The taproom opens at 4 p.m. for the release. And if your plans crumble and burn and you can't get there, Fake Plastic Trees will be available in local bottle shops and stores beginning next week.
**With apologies and acknowledgment regarding this article to Radiohead, one of the greatest bands ever to play this fake plastic world