Birthday Bounty at BLT
The uptown eatery turns 5 this weekend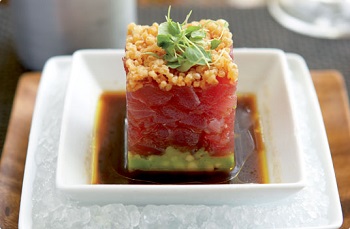 BLT Steak is celebrating its 5th birthday in style. Celebrity chef and namesake of the restaurant, Laurent Tourondel, will be making an appearance in the kitchen to work side by side with Chef de Cuisine Ben Miles. Along with enjoying all the decadent dishes from Chef Laurent and the team, BLT Steak will be gifting diners with a select $5 menu featuring favorite bites and sips from Friday, September 26 (THAT'S TODAY) and Saturday, September 27.
No, that wasn't a typo. Any and all guests at BLT steak on Friday or Saturday between 5:30 and 11:00 pm will be able to enjoy $5 appetizers and desserts. For guests coming in ANY TIME on Friday and Saturday, wine and select cocktails will be available for $5.
In terms of food (because I know you're already fantasizing about $5 meals), here's a rundown of what you can get for your $5 bills:
All dinner appetizers including: half dozen East and West Coat Oysters, Jumbo Shrimp Cocktail, Crabcake with cornichon tartar sauce, fennel and radish salad, and Tuna Tartare with avocado and soy lime dressing.
All dinner desserts including: Crepe Soufflé with passion fruit sauce, Peanut Butter Chocolate Mousse with banana gelato, and Chocolate Espresso Cream Pie with seasonal gelato.
The Apple Pie Old Fashion house-made cocktail with Woodford Reserve, muddled apple pie simple syrup, lemon and soda.
Select red and white wine by the glass.
For more information or to make a reservation, call BLT Steak at 704-972-4380 or visit the website.