Black & Blue (All Over)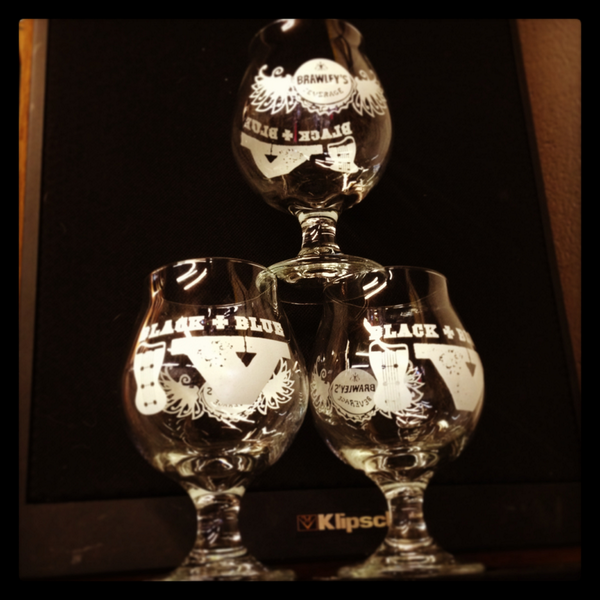 Hopefully everyone enjoyed the fourth annual Charlotte Craft Beer Week and its many events. These 10 days continue to improve each year, and a lot of that is due to the continued growth of craft beer in Charlotte, be it new breweries, bars and restaurants.
The unofficial kickoff of CCBW was Michael Brawley's Black & Blue event, which more than lived up to its billing. It's hard to fathom the first year Brawley put this on, there were maybe 100 people there (but a great time for us inaugural attendees). Now, the guest list is capped at 250 people and it sold out in under a week.
And for good reason. Held at the Visulite Theatre in Elizabeth, this event featured the best of the best, both local and statewide. Most breweries brought special beers they had brewed in small batches, or cask-conditioned beers. With the bluegrass music of the Moonshine Racers on stage and the ACC Tournament on the TVs for sports fans (just pointing out that during the last two Black & Blue events, Duke has lost. Again, just pointing that out), it was a perfect evening for craft beer lovers.
Here are my top three beers I tried at Black & Blue:
1. Sweet Potato Abbey Ale by Birdsong Brewing Company
I missed out on this rare beer when Birdsong had their brew night at World of Beer Thanksgiving weekend, and I made sure that wouldn't be the case this time around. The Sweet Potato Ale tasted as delicious as I imagined. The spices were perfectly done, and the overall taste was smooth. I was a repeat visitor at Birdsong's table for most of the night, and can only hope (pray?) the brewery puts this on tap at some point.
2. Bourbon-Barrel Aged Hey Porter by Wicked Weed Brewery
Wicked Weed is the newest brewery to open in Asheville, and my friends who have been up there can't stop raving about it. I hope to get up there sometime this spring/summer, but I was excited when I saw they would be at Black & Blue. And the buzz around Wicked Weed is more than accurate, as this porter was outstanding. It was originally created in February to honor Johnny Cash's birthday (hence the name) and is made with thyme, smoked malt and (as if it couldn't get any better) then aged in Four Roses Bourbon. In short, it was an incredible beer.
3. Dweller Imperial Stout Cask by Green Man Brewery
This stout was already outstanding, but the cask with cocoa nibs and vanilla beans? Let's just say the Dweller didn't last too long at Black & Blue. The sweetness combined with malts and a touch of hops made this beer a solid selection from Green Man out of Asheville
Honorable mention: NoDa Brewing Company's Bourbon Barrel-Aged NoDaRyeZ'd, Loe's Brewing Company's Barrel-Aged Chocolate Moose Stout and Foothills Brewing Company's Olde Rabbit's Foot Imperial Stout
Black & Blue was by and far the highlight of CCBW for me, and will be hard to top in 2014. Of course, I said the same thing last year so I'm excited to see and already anticipating what Brawley and Black & Blue has in store for the future.