Black History in Bronze: 5 Public Artworks to Visit in Charlotte
Scattered throughout the city, each pays tribute to Charlotte trailblazers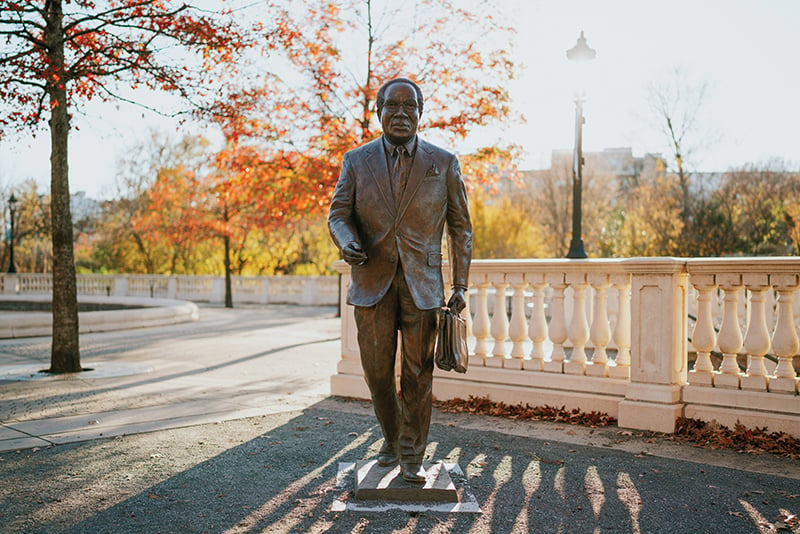 If you're out strolling the Little Sugar Creek Greenway, or driving alongside it on Kings Drive, you may notice a bronze statue of a guy with a briefcase. That's Julius Chambers, the Charlotte attorney who made national civil rights history during the 1960s and 1970s. His statue is one of a growing roster of public sculptures that honor Black heritage in this city.
Chambers founded North Carolina's first racially integrated law firm, now known as Ferguson, Chambers & Sumter, in 1964. Eight of his civil rights lawsuits went all the way to the U.S. Supreme Court. The most famous, Swann v. Charlotte-Mecklenburg Board of Education, led to the landmark desegregation ruling in 1971 that made busing for racial balance a part of school policy nationwide.
The statue of Chambers captures his sense of urgency. Knees bent, shoulders forward, he rushes, perhaps to a courtroom. Artist Ed Hamilton, based in Louisville with commissions from around the country, met with Chambers' associates and family to get a sense of the attorney's spirit. The sculpture was dedicated in October 2021, temporarily removed to improve its underground anchoring, then permanently reinstalled in summer 2022.
It's one of two figures along the Trail of History, a series of statues along the greenway's urban section, that honor Black historymakers. Thad Tate stands near The Metropolitan office and retail complex. One of Charlotte's top Black business leaders in the early 20th century, he helped create Grace AME Zion Church and the Mecklenburg Investment Company building. Both remain on Brevard Street, home to the nonprofit Brooklyn Collective artists' group, which aims to advance inclusion and economic mobility.
Two more sculptures are on the way, as the Trail of History citizens group, led by retired Central Piedmont Community College President Tony Zeiss, continues to raise money. One will depict artist and Charlotte native Romare Bearden and cost an estimated $220,000. The other, a $330,000 project, will commemorate Marie G. Davis, an educator for whom a Charlotte school is named, and her husband, Dr. George E. Davis, the first Black professor at what is now Johnson C. Smith University and a statewide advocate for Rosenwald Schools.
Elsewhere, you'll find three other sculptures that illuminate Black history in Charlotte. The most visible stands at Trade and Tryon. In 1995, Queens Table, a nonprofit art funding group, commissioned Washington, D.C., artist Raymond Kaskey to create four statues that honor people whose labor underlies Charlotte's development. There's a female textile worker, a man who pans for gold, a mother with her baby, and a Black railroad builder. Black workers were essential to construct the rail lines that linked Charlotte to global markets.
Off Randolph Road, you can find a statue of Sam Billings. Born into slavery, he prospered in freedom as a farmer and donated land for Billingsville School, which helped spur the development of today's Grier Heights neighborhood. In 1996, as modern medical clinics sprouted in the vicinity, officials honored him with a statue by artist Richard Hallier, who lived for a time in both Carolinas. It stands at 100 Billingsley Road, today an Anuvia medical clinic, near where Billings' farmhouse stood decades before. Neighbors still remember his commitment to schoolchildren; his bronze likeness lifts up a child.
Charlotte's newest Black history sculpture was dedicated in spring 2022 at Five Points Plaza, across West Trade Street from JCSU. It's made not of bronze but steel. Holes punched in soaring steel pylons form pixel-like reproductions of photos. Creators J. Stacy Utley and EVOKE Studio Architecture worked with Historic West End Partners to choose the images, which include the iconic 1957 photo of teenage Dorothy Counts as she navigated a hostile crowd into Harding High School.
Last year was a strong one for Black history in Charlotte. Artists completed a number of mural projects in 2022, notably Jamil Dyair Steele's 200-foot-long tribute to the west side at West Trade Street and Interstate 77. Pamela Grundy's book Legacy: Three Centuries of Black History in Charlotte, North Carolina was published in February 2022. Its cover shows Abel Jackson's Brevard Street mural, which celebrates the legacy of the Brooklyn neighborhood.
In this fast-changing city, where newcomers pour in daily, Black history is too important to observe only during Black History Month. Sculptures, murals, and books educate us about the people and stories that have shaped Charlotte.
---
Tom Hanchett, a local historian since 1981, is the author of Sorting Out the New South City: Race, Class, and Urban Development in Charlotte. Follow him on Twitter at @historysouth.