Blind Faith
What does it take for a blind man to hike the grueling 2,175-mile Appalachian Trail?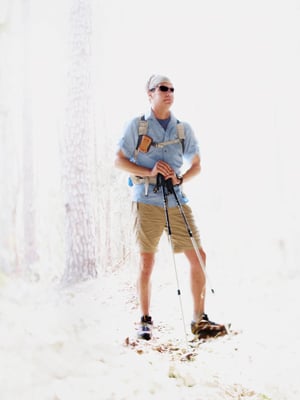 He has come more than two thousand miles, through wind, rain, snow. He is within a hundred miles of the end, and he wants to give up. But that's the problem with the 100-Mile Wilderness. You can't quit. You have nowhere to go. The only way to quit is to continue.
The 100-Mile Wilderness is just that: a long and lonely haul through nothingness that stretches between Monson, Maine, and a campground just fifteen miles from the Appalachian Trail's northern terminus, Mount Katahdin. It is a final test. Just to see what you're made of. It is possibly the toughest part of Maine, which is the toughest state on the path that most hikers simply call the AT. Virginia meanders.
Pennsylvania is rocky. Vermont is muddy. Maine punishes. There, the AT goes over peaks and under boulders and straight up rock faces and nowhere near anyone who can help. The trail does not go over rivers. In the 100-Mile Wilderness, it goes through them.
It's on the third day in the wilderness that a hiker named Zero/Zero has had enough.
His backpack is his lifeline. It contains everything he needs to survive, and yet on this day, it is Zero's liability. The trail demands that he ford a river swollen by what's left of Hurricane Kyle. There is no other way. Zero crosses as gingerly as he can. He is waist deep in forty-two-degree water. His pack is tethered to him with fifty feet of paracord. His extremities are searing with pain from the cold. His knees ache. The current makes it hard for his already tenuous footing to hold on to a slick floor of rocks and pebbles. One of his feet is probably broken.
Something goes wrong. Quickly. Zero slips. His pack comes loose. He ditches it. Fifty feet of rope uncoil in the swollen river. Zero tries to regain his balance, but it is too late. His pack is full of water and heavy in the current. Zero is ripped off his feet and violently tugged along downstream.
He gets lucky. Zero's pack floats into just the right spot and anchors itself between some rocks. The same cord that dragged him down the river is a lifeline once again. It keeps him from ending up at the bottom of a waterfall.
Zero is wet, cold, and shaken. He will lose his footing in two more rivers. In the same day.
If Zero could see, this would not have happened. Zero would never have been on the trail if he could see.
It is October 4, 2004. 9 a.m. Thirty-five-year-old Trevor Thomas is about to join the Navy and become a JAG officer. His mind is ready. His body is prepared. But his eyes are getting fuzzy. He needs glasses. He's sitting in his eye doctor's office. Waiting.
Trevor is not the kind of person who likes to wait. This is a guy who races Porsches for fun. He runs. He scampers up rock faces. He hurtles through forests on mountain bikes. He's just graduated from law school. He's recently moved to Charlotte to stay with his parents while he prepares for his new job. And in a few weeks, he'll be stationed in Greece. But first, he needs glasses.
One look from his optometrist changes that.
"Oh my God," she says. She cannot help. Glasses cannot help. Lasik surgery cannot help. For months, this is the day that Trevor Thomas will say he received his death sentence. He makes trip after trip to specialist after specialist. Nobody can give him an answer. Nobody knows what is wrong with his eyes.
He can pass every part of the Navy physical, except for the eye exam. At first, he memorizes the chart. After a while, he can't fake it anymore. His recruiter says the Navy has no use for a blind officer. Greece is gone.
Trevor's world is closing in. One day, he can see twenty feet in front of him. The next week, he can only see ten feet. Then less. And less.
Every day, Trevor wakes up and asks himself one question: is this going to be the day that I will be blind?
Three months pass. Finally, when it is too late, Trevor learns what is wrong. Doctors call it atypical central serous chorioretinopathy.
His immune system woke up one day and decided it did not like his eyes. It attacked. In the eye, small receptors called cones help you see colors. Rods in your eyes help you make out shapes and contrasts. The disease is eating them both. Doctors try to help. Problem is, nobody knows much about Trevor's disease. It is so rare that it is not studied enough.
Doing nothing is not an option. If Trevor does nothing, he goes blind. If doctors try something, and they're wrong, he goes blind. So they try. They burn holes in his eyes with lasers. That does not work. They try an experimental procedure that involves injecting the colon cancer drug Avastin directly into the eyes. It might control the infection. It is extremely painful. And it does not work.
Trevor can no longer read. He goes from racing Porsches to riding a bus for the disabled. He is angry about his new cane. He cannot dial a telephone. The buttons on his oven baffle him. He can't heat up a pizza.
It's now six months since Trevor Thomas went in to get his glasses. His vision is nearly gone. He doesn't know how he'll get a job. He's afraid to leave his house, especially at night. And he's about to hear the speech that will change his life.
Erik Weihenmayer was thirteen when he went blind from retinoschisis. He went on to become a middle school teacher and a wrestling coach. He skied and paraglided for fun. Then he started to climb mountains.
In 2001, he climbed Mount Everest. Afterward, he traveled the country, telling people how he did it. In 2005, Trevor Thomas was in the audience when Weihenmayer spoke in Charlotte.
"If he could do that, there's no excuse for me," Trevor recalls. "That two-hour speech changed my entire life."
On that day, Trevor became Zero/Zero.
The clouds are gray and hang low on a Friday morning. It looks like it's about to rain. To Zero, this is perfect hiking weather. He sits on a low platform and takes a few last puffs on his cigarette as I approach. It's a nasty habit that he picked back up on the AT. "I threw parties for a living," he says about his former marketing job with Philip Morris, an employer that encouraged him to light up whenever possible. He's already quit once. Now he's trying to do it again. You can't expect to smoke on the Pacific Crest Trail. Especially in the high Sierras. You need all the oxygen you can get.
The Pacific Crest is next on Zero's agenda, and he's keeping his legs fresh. He's hiking along the winding cross-country course at Charlotte's McAlpine Creek Greenway. Zero is still putting in five to ten trail miles a day to prepare. He is powered by the drive to take on another challenge, but he is also proof that often, thru-hikers can't quit cold turkey. "I got a couple of friends who are living in their tents in their backyards," Zero says. "They can't stand to be inside."
It is a chilly October day. Zero is wearing a windbreaker, trail shoes, and shorts. His legs are thin and sinewy. His hair is starting to become that way. His face is weather worn from a half year spent outside, and he's sporting an ever-so-slight goatee, much thinner than the mustache he wore on the trail. Zero is skinny but not gaunt. He doesn't smile much, because he doesn't have the time. He has too much of his trip to describe. Just ask any thru-hiker about the AT. You won't be able to get a word in. Zero swears he wasn't this talkative before he hiked the trail.
Zero's voice is low and confident. He doesn't stumble over words. One thru-hiker who spent time with him in Maine says Zero has an edge to him. Yet he's not rude. He's driven. He's funny. He's a no-nonsense kind of guy. But he isn't happy about his eyes.
Those eyes are hard to ignore. They're hidden away behind sunglasses that wrap around his head. They are always open.
His eyes gave him his name. On the Appalachian Trail, most everybody abandons their real name for a trail name. Zero/Zero seemed fitting for Trevor.
He moves quickly. He is sure of himself. He uses his poles like a downhill skier: gently tapping ahead of him in rhythm, feeling out any obstacle that could snag his foot and bring him down.
Zero can go this fast because he's walked this greenway many times before. He can go this fast because I am here. Zero mimics the cadence of my steps. When I move more quickly, so does he. When I veer left, he follows. He is locked on to the direction and timing of my every move. His ears are his eyes.
Feet blister. Spines strain. Muscles ache. After every bend, over every hill, and past every town, there is just more trail. Every day, they wake up, eat, break camp, and hike. It is work.
This is how Zero hiked over mountain after mountain, mile after mile, without seeing any of it. I look ahead and see a pond. I see bends in the gravelly path under our feet. I see leaves blowing slightly under a gloomy sky. I see nature. And I see where I am going.
This is what Zero sees. "In the middle of my vision, nothing," he says. "It's just gray."
His peripheral vision is not completely gone. He describes the few parts of his vision that still work as an overexposed picture. The colors are overblown and everything is stretched. Zero thinks for a second. "You ever see Star Trek, when the Klingons cloak their ships and the ship's not there anymore, and it's kinda like this wavy thing?" he asks. "That's what it's like. So, it's kind of a very bizarre way to perceive the world."
Most times, Zero can tell when something moves. He can't tell what is moving, or how big it is, or if it's a threat. Through sight alone, he can't tell if it's a person, a car, or a bear.
If it does not move and if it does not make a sound, Zero cannot perceive it. This is what forced him to give up running. He would run into parked cars, and at least once knocked over an elderly woman.
Hiking turns out to be a perfect fit. There are no cars to run into on the trail. He starts walking Charlotte's greenways with his mobility instructor. After a while, he does it himself. Now he has this greenway memorized, down to the step.
At a fork in the path, Zero stops. "I know we're at a trail juncture," he says, then pivots. "We want to go this way."
The Appalachian Trail can be a solitary place, even though as many as 4 million people visit some part of the trail each year. Many come for the day. Far fewer attempt to thru-hike the entire 2,175-mile stretch from Georgia to Maine. Fewer complete it. This year, 1,250 hikers set out from the southern terminus at Springer Mountain, Georgia, fully expecting to make it to Katahdin. One hundred dropped out within the first thirty miles. Another 100 quit before making it to Fontana Dam, North Carolina, where the trail crosses into the Great Smoky Mountains National Park. Harpers Ferry, West Virginia, is the home of the Appalachian Trail Conservancy (which keeps these statistics). It is also the trail's emotional midpoint, and only half of the 1,250 thru-hikers made it this far. Katahdin is still more than 1,100 miles away from Harpers Ferry.
By October 15, when Katahdin closes for the winter, only about one in six of the people who left Springer Mountain will make their way up to the mile-high summit.
In between the two mountains lies a path roughly eighteen inches wide, marked every so often with two-inch-by-six-inch white blazes, painted on nearby trees and rocks. There are more than 160,000 white blazes on the AT.
Most people hike from south to north to make the most of the changing seasons. Most people still will not make it.
Some cannot take the physical demands of walking more than a dozen miles, day after day, with close to fifty pounds on their backs. Feet blister. Spines strain. Muscles ache. Others cannot mentally handle what appears to be an infinite trip through an endless green tunnel. After every bend, over every hill, and past every town, there is just more trail.
Some show up for the adventure. Others come to escape their jobs. Nearly all find out that hiking the trail is a new occupation. Every day, they wake up, eat, break camp, and hike. It is work.
At least five blind people have completed the trail. Bill Irwin was the first. People on the AT still talk about him at length. He and his guide dog, Orient, thru-hiked the AT in 1990. He fell close to five thousand times. He was the last thru-hiker to finish that year. It punished his legs, his knees, and his mind. He did it to beat alcoholism and he did it for God. His church kept him supplied and nourished. "I don't miss the pain, the loneliness, the hardships, the cold, the heat of the A.T.," he wrote in his book, Blind Courage. "I never enjoyed the hiking part. It was something I felt compelled to do."
Trevor Thomas felt compelled to do it by himself. But he would need help. And that would turn out to be the trail's greatest reward.
It's April 6, 2008, and Kevin "Noah John" Rondeau has just made the grueling eight-mile hike up from Amicola Falls on a path that winds up over the top of Springer Mountain, Georgia. That's just the approach trail to the AT. Nothing actually counts until you pass a small metal monument that's bolted into the rock at the summit.
A little more than a mile later, Noah John comes to a parking lot. Many thru-hikers actually start here, hike the shorter distance up Springer, then hike back down. Noah hears a voice. "Yep, going to Maine," it says. OK, buddy, Noah John says to himself, we'll see about that.
The same voice is now addressing him. "Can you do me a favor?" it asks. "Can I follow you to the next shelter? I am blind." This should be interesting, thinks Noah John.
That voice is Zero's. He was supposed to be hiking with a friend, who had to cancel on him at the last minute. Zero's sister begrudgingly dropped him off at the parking lot. It took a lot of convincing to get her to take him this far. If he quits, she's making him take the bus back to Charlotte.
So Zero and his sister wait in the parking lot, where Zero has been asking all day for somebody, anybody to follow to the top of Springer. No one was willing until Noah John came along.
For the first six days, Noah John and Zero are a team. They push each other up mountains and down into hollows. Zero does not want to be a liability. So he keeps up. Noah John figures he has to go fast, because he doesn't want to slow Zero down. Besides, who wants to get the reputation that they were outhiked by a blind guy?
Zero and Noah John stick together for nearly seventy miles. They are just shy of the North Carolina border. At Hiawassee, Georgia, Noah John has to press on, because he has to finish before he starts grad school. They part. "My first week on the AT this April was one of the more spectacular and inspirational experiences of my life," Noah would write later. "I owe it to complete luck of circumstance, and Z."
Zero isn't so much hiking as he is hitchhiking. He follows. When there is nobody to follow, he sits and waits. In the Great Smoky Mountains, he waits for three days. This is at the shelter on Mount Collins, a three-sided stone building with a chain-link fence on the fourth to keep bears out. It's about a mile down a side trail, and just a few miles from Clingman's Dome, the highest point on the AT.
The weather has turned sour. Zero's friends are nowhere to be found. He had hurt his foot at Fontana Dam, where the trail enters the national park. Zero had limped back to civilization with a section hiker, who took him to the emergency room. His friends had gone ahead. When the weather turned bad, Zero's friends went in to Gatlinburg for a few zero days, trail talk for a few days of rest.
Zero had returned to the trail and followed some hikers to the shelter, where he decided to wait, alone, for his friends to catch up. The temperature drops to eighteen degrees. It starts to rain. Then it turns to sleet. Then hail. Then the ice and snow arrive.
Zero hears a voice. "Stop! Don't go any further. If you hike and go more than ten feet straight, you're going to die." Zero was about to walk off a cliff.
Nobody comes the first day. The second day, the only people who come by are a Danish couple on a day hike. Zero stays put. "It was probably one of the most terrifying experiences of my life," Zero says about those days. He can't find any wood. He can't find a water source, which is a mile away from the shelter.
Finally, on the third day, another group of thru-hikers arrives. They say they'll get him to Newfound Gap, a mountain pass where U.S. 441 crosses from North Carolina into Tennessee. This was Zero's first real test on the trail. He didn't panic. He passed. He starts to realize that he can make it.
It takes weeks to get what hikers refer to as trail legs, legs that can take the constant pounding, brutal climbs, steep declines, and long distances. Muscles struggle to get used to the weight of a backpack that can weigh close to fifty pounds.
On the lower part of the trail, everybody wants to talk about gear. Where did you get it? Does it fit right? What kind of pack do you have? Do you like it? Zero's gear is just like everybody else's, with the exception of a device called a SPOT. Every night, Zero pushes a button. The SPOT sends out a message to a global positioning satellite that details his exact location. Nervous family and friends use it to keep track of his location. They use it as a nightly reminder that Zero is OK. When he took up hiking, they thought it would be therapeutic. They just didn't think he would find his therapy on the Appalachian Trail.
On the trail, any therapy is quickly replaced by a constant search for the basics of survival. Food. Shelter. Water. In North Carolina, it's not easy to find something to drink. A drought has dried up many water sources. At one point, Zero is carrying five to six liters of water in his pack. Water is heavy. And weight is the enemy. Zero brought a CD player and a book on tape. He mails them home at his first chance. They are too heavy. And they're not essential. Zero's only eating utensil is a spork.
Most are concerned about eating enough food. Diet is not a huge consideration; calories are calories, whether they come from ramen noodles, candy bars, or powdered milk (Zero will still lose thirty pounds before he's through). The only rule: the more the better.
All hikers prepare, but most have only completed a few overnight hikes. Most have never gone more than fifty miles at a time. Nearly all are woefully inexperienced. Their planning doesn't help them realize the true scope of what they're undertaking. But everybody else on the trail has one advantage: they can see where they are going.
Word starts to get out about Zero. Gossip spreads along the trail. People write about meeting him in shelter logs, ubiquitous, spiral-bound notebooks that people use to leave records about themselves on the trail. NOBOs (north bounders) start to hear about him from SOBOs (south bounders). Around once a week, most hikers take zero days in one of the many towns that dot the trail. They wash clothes. Take a shower. Enjoy a meal. Sleep in a bed. Many update their progress on trailjournals.com, a public diary for hikers. They also read up on how others are doing. "I cannot imagine hiking blind. WOW! Other hikers said that he falls a lot," wrote a hiker named Zephyr. "He is blind and hiking the trail, truly amazing," wrote Campfire, a thru-hiker who met Zero at a shelter near Hot Springs, North Carolina. "There [were] about twenty hikers there, most being of the partying sort so three of them got drunk and let the blind guy give them a Mohawk. Only on the trail…"
At first, Zero was a curiosity. A novelty. People sought him out and asked him the same questions. What's it like being blind? How are you doing this? Some people were excited to hike with him, because he was the blind guy. Some hikers were not sure what to do, or how to help. Others were helpful, but not necessarily in the right ways. "Most people would go out of their way to say if there was a stick on the trail, a tiny stick, they would stop, pick it up, move it off the trail, kick it out of the way," Zero remembers, "and then five feet later they'd let me run into a tree."
It takes nearly 300 miles before Zero becomes confident enough to hike alone. He gives it a try on a section of trail outside Pearisburg, Virginia. The trail is less rugged and more accommodating through the Shenandoahs. There are not as many rocky, rough, or grueling sections. He uses his feet as feelers. If it feels tamped down, it must be trail. If it is squishy, it must be something else. He can't see blazes, but he can use signs to keep him on track. Most signs in this area are wooden, and engraved with words, mileage figures, and arrows. Zero traces each letter with his finger. At one point, between Troutdale and Catawba, Virginia, Zero covers sixty miles.
At another spot, Zero hears a voice. "Stop! Don't go any further," it says. It asks what he's doing. Hiking, Zero replies. "If you hike and go more than ten feet straight, you're going to die," that voice says. It was another hiker, warning Zero that he's about to walk off a cliff.
After that, Zero doesn't hike alone for a week.
Most of the time, Zero travels with others. It's faster and safer, but it's still brutal. One hiker called Blue Butterfly, who found him alone at the Mount Collins shelter, also gets him lost in the Smokies. (After she regained her bearings, she admitted that she hadn't seen a sign or a blaze in four hours. Zero replied with an emphatic "What?!") He gets stitches in his head after running into a tree near Hot Springs, North Carolina. Remember his foot? A doctor says it's likely broken from a spiral fracture. One of his metatarsals has slightly twisted apart. Every step comes with a varying degree of pain. Zero presses on. He doesn't tell anybody about his injuries, least of all his family or friends. They're already worried about him. He doesn't want to make it worse.
There is some serenity. Zero and another thru-hiker called Tailgunner make it to Harpers Ferry, West Virginia, by July 22. He stops to pose for a picture at the Appalachian Trail Conservancy. "After a lazy morning, planning a tubing expedition for this afternoon before hopping to D.C.," reads their entry in the registry. Zero catches a flight back to Charlotte to see family. It's not uncommon for thru-hikers to take breaks.
Five days later, he's back on the trail. He hikes with anyone who will take him. Day hikers. Section hikers. Boy Scouts. He's desperately trying to move quickly. He doesn't want to end up like Bill Irwin—the last person on the trail.
The trails begin to change character. Before West Virginia, the constant up and down of North Carolina and Tennessee has been replaced by the gentle undulations of Virginia. Climbing legs morph into cruising legs.
The next test comes after Harpers Ferry. The true mountains return. The pace becomes harder and the pace slows. The trail has a reputation for being poorly maintained in Pennsylvania. Rocks are constant. Zero calls them ankle breakers. New Jersey and New York are a welcome respite. In Connecticut, Vermont, and New Hampshire, the trail begins to wind over brutal peaks where the weather can change in a matter of minutes. One day, it's soggy. The next day, it's brutally windy. In some spots, the trail darts above and below the tree line, and the weather changes from comfortable to life threatening in an instant.
He injures his hip falling down Mount Greylock in the Berkshires of Massachusetts. He loses his balance and nearly pitches into a crevasse in New Hampshire. Later, in Maine, he'll bruise five ribs during a tumble down Saddleback Mountain. Falling becomes part of the routine.
Maine is also where Zero has to tackle the toughest mile on the trail, the Mahoosuc Notch. By this time, most hikers, along with family and friends back home, have stopped telling him that he's going to get himself killed. Instead, they've started telling him he can make it. But the Notch is not easy. It's something thru-hikers talk about for hundreds of miles before, and for most it lives up to the reputation. A notch is a Maine-ism for a spot between two mountains, and in this spot, boulders are strewn about as if some deity had forgotten to clean up after playtime. Hikers call it a jungle gym for adults.
Zero doesn't ask for help. A thru-hiker named Jarrod "So-Crates" Doll offers. He's already heard of Zero.
So-Crates notices Zero's legs. They look wobbly. He's constantly feeling out a safe place to put his feet. Zero falls twice. His knees and legs take a beating. Sometimes he slides down rocks slicked by the rain.
Zero and dozens of other hikers at the bottom sit ten miles from the end of the trail. They're blocked from summiting. And they're running out of time.
In this spot, the trail isn't so much a trail as it is a suggestion. White blazes are painted on the sides of rocks that you need to climb over, duck under, and squeeze between. In one spot, hikers have to take off their packs and push them through. In many other parts, they have to jump from rock to rock.
Zero recalls one jump clearly. It's only three feet across, a hop for the sighted but a leap of faith for someone who can't see the other side. His companions tell him to get to the edge, jump, and grab. "I did it and I misjudged the distance. So, I grabbed with one arm, I'm hanging, and my fingers are slipping off and the dude that was in front of me froze. And at that point I was convinced I was going to fall 200 feet straight down."
His companions react quickly. One grabs his hand and pulls him to safety.
Most trail miles go by in twelve to fifteen minutes. This one takes more than two hours.
More challenges come. It takes seven long days to make it through the aforementioned 100-Mile Wilderness. Zero's nerves and resolve are frayed. He falls into rivers. His knees hurt so badly that he decides to sit and slide down the side of one mountain, because his joints can't hold him up. He'll fall seventy-eight times in one day. He goes in wanting only to survive. He comes out glad only that he did.
Zero has come more than 2,000 miles to the edge of Baxter State Park, which contains his prize: Katahdin. What happens next nearly becomes the most frustrating part of the trip.
Katahdin is a rock that juts nearly a mile into the air. In the Abenaki language, it means "preeminent mountain." Henry David Thoreau climbed it in 1847. Sort of. He never made it to the top (blame the fog), got lost (again, blame the fog), and sprained an ankle. He wrote a book about the experience, Ktaadn, describing the mountain as "a vast aggregation of loose rocks, as if some time it had rained rocks, and they lay as they fell on the mountain sides, nowhere fairly at rest, but leaning on each other, all rocking stones, with cavities between, but scarcely any soil or smoother shelf." It is a fitting, rugged, and exhausting end to a rugged and exhausting trail.
But there's a problem. It's sunny, but Katahdin is closed. It's been closed for a week. Somewhere above Zero, snow and ice are swirling around in the howling wind. Rangers call these Class IV days; they react by closing down all approaches at the trailheads. The AT's northern terminus lies at the highest point in Maine. The peak is exposed. There is no cover. Katahdin shuts down for days, even weeks at a time, starting in September. It closes completely for the winter after October 15. If you don't make it by then, you don't make it. If you try it anyway, rangers can confiscate your equipment, throw you in jail, and ban you from the park and your prize. It is October 7. Zero and dozens of other hikers at the bottom sit ten miles from the end of the trail. They're blocked from summiting. And they're running out of time.
Word spreads that the fallout from Hurricane Kyle may keep the mountain closed through the fifteenth. Panic starts to ensue. Campground space is almost gone as more hikers roll in. It's slim pickings for hotel rooms. Zero and his hiking buddies start to hatch a plan to climb illegally. Cooler heads prevail.
The mountain has been locked up tight for a week when, on October 8, the weather breaks just enough for rangers to open one trail to the top. Hikers scamper up in scores. It is all they need.
People take pictures in front of a famous wooden sign marking the trail's end. It's a beautiful view. Zero takes in the sound. From that height, he can hear the vast openness. He can hear hawks and catch bits of conversations going on miles away. There is none of the noise he'll hear when he returns to Charlotte in a week.
The bad weather of previous days turns out to be a blessing. It gave Zero the chance to catch up with companions who got ahead of him on the trail. It's a family reunion of sorts.
The sixty-three thru-hikers on the summit start taking stock of what they've done. They're no longer talking about gear. They're wondering what happened to the people who aren't there.
As the picture taking begins in earnest, Zero fills his pockets with rocks. In his world, pebbles from Katahdin are a reminder of what he's done. He can feel their jagged edges. It's the only picture he can see.
We've been walking around on the McAlpine Creek Greenway for nearly two hours when we stop. Already I've let him run into the same small tree branch twice ("I didn't perceive that," he chortles). At least once we had come to a trail junction where I didn't know where to go next.
"All right," he says, "I've been talking. I don't know where I am."
"Well, there's kind of a little workout thing over there," I say, referring to a sit-up platform and chin-up bar.
"Oh, OK," he says. "Let's go this way."
It's official. A blind guy just gave me directions.
It took him six months and two days to walk from Georgia to Maine. He walked for months on a broken foot (he still hasn't been to the doctor to know for sure). He encountered at least thirty bears. He fell close to 1,500 times.
He admits that he played the blind card a few times on the trail. He was the only hiker he knew who never had a problem hitching a ride. All he had to do was whip out his red-and-white cane. People would give him a ride because they just couldn't believe it.
Sometimes, motel managers would go out of their way to give him a room on the first floor. "I'd just hiked a thousand miles," he says with a small chuckle. "They were worried I'd fall down stairs."
Mostly, though, his stories are about people he's encountered along the way. He says he met close to 600 people on the trail, and tries to stay in touch with around 150 of them. His tales focus on others. Once, he says, he ran into other thru-hikers who had a friend who had just become blind. They urged him to talk with her on the phone. He explained to her what he was doing. Weeks later, he heard that his words got that woman out of her house. She started to accept her blindness, instead of wallowing in disbelief.
Zero is a name dropper. He talks about Prometheus and Blue Butterfly, Alohawk and Superman, D and Bundy. Erik Weihenmayer just sent him a congratulatory e-mail. He talks about "trail angels," people who leave behind food for hikers along the way. He marvels about people who gave him rides into town. He sighs about hiking companions who he's desperately trying to find. It's hard when you don't know their real names. He hiked with one man for more than 300 miles before they realized that they were both named Trevor.
Most of his stories sound rehearsed, although not forced. It comes from people asking him about the same things over and over. After a while, he's learned to separate a good anecdote from trail tedium. After all, in his sighted life, he was a marketer, a sales manager, and a law student. He knows what makes for a good story.
We sit down. And things change.
It is time for Zero to talk about Trevor.
"Blindness brought me to the trail," he says, then draws a deep breath. "What I walked away from the trail with was a new respect for humanity.
"When you get on the trail, you don't concentrate on the material things in life. You concentrate on the experiences, whether, say, you met somebody new today. Maybe you went an entire day without falling. There were a couple of places that we just sat on the side of a mountain and took in nothing. I mean, everything was just quiet, maybe a sunrise or sunset that you could experience."
How does a blind man experience a sunrise?
"When the sun comes up," he explains, "you feel the warmth on your face."
He is reorganizing his life. Simplifying it. Things that don't serve more than one purpose are gone. After months of eating only what's available, a trip to the grocery store is overwhelming. "Getting in a car is terrifying," he says. It goes way too fast.
Trevor still has a lot of work to do. He's figuring out how to turn his experience into a book. He's meeting with a man in his church who's just lost his sight. He figures his story will help. And of course, the Pacific Crest Trail looms in the distance. He might go back out into the Shenandoahs and catch up with some friends who are hiking south toward Springer Mountain. He wants to try out his cold-weather gear.
At thirty-nine, Trevor isn't giving up his goal of becoming an attorney, either. Right now, he's studying to pass the North Carolina bar exam, and eventually wants to become a disability lawyer.
Still, what's left of his peripheral vision keeps slipping away. The little help it afforded him on the AT may be gone by the time he gets to the PCT.
He says he felt disabled, but no longer.
"Then, once you embrace it, then it just becomes a part of you. Like having blue eyes or brown hair. I just happen to be…blind. And now the big thing people ask me is, 'OK, if somebody walked up and they had the cure, if you had a 100 percent chance of having your vision back, would you do it?' "
He pauses.
"Honestly, I'm not sure. I've gotten so accustomed to this way of life and I appreciate things in so many different ways than I used to.
"More challenging? Yeah. Less rewarding? No."
He gets up. He picks up his trekking poles, finds the trail, and sets off on the greenway.
He can't see what's ahead. He doesn't need to.