Block & Grinder Holding Cocktail Recipe Contest
I look forward to getting my sip on at the August 7 Summer Sip Off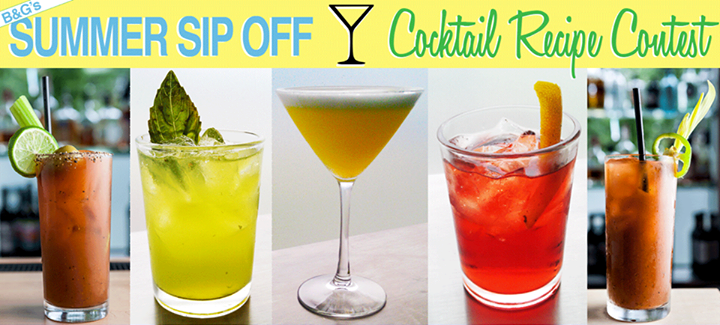 When you're at a house party or entertaining guests, do your friends often summon you to the kitchen to make drinks? Some of you have perfected your signature cocktails, outshining the Jägerbomb, 7 and 7, or margarita your friends have been mixing since college. Well, it's time you get the recognition you deserve.
Block & Grinder is holding a Summer Sip Off cocktail recipe contest. You're invited to submit your original recipe and photo of the drink, and the winner will receive a $75 Block & Grinder gift card, plus have his/her cocktail featured on the libations menu at B&G.
Your recipe must include at least one of the following brands of liquor: Milagro Tequila Blanco, Reyka vodka, Hendrick's gin, Sailor Jerry rum, or Jack Daniel's whiskey. Entries must be submitted by midnight on August 2.
Click here
for more details and to enter the contest.
The cocktail finalists will be featured at the Summer Sip Off event on Wednesday, August 7, beginning at 5:30 p.m. A panel of judges will determine the winner. I've been asked to serve on the panel, and I look forward to getting my sip on!
I attended
a special opening event in March for Block & Grinder, which has since become a hotspot in the Cotswold neighborhood. It's an innovative concept that features a butcher counter, restaurant, wine shop, and full bar. The bar, which seats about 20, offers a creative drink menu with at least 18 house-made cocktails, such as the Mezcal Mule ($12), a mix of Monte Alban mezcal, ginger beer, lime, passion fruit, and cucumber. The description of that drink caught my eye, so I ordered it and the presentation and taste did not disappoint. (
Read Aleigh Acerni's article
in the July issue of
Charlotte
magazine for great details on the restaurant and butcher shop.)
Be sure to bookmark www.charlottemagazine.com/Blogs/Dusk-Till-Dawn to stay plugged into Charlotte nightlife. Follow me on Twitter @HollidayInk; email me at jarvish@grownpeopletalking.com.