Bloomberg and Politico Each to Publish Daily Convention Coverage; Democrats Drafting Party Platform
Plus, Charlotte in 2012 Convention Host Committee to lead citywide day of service August 4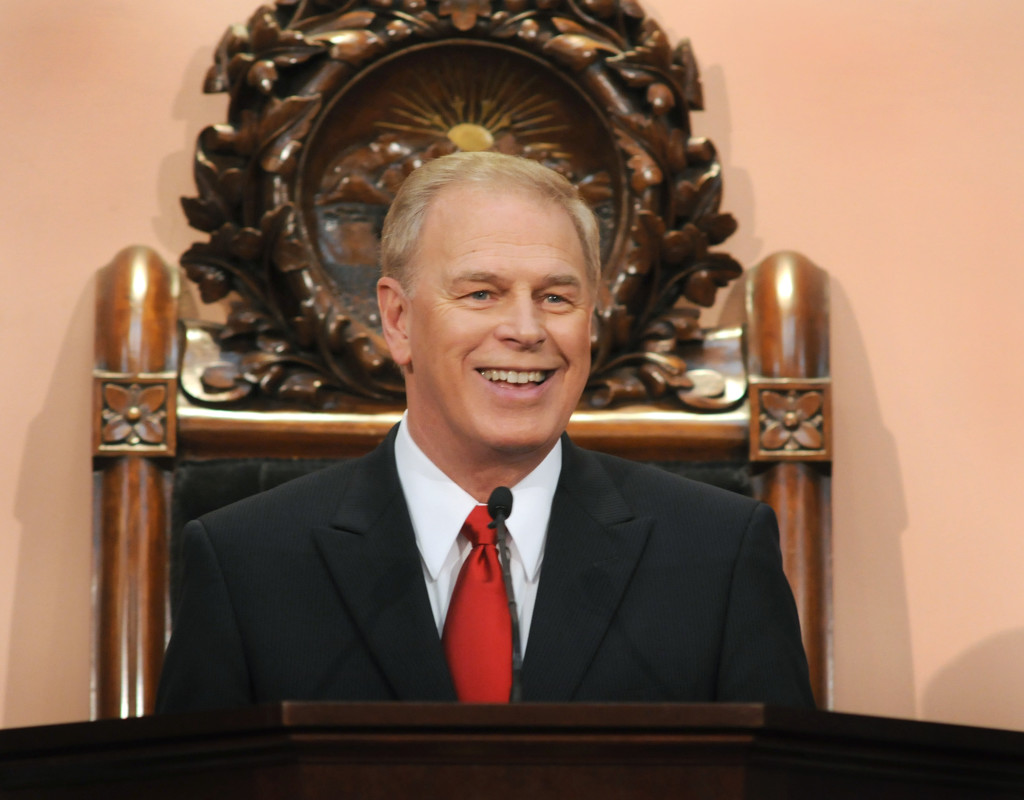 Two renowned media organizations announced this week their plans to provide daily news coverage during the Republican National Convention in Tampa and the Democratic National Convention in Charlotte, in each case partnering with a local newspaper.
Bloomberg LP will publish Bloomberg Insider, a daily magazine to be distributed at both conventions, that "will expand on daily convention coverage, providing a forward look at the 2012 U.S. elections while focusing on the important business and economic issues that define the candidates and their parties," according to a press release. Bloomberg, a global company most known for providing business and financial information and news, has grown its political coverage greatly over the last couple of years. The Bloomberg News Washington bureau now has more than 1,600 employees based in the D.C. area including almost 300 editorial employees and analysts in its Washington offices. Bloomberg is partnering with Charlotte-based American City Business Journals, publisher of the Business Journals in more than 40 cities, to feature local content from the Charlotte Business Journal and Tampa Bay Business Journal during the DNC and RNC, respectively. Bloomberg plans to distribute 15,000 copies per day at each convention and in Washington, D.C.
Politico, meanwhile, which has been covering party politics in the lead up to the conventions, has solidified plans for its RNC- and DNC-week coverage. The Washington, D.C.-based news organization most known for its online news will publish several convention-editions of Politico Live throughout the morning, afternoon, and evening. Featuring top Politico journalists, newsmakers, and official convention programming, shows will be launched by a special kickoff program the Sunday before the Republican convention and the Monday before the Democratic convention. Some of its coverage will be televised by C-SPAN either live or tape-delayed. And it is partnering with the Tampa Bay Times and The Charlotte Observer to co-produce newspapers in each city during the respective conventions. It plans to print 30,000 copies daily. In Charlotte, Politico is setting up shop at Packard Place, where it will produce its content and shows and host events.
According to Adweek, there will be plenty of convention-focused publications for you to pick up, with National Journal planning to distribute 20,000 copies of its magazine daily, and Congressional Quarterly and Roll Call producing combined daily publications at the conventions.
Party Planning
The 2012 Democratic Party's Platform Drafting Committee will meet this weekend, July 27-29, at the Marquette Hotel in Minneapolis, Minnesota to hold a public hearing on this year's platform that will eventually be presented to delegates during the DNC in September in Charlotte. The platform will be "based on Democratic priorities and President Obama's vision for an economy that is built to last," according to organizers. One sure-to-be hot-button issue is same-sex marriage, which several leaders within the Democratic Party have gone on record to say they would like see become a part of the party's official platform. The Platform Drafting Committee will be chaired by former Governor Ted Strickland of Ohio. Named to serve as members on the committee are former U.S. Representative Tony Coelho, Tino Cuellar, U.S. Representative Barney Frank, Donna Harris-Aikens, Colin Kahl, Nancy Keenan, Heather Kendall Miller, Thea Lee, U.S. Representative Barbara Lee, Susan Ness, Mayor Michael Nutter, Carlos Odio, former U.S. Representative Robert Wexler, and Christen Young. Serving as ex-officio members are Governor Deval Patrick, DNC Secretary Alice Germond, and Tom Wheeler.
Back at home, the Charlotte in 2012 Convention Host Committee will hold a press conference tomorrow (July 26) regarding further details on the Democratic National Convention Media Welcome Event that will take place September 1 at NC Music Factory. The Host Committee will announce tomorrow the premier sponsor, logistics manager, entertainment management team, catering company, audio-visual services team, and rental company for the event that is expected to welcome thousands of national and international credentialed journalists and media representatives to the convention.
Next month, the Charlotte in 2012 Convention Host Committee will partner with United Way of Central Carolinas' Volunteer Center and other organizations for a citywide day of service in Charlotte. Scheduled for Saturday, August 4, the day of service will highlight several community improvement volunteer projects one month before the convention officially starts. "The day will engage convention volunteers within the Charlotte community, highlight service projects that fall into Mayor Anthony Foxx's convention legacy programs, and ensure that this convention leaves a lasting, positive impact on the Charlotte region," according to a press release. Some of the volunteer projects include: assisting with the Rosedale Humana/KaBOOM! Playground build; building the new "Sense and Science" Garden at First Ward Elementary School; sorting donated food at Second Harvest Food Bank; assisting with product placement and donation at the Habitat for Humanity ReStore and Metal Recycling Center; and grounds beautification at the YWCA Park Road Campus and at Colonial Francis Beatty Park. The day of service is open to anyone who would like to participate, and you can learn more by visiting dayofserviceclt2012.eventbrite.com.