Blu Bayou Restaurant, Bar and Lounge Slated to Open at Mosaic Village
New Orleans-themed venue being developed as part of JCSU's revitalization of the Northwest Corridor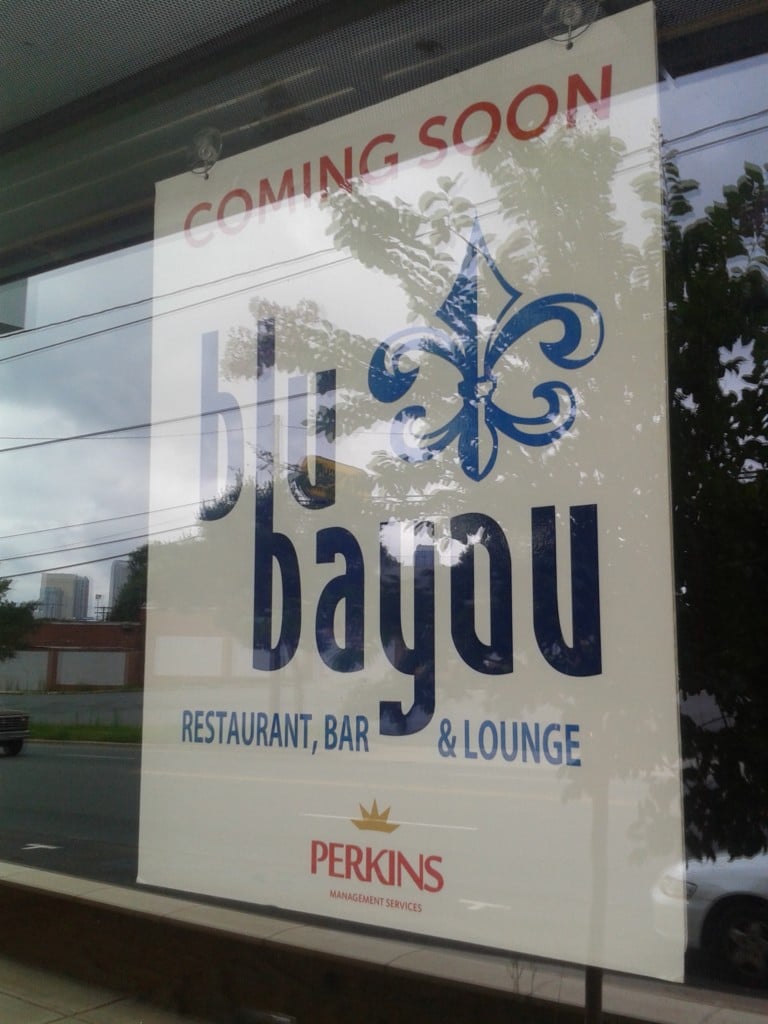 If you're among the thousands of Charlotteans who, each day, pass through the Five Points intersection—where Beatties Ford Road, West Trade Street, West Fifth Street, and Rozzelles Ferry Road meet—you've likely noticed the development taking place around Johnson C. Smith University. The largest of the projects thus far has been
Mosaic Village
, a four-story, mixed-use development that's comprised of student apartments, nearly 7,000 square feet of first-floor retail, and a large parking deck.
The apartments at Mosaic Village opened last fall, and the retail spaces are beginning to come online.
No Grease!
, the popular, local barbershop franchise,
opened a swanky location there in April
. And the bulk of the remainder of the retail space is being developed by Charlotte-based food-service management company
Perkins Management Services
, which plans to open four dining options. Among those is Blu Bayou Restaurant, Bar and Lounge (1635 W. Trade St.).
I was over at Mosaic Village on Saturday and peeked through the window of the space that will house Blu Bayou. It's clearly under construction, so this morning I called the Perkins office to get some background info.
Candra Whitley, corporate office director for Perkins Management Services, tells me that Blu Bayou will be a Cajun cuisine restaurant with a full bar and lounge area. Since Dusk Till Dawn is a nightlife blog, the bar and lounge element was my focus of our conversation.
Whitley says the restaurant will be open to all ages during the day, and then at night the bar and lounge will aim to attract 21-year-old and older "people who live in the area and college students because there isn't really a place for them [like this] in walking distance." She says there'll be live bands, particularly jazz music, and occasionally a DJ, and that the inspiration comes from the owner's favorite places in New Orleans.
Blu Bayou is expected to open this fall.
With Mosaic Village spurring development along West Trade Street, JCSU President Dr. Ronald L. Carter is forging ahead with his vision to have the historically black university be a catalyst of change beyond its gates, including
revitalizing the Northwest Corridor
. He shared that vision in my profile of him, "
Answering the Call
," in the November 2010 issue of
Charlotte
magazine.
Mosaic Village, which I attended the
groundbreaking
for a couple of years ago, is only three-quarters of a mile from
Gateway Village
—and its shops, restaurants, and apartments—traveling along West Trade Street. This development could go a long way to connecting JCSU and the once-neglected neighborhood surrounding it to Uptown. Over the last couple of years, the "
Passing Through Light
" LED-infused public art opened, lighting the I-77 and West Trade Street underpass; and the Gold Rush Red Line
extended its service to JSCU's campus
.
Be sure to bookmark www.charlottemagazine.com/Blogs/Dusk-Till-Dawn to stay plugged into Charlotte nightlife. Follow me on Twitter @HollidayInk; email me at jarvish@grownpeopletalking.com.