Blue Gets Peruvian
The cultural festivities benefit a good cause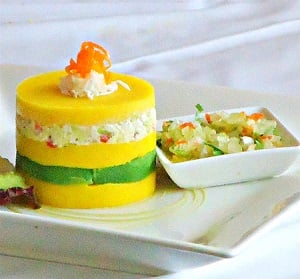 Starting at 630pm on Friday, March 13, Blue Restaurant & Bar in uptown Charlotte will host Peruvian Night with host Neale Bayly. The three course dinner costs $49.95 per person and benefits Wellspring International Outreach. Reservations are required.
Aside from benefiting a cause that helps bring awareness to abandoned children all over the world, the Peruvian evening will feature amazing food. Here's a peak at what attendees will be tasting:
Passed Hors D'Oeuvres:
Anticuchos: A Peruvian beef kebab
Ceviche
Causa Rellena: a layered combination of potato, chicken, avocado, and aji amarillo
Yuquitas Rellenas: cheese-stuffed fried yucca balls with huancaina sauce
Shortrib, cheese, and chili empanadas
Soup: Chupe de Camaron, a Peruvian shrimp chowder with a bit of spice
Dinner: Choice of either:
Aji de Galina with Papa a la Huancaina: chicken in a spicy cream sauce with boiled yellow potatoes covered with a spicy cheese sauce
Lomo Saltado: A Peruvian chifa stir fry dish that combines marinated strips of sirloin with onions, tomatoes, and vegetables; served with fried potato slices and rice.
Dessert: Suspiro Limeno; a delicious caramel custard topped with meringue
Come out for the cause AND the food! Call 704-927-2583 to reserve.