Blues Traveler to headline Charlotte's Moo & Brew Festival in April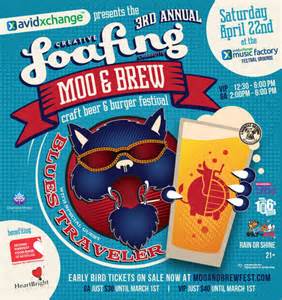 Entering its third year, the Moo & Brew Festival just made a big move in staking a claim as one of Charlotte's craft beer festivals. The concept already was welcome and refreshing: unlimited sampling from local breweries along with several regional and national ones plus some of Charlotte's best restaurants serving up unique spins on burgers.
Beer and burgers, who could want more? Well how about an appearance from a top-billing artist, and a great deal on early bird tickets.
On Wednesday Moo & Brew announced Blues Traveler would be the headliner for Year Three, with the festival once again taking place on the grounds of the N.C. Avidxchange Music Factory grounds. This year's event will be held April 22.
Moo & Brew will feature 30 breweries, including the title sponsor, Lagunitas. The others have yet to be announced but if past years hold true you can expect most of the local ones to be pouring (and perhaps some of the newbies? Stay tuned), along with the usual suspects across North Carolina and then a few national ones as well. There's no word of which restaurants are cooking, however I'd count on Bang Bang Burgers, which won the title of best burger last year (festivalgoers will once again be able to vote on their favorite).
But the obvious big news here is getting Blues Traveler, which has long had a solid following since breaking through in the mid-1990s with its acclaimed album, four (don't act like you didn't try to memorize the fast-paced last part of "Hook," 90s kids). I'll also venture a guess we'll be hearing Carolina Blues as well.
This is a totally unscientific proclamation, but Blues Traveler seems by and far the biggest act to appear at a Charlotte craft beer festival. Kudos to the organizers for scoring the band, and it's just another testament to the craft beer growth and the footprint it has on this wonderful city.
In even better news, for a limited time, you can get Early Bird tickets for either $30 (general admission or $40 (VIP). The VIP ticket gets you in at 12:30 p.m., along with a free burger ticket and entrance into a special VIP area in front of the stage. General admission entry is at 2 p.m., and the festival wraps up at 6 p.m.
The folks behind Moo & Brew will be announcing breweries, burger vendors and additional musical acts over the next couple of months. You can keep up with all of the news by following @mooandbrewfest over all the social media channels.