Bonjour, Renaissance Patisserie
Charlotte's newest French bakery is as authentic as it gets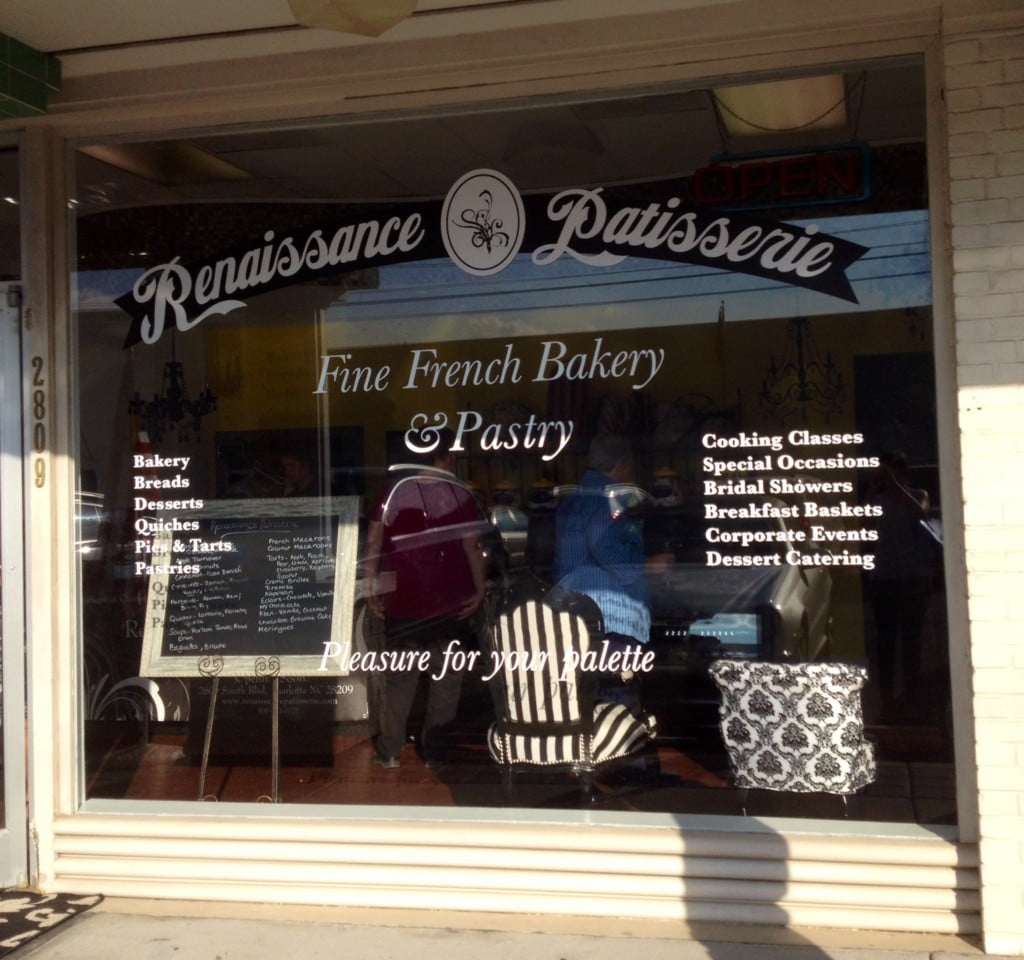 Chef Sylvain Rivet proclaimed to his guests at a private party on Wednesday, "Drink more champagne!" The chef, born in Paris and former chef to the likes of Oprah Winfrey, the Jackson family, and Sharon Stone, opened a brick and mortar store on South Blvd on May 21 where he will peddle his tarts, mousses, cakes, pastries, and custards.
After traveling extensively, leading kitchens worldwide, and even owning the highly acclaimed and award winning restaurant, Amuse Bouche, Rivet went a different route. The chef began selling his artisanal pastries and baked goods at the farmers markets of Charlotte and Gastonia for three years before deciding it was time to have a place where he could cook, work, and "make people happy" with his authentic French desserts – of which he noticed there were few in the Queen City.
Carol Shrum, manager of the Gastonia Farmers Market, came out Wednesday night to support Rivet's new venture. "Oh, the
first time he called me to sell his goods at the farmers market, he introduced himself by saying he used to work for Oprah. I hung up on him," says Shrum with a laugh. She, along with Amie Newsome, manager at the Charlotte Regional Farmers Market, both are in regular contact with Rivet – discussing which produce is ready, which is not, and how long the chef will have to wait to use it.
That's the other fine point Rivet wants to make clear: anything the chef makes will only use the ingredients available. If strawberries don't look quite right or peaches need another week to be perfectly juicy, the chef will wait.
"I love my job, and I want to make people happy. … I'm opening my heart," says Rivet, surrounded by friends and well-wishers.
"When you use good products, you have good desserts." Chef also stresses that he will use local products and only the best ingredients he can find. It may be a pricier pastry, but the quality shines through. That quality was deliciously apparent Wednesday night, as petit financier cakes, chocolate mousse tarts, creme brulee, crab finger sandwiches, cream puffs, tomato lollipops and more made the rounds.
The bakery and patisserie is located at 2809 South Blvd. near the Sedgefield Shopping Center and will be open from 6:30 am to 2:30 pm Tuesday through Friday; 7 am to 3 pm on Saturday.