Books and Millions
Lee Keesler tackles the unenviable task of rescuing the county's public libraries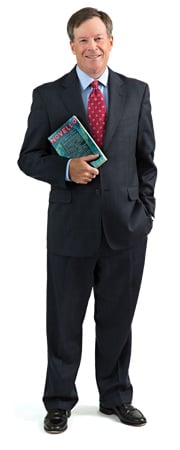 The lunchtime business crowd is filtering into McCormick & Schmick's, a white-tablecloth seafood restaurant on South Tryon Street uptown. Lee Keesler is early, already waiting in the booth. And he's facing the door, the better to spot his guest—which is what polite, decent, and thoughtful people do. They show up early, and they help.
And that is Keesler to his core. He's part of the city's striving and cheerful power elite, a Charlotte native and former banker turned nonprofit executive. Since July, he has been the polite, decent, and thoughtful head of the Charlotte Mecklenburg Library, an institution that was decimated by budget cuts and is now rebuilding and trying to navigate a world in which Google has replaced the Dewey Decimal System.
Mecklenburg County's library funding has dropped 28 percent, about $10 million, since 2009. The main branch is still closed on Mondays. The beloved Novello Festival of Reading, which for nineteen years brought literary giants like Toni Morrison and Kurt Vonnegut to town for a weeks-long extravaganza of speeches and events, was canceled in 2010 and has yet to return. A task force looking at the library put it this way: "The award-winning library of the past no longer exists."
Keesler calls the cuts "extreme funding trauma," and as much as he might rue the losses, they're in the past. "Sometimes," he says between spoonfuls of clam chowder, "you need to trim back in order to make sure the future growth is most impactful."
Around 180 people were let go when the library's funding collapsed, so coming out of another person's mouth, this statement about deadwood and the circle of life might come off as insensitive. But Keesler is so sincere in his delivery that it seems honest and reasonable. Besides, the layoffs happened before he took the job.
He's a former First Union and Wachovia executive who recently spent five years as the president and chief executive of the Arts & Science Council—an organization that relies heavily on donors. His task is to help the library move forward, maintain community support, and create a broader base of funding for an organization that depends on taxpayers for 90 percent of its budget.
Despite the challenges, Keesler relishes the small moments of success: the 105-year-old woman who learned how to use a computer at the library, the delight he gets in watching people spread out their books and laptops on the tables and the floor, inhabiting and sharing one of the last true public spaces in our world. And he loves to give people library cards. It's a club everybody can join.
There are no quick fixes for libraries, Keesler says. As free institutions, their future depends on the relevance of their programming and the amount that taxpayers and business leaders are willing to invest in providing Steinbeck and Wi-Fi to the masses.
Lunch is over, and I know it's over, not because the waitress has removed our plates or because she has given us the check. It's over because Keesler—ever the banker—has untucked his tie from his shirt. It is time to get back to work.