Breaking Down the Wedge in Charlotte
The city has grown accustomed to two distinct sides of its own face: a division between haves in south Charlotte and have-nots everywhere else. But the lines between the poor and rich parts of Charlotte are eroding, and the poor are trying to find places to live anywhere they can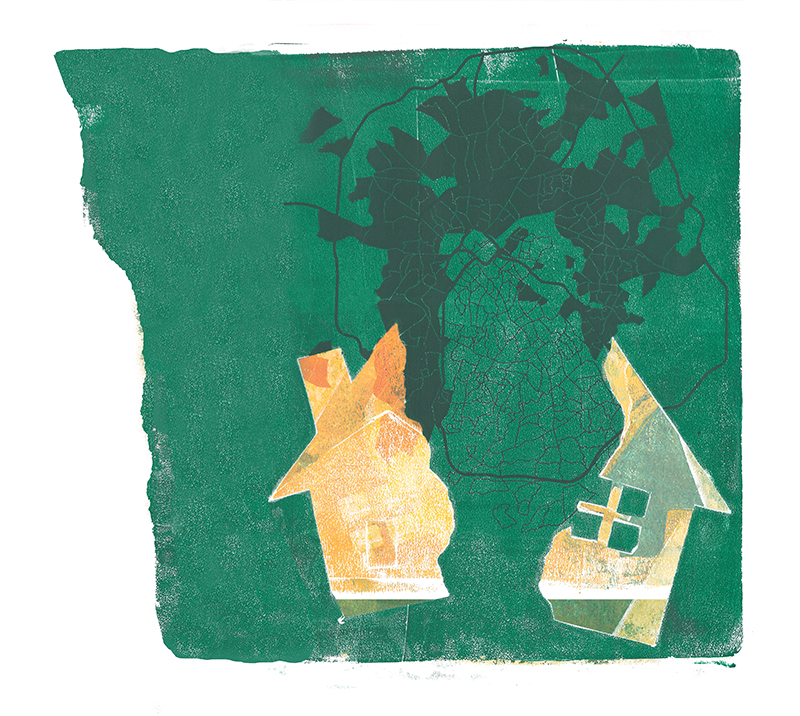 ONE, TWO, AND THREE AT A TIME, people emerge from the sunshine on an unseasonably warm February afternoon into the leasing office at Crest on Providence. They're looking for somewhere to live. A young African-American couple peruses the brochures arranged in a Plexiglas rack near the door. "Greystar," the man says, smiling as he catches the name of the complex's property management company. "Nice." Another young man in a dress shirt and tie leads the couple into an office.
In a room just off the entranceway, Shakira Weddington waits for another Crest employee to discuss the metrics familiar to renters: square footage, number of bedrooms, security deposit, rent. Weddington is 34 and also African-American; she works at Mount Holly Elementary School, south of the state line in Rock Hill. For a year, she's rented an apartment for herself, her 10-year-old daughter, and seven-year-old son in east Charlotte, near Independence Boulevard and Albemarle Road. It's fairly affordable, $1,050 for three bedrooms, and for a reason. "There's a lot of violence happening there," she tells me. "I want something that's affordable but in a safer part of town."
Weddington has made a deal with herself. She's willing to pay a few hundred dollars more for an apartment in a better neighborhood with better schools. That's why she's looking at Crest, a complex on Providence Road just south of the Landsdowne neighborhood. The 473 units aren't anything special, nothing like the luxury flats under construction along Providence and all over Charlotte. This complex was built in the late 1960s and early '70s, when this side of town was practically country. So Weddington might be able to handle the higher rent.
During her tour, she checks out a three-bedroom apartment that rents for $1,427, a bit much but potentially workable. She could easily find more space for less money in another part of town. "But I don't want to live on the west side of Charlotte in any way, shape, or form. I'd prefer the east side to that," says Weddington, a Charlotte native who graduated from Providence High, not far from Crest. "South is really where I'd like to be."
***
CREST AND ANOTHER COMPLEX, 574-unit Reserve at Providence, occupy a pocket of relatively affordable homes in the center of the most affluent part of the city, south Charlotte. The median household income in this Census tract was $31,908 in 2016, according to the most recent city Quality of Life data. The median household income for the tract just south of it: $92,235. Just north: $112,392. Just east: $119,313.
For at least a decade, planners, demographers, and community leaders have used a shorthand term for south Charlotte, a pie slice-shaped expanse from uptown Charlotte to the Union County and South Carolina lines and bounded generally by Interstate 77 to the west and U.S. Highway 74, Independence Boulevard, to the east: the Wedge. In general, the Wedge is where the rich white people live. They have better access to parks, jobs, supermarkets, their own vehicles, good schools. The rest of Charlotte—poorer, more racially mixed areas east, west, and north of uptown—take up everything else. On a map, it looks like a collar, or a towel draped around Charlotte's neck. Officials and civic leaders call it the Crescent.
The division between Crescent and Wedge forms the foundation of discussions about the city's unequal distribution of economic opportunity, especially since a 2014 Harvard University study ranked Charlotte last among 50 major American cities in economic mobility. "Charlotte-Mecklenburg has a deep history of segregation and discrimination that has manifested in community and neighborhood development over the years, and patterns of isolation that have evolved," a community task force organized to fix the problem wrote in a widely publicized 2017 report. "Recent research indicates that this racial and economic segregation has deepened the gap in opportunity."
Other research and anecdotal evidence suggest that the sharp lines on the Charlotte map between haves and have-nots have begun to blur—that it's no longer a simple matter of the affluent south Charlotte Wedge and the struggling Crescent. The have-nots are scrambling to find pockets anywhere in Charlotte, or outside of it, where they might be able to scrape together enough resources to live and work.
The apartments at Crest and Reserve, in the heart of the Wedge, are what's known as NOAH, or naturally occurring affordable housing. It's not lost on either Weddington or the man who owns the company that owns Crest—where rents start at $785 per month for a one-bedroom, one-bath unit—that, compared to rents a decade ago, what's considered affordable isn't that affordable.
"We can always find tenants for these apartments," says Daniel Levine, president of Levine Properties, which owns about 1,000 units in Charlotte and bought Crest in 2014. "It's just a matter of price. In these better neighborhoods, people seeking safety or a better situation, they will find you." Demand isn't the issue. Other economic pressures are—a Charlotte housing market that's exploded since it emerged from the recession in 2013 and a Mecklenburg County property tax revaluation this year that will reflect the boom in higher assessed values and tax bills for landowners, which tend to result in rent hikes.
"Let's assume taxes go up 10 percent—and they'll probably go up more than that, so the cost will go up $300 to $500 every unit, which will translate into a rent increase, just to break even, of about $25 to $42 a month. Now, for someone paying $790, that's a lot of money," Levine tells me. "We may not pass on everything in the first year, but I would imagine that within a couple of years, we're going to have to pass all of that along. I hate it. But that's just the cost of doing business in Charlotte-Mecklenburg today."
***
THE CHANGES SHOW UP IN, among other things, political representation. In November, 11-term Republican county commissioner Bill James, an avatar of white conservatism in south Charlotte, lost his District 6 seat to Susan Rodriguez-McDowell, 55, a New York-born Democrat with Cuban and Puerto Rican ancestry. Rodriguez-McDowell attributed her victory in part to demographics. "(T)imes are changing, demographics are changing," she wrote on her campaign page. "Our district has changed!"
We meet in the parking lot of a Panera Bread on Pineville-Matthews Road, N.C. Highway 51, the main east-west route through southernmost Charlotte. District 6 hugs the state line from the county's eastern border to its western, and the bottom of the Wedge encompasses the heart of the district. The Panera serves as a handy meeting place for the new commissioner, who's still adjusting to public service on this Friday afternoon in February. "It's been wild," she says as we climb into her Honda Accord hybrid. "Been pretty darn busy. On the go 24/7." We head west on 51.
She's taking me to the town of Pineville, in the southwestern corner of the Wedge. The median household income here is $48,125, lowest among the eight cities and towns in Mecklenburg County. (The next lowest is Charlotte, at $58,202.) One in five Pineville residents lives at or below the poverty level. Three years ago, Jane Shutt and a few friends founded Pineville Neighbors Place, a nonprofit that provides for the poor what Shutt calls the "three Fs": food, furniture, and financial assistance. The offices and food pantry occupy a tiny house on Industrial Drive off 51.
Shutt, who's lived in Pineville for 35 years, founded Neighbors Place after she noticed a growing number of people who sought help at Pineville United Methodist Church, where she worked as a music director. "One of the things I've heard most as I started doing this work is, when I would talk to somebody who doesn't live here, they express surprise that there's anybody down here who needs help," Shutt tells me. "Because there's a perception of sweet, nice little town, and (Interstate) 485, and (Carolina Place) mall, and Ballantyne, and they can't believe anybody would be struggling down here."
Nearly two-thirds of her clients are black, many of them elderly and disabled, and a number of them are recent transplants who have supplanted the old factory town's working-class whites. Nellie White, who joins us at Neighbors Place, is 74 and a native of Springfield, Massachusetts, who moved to North Carolina from Florida in August to be close to her daughter.
That part has worked out, but little else has. White has relapsing-remitting multiple sclerosis, lives on a monthly $1,137 Social Security payment, and has trouble with the rules of her housing subsidy and the relative lack of services compared to Massachusetts and Florida. That's why she wanted to talk to Rodriguez-McDowell, which she does, passionately, in a raspy, rapid-fire cadence. "Would you please tell me, where am I going to find a live-in aide? I'm new here. I don't know anybody," she tells the commissioner. "And if I did, who is going to pay the live-in aide? I have no money, and I do mean none. I thought I had checked everything out. I wanted to meet a politician so I could fight for senior rights."
Another new Pineville resident sits next to her at the table. Sonia Moore, 60, moved to the area from the Bronx five years ago—again, to be close to family—and at first lived with her son in the complex that's now known as Crest on Providence. When the lease expired, she wanted to find her own place. But she says her doctors advised against it because she suffers from severe asthma and shouldn't live alone. Her condition ruled out any upstairs apartment, too. Moore and her daughter searched for eight months for an adequate first-floor unit she could afford until, in September 2016, one opened up in Pineville.
"That's how we wound up down here. Which is fine," says Moore, who uses a walker. "The only problem down here is if I need to go somewhere, I have to cross the streets, because I don't drive, and if I have to call CATS special transportation ahead of time, they're not reliable. I understand that Charlotte is growing faster than they anticipated and that they don't have the personnel to help us, because a lot of seniors are moving here, and, like me, they don't drive. We have to depend on the system."
And communities within the Wedge typically haven't offered the public services available closer to uptown because, until recently, they haven't had to. Shutt says she's perceived a widening gap in Pineville between the richest and poorest—enclaves of affluence in new communities, like the new McCullough subdivision nearby, isolated from the poor. Rising home values will likely widen that gap, says Shutt, who was astonished to learn from the county how much her own home a few miles away had appreciated.
"Our house is now worth $265,000," she says—not extravagant for Ballantyne, but for a semi-rural spot off Lancaster Highway south of Pineville?
"And that was a jump of …?," asks Rodriguez-McDowell.
"We built it 20 years ago for one sixty-five."
"Wow. So are you happy about that?"
"Uh, no." It'd be one thing if she was planning to sell, "but I'm not going anywhere. Where do you find affordable (housing)? Rents have gone up faster than wages have," Shutt says. "People used to move (farther) out to try to find affordable, and it's just not here."
That's not entirely accurate. It is here. Otherwise, White and Moore would have to live elsewhere. But Moore spends most of her meager income on housing, and White depends on Section 8 housing vouchers, which makes "affordable" a relative term. They get what they can from Shutt and her nonprofit. "I love Jane," White says as she hugs Shutt and we leave. "She's my angel."
***
PLANNERS SPEND a lot of time staring at maps. Three of them gaze at one on a projection screen in the city planning offices, on the eighth floor of the Government Center uptown. Evan Lowry, a data whiz, knew I was coming to talk to them about the Wedge's evolution, so he's prepared this map and two others that display changes in racial composition and household income in 2010 and 2017.
"I was looking at the data earlier this morning," Lowry says. We're in the conference room with his fellow planners Garet Johnson and Rachel Stark. "What I found was … that these areas that I've circled here are becoming less segregated just over that small amount of time." He's drawn an oval around an area east of uptown that encompasses the Plaza-Shamrock and Commonwealth Heights neighborhoods, and another around the Wilmore neighborhood just west of uptown. Minority-rich neighborhoods in 2010, they're growing whiter. He's drawn two other ovals in what's generally thought of as the Wedge, both south of I-485.
"In these northern areas"—Plaza-Shamrock, Commonwealth Heights, and Wilmore—"it's going more from minority to white, and in these southern areas, it's going more from white to minority," Lowry says as he points at the screen. "And a lot of that, in the extreme southern area, that's the Asian-Indian influence down there. That's how I see the Wedge changing."
The Planning Department is working on new comprehensive zoning and development ordinances, which it expects to submit for City Council adoption in 2021. They're critical documents, expected to set templates for the city's growth for the next half-century or more. But to guide Charlotte's future, the planners have to grasp Charlotte's present, and that's transforming before their eyes.
It's altered considerably just in the little more than five years that Ed Driggs has represented City Council District 7. It's the city's southernmost, including Ballantyne and the nucleus of the area Rodriguez-McDowell represents for the county. "There's more affordable housing in my district than people generally appreciate," Driggs tells me. He observes that the post-recession desire of the young and affluent for walkable neighborhoods near the city center has driven former Crescent residents into the suburbs, including those in the Wedge. "These changes," he says, "are just happening all around."
Back at the Government Center, I ask the planners what they might portend for the decades to come. They laugh. "I left my crystal ball on my desk," jokes Johnson, a city planner in Charlotte for a quarter-century. "I can go get it."
She turns serious. "'Crescent and Wedge' is a great way to tell the big story … But the Crescent isn't homogenous. The Wedge isn't homogenous. So we really have to dig a little bit deeper, and that's what makes the work for the comprehensive plan more difficult," she says. "Ten years ago, that duality might have been more pronounced. You can get caught up looking at those big swaths. But there's more to it. It's more nuanced—and changing."
***
I CATCH UP with Shakira Weddington the week after we meet at Crest on Providence. She's decided to look elsewhere. "What I really want is a four-bedroom, and the prices there are way too high," she tells me. "I figure I could get a house for that. So I think I'm going to go the house route."
She no longer has her heart set on south Charlotte. "I'm looking anywhere right now," she says, "just seeing what pops up."