Breaking the Rules at Futo Buta
South End ramen house mixes authenticity with creativity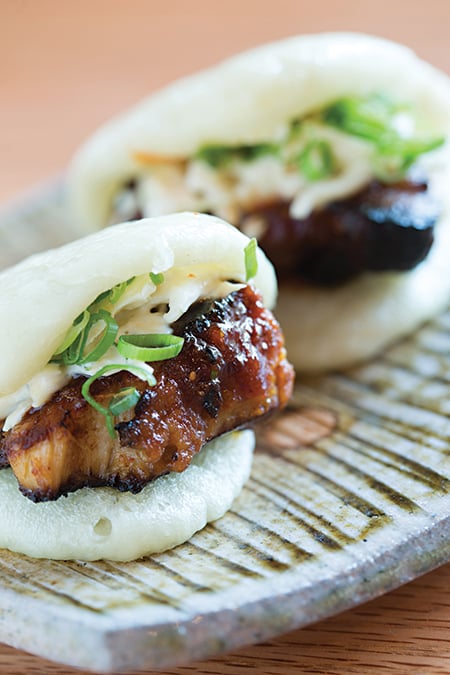 BEHIND THE BAR at Futo Buta is a large beverage case, the kind often found in a convenience store or supermarket. On the top shelf, green bottles of sake are lined up in neat rows. Two racks below is a pile of Cheerwine cans.
That contrast between foreign and familiar is a theme in the restaurant's approach to Japanese cuisine. Chef and owner Michael Shortino left his job as executive chef at Baku in SouthPark in March to open this place. Futo Buta—the Japanese name roughly translates to "fat pig"—sits along the light rail tracks at Bland Street in South End, with space for 40 diners inside and another 40 on a small patio. The restaurant's décor uses natural textures, with blond wood paneling on the walls and a bar with comfortable metal stools that allow diners to peer into the kitchen.
Ramen, the Japanese noodle soup, is the menu's star, served in portions big enough to be called an entrée. But it would be a mistake to skip the appetizers and small plates, called izakaya. We started with the fried brussels sprouts ($7), which were crisp throughout and topped with a sweet soy sauce that tasted almost like an Asian molasses. The sprouts came covered in a blanket of bonito flakes—thin, paper-like sheets shaved from smoked and dried fish—that added a smoky, salty depth to the dish.
The Low Country Smoked Pork Belly ($10), served on a pair of steamed buns with crisp sesame slaw, disappeared in about six bites. Before we ordered ramen (served in bowls made by a North Carolina potter), we decided to have dessert. Futo Buta offers a rotating array of soft-serve ice creams, including a cherry-lemon flavor designed to taste like Fruity Pebbles cereal. The ice cream isn't intended to be a mid-meal palate cleanser, but it did just that, preparing us for the irresistible bowls of piping ramen that followed.
The miso ($12) starts with a pork-based broth filled with heaps of noodles, bean sprouts, sweet corn, and seared pork belly. At my server's recommendation, I added the spicy ground pork ($2 extra) to crank up the heat and flavor. Between bites, I held a moment of silence for the 19-year-old me who ate awful instant ramen in college.
On the side of the drink refrigerator, the sentence "I will not slurp my noodles at the table" is written dozens of times in white permanent marker. Inspired by Shortino's irreverence, I felt like breaking the rules.
Futo Buta
222 E. Bland St.
704-376-8400
Dishes $4-$14