The Most Overqualified Brewery Chef in Charlotte
Is this chef preparing the city's most inventive food in a brewery?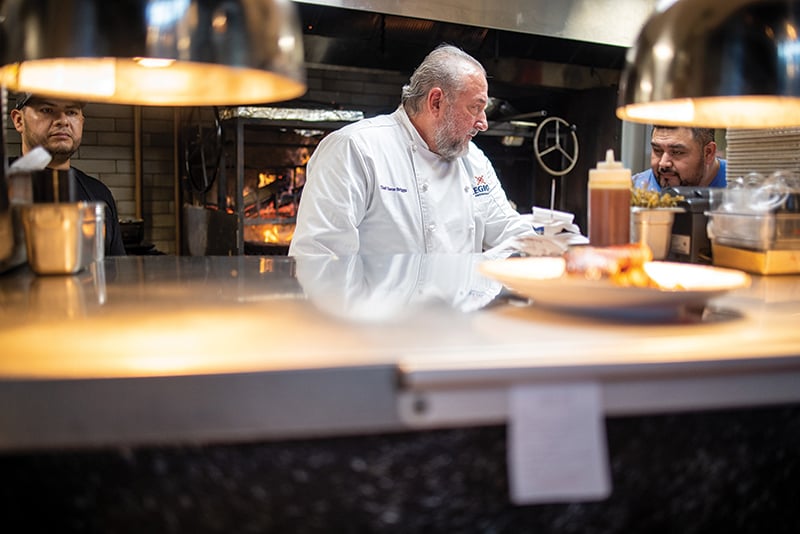 I met Gene Briggs in 2019, not long after he took the helm of the kitchen at Legion Brewing's SouthPark location. At the time, I thought he was the most overqualified chef in Charlotte. That wasn't a dig at Legion—I knew Juicy Jay was a top seller for good reason. I just assumed breweries offered predictable menus of pretzels, wings, and nachos. What was this New York transplant, who'd spent the last three decades working in some of Charlotte's finest white-tablecloth establishments, doing at a brewery?
He knew something I didn't. Legion's beer pairs with food as well as wine does, and he wasn't limited to traditional pub grub. "Most breweries focus on the beer, and it's not their fault," Briggs says. "They'll bring in a food truck and let them do it, or just have a really simple menu. But across the U.S. and in other cities, I saw there was some great brewery food out there. In Chicago, they have Michelin stars!"
Breweries typically operate with a freer, more try-anything ethos than restaurants, and Legion owner Phil Buchy gave Briggs carte blanche to serve whatever he wanted. That appealed to Briggs' entrepreneurial leanings, and the brewery wasn't depending on his food to make or break the business. He could make his kitchen a kind of laboratory for some of the city's most talented chefs.
Over the last five years, the 60-year-old restaurant veteran has turned SouthPark's first craft brewery into a food destination. His menu spans multiple cuisines, and he uses Legion beer in many of his recipes. Dishes include Pork Belly Cubans, Pho Mi Dips, and Caramelized Short Rib Sliders—and each one tastes like it's his specialty. Ask anyone who's worked in Chef Gene's kitchen, and they'll tell you it's the best, most rigorous on-the-job training a rising chef can get in Charlotte.
Every week, both of his sous chefs come up with a new dish. "We have weekly chef meetings at our office on East Boulevard," Briggs says. "We set up the whiteboard and brainstorm ideas. Sometimes it's an old family recipe, sometimes it's something they've never done before but want to try."
The chefs typically finalize their recipe by Sunday, put ingredient orders in by Monday (unless it's fish—then they'll wait until the weekend to order it so it's fresh), and have it ready for social media pictures by Thursday. When a weekly feature hits the menu on Friday, it's listed with a chef's beer pairing.
"I came from a world of wine dinners, and wine is very specific," Briggs says. "It can be hard to pair spicy food with the right wine, but beer is more forgiving. Supernova pairs well with everything—it's a great food beer."
Briggs often works with Legion's brewers as he plans his seasonal dishes. "I use dark stouts and porters in our barbecue sauces," he says. "We use beer in at least half of our dishes." One thing you won't find on his menu, though, is fries. Legion doesn't have a deep fryer in any of its three locations. "That's strange for a brewpub, I know," he says.
Other breweries in town follow his lead—and he's not mad about it. Last year, Wooden Robot's in-house kitchen rolled out a new menu with Asian-inspired dishes like Fried Bao Buns. Resident Culture added a coffee bar and taco stall inside their new South End location. Now breweries are becoming a place where the city's most talented chefs don't feel constrained.
"We're fine starting the trends," Briggs says with a smile. "But they'll see it's not that cut-and-dry or easy. We make everything here. A lot of brewpubs don't do that. Our Pork Pastrami Reuben—people went insane for that. We'll also feature foie gras or sweetbreads. People love that in a brewery."
TAYLOR BOWLER is the lifestyle editor.