'Broadband Deserts' Trap People Thirsty for Access to Our Digital World
'This, to me, is one of the most unifying urban and rural issues'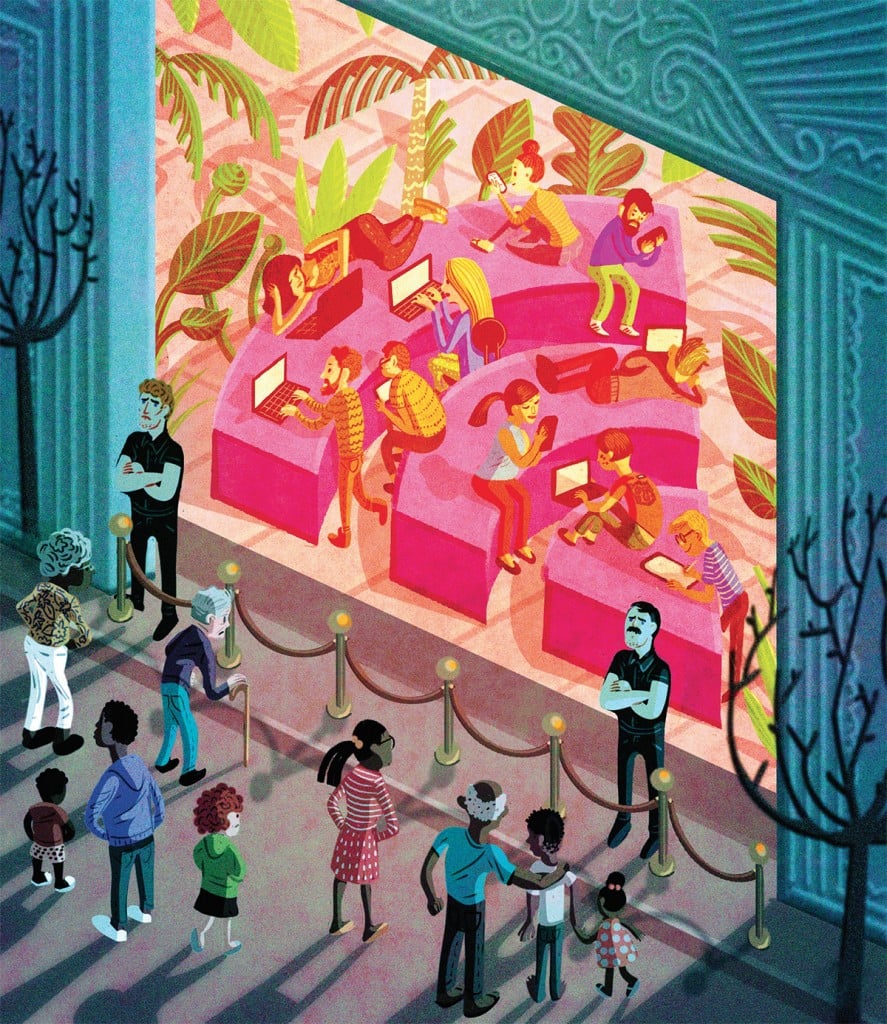 Back in the early 1990s, J'Tanya Adams had worked plenty of jobs, often more than one at a time. Then a single mother in West Charlotte, Adams was looking for something more. "I was a grocery store clerk, worked in fast food, and then I was a cosmetologist after work," Adams says. "Those lower-wage jobs, you kind of end up in the same place."
That was before she entered a job training program and took a computer operations course at Central Piedmont Community College. "This was in the days of die-hard, mainframe computing," she says, "but I loved being able to respond strategically to problems." That one class led to a 21-year career at Hearst Corporation, where Adams rose to operations manager. More than that—it gave her access to the growing digital world and a stable career.
"Anything you desire to do today in life has a digital component," says Adams, 56, a longtime West Side community leader who founded and works as a program director for Historic West End Partners, a business and community booster group. "Everything from applying to a job to homeownership."
So much so, in fact, that people who can't access the internet—because they can't afford it, live too far from access to it, or both—have a difficult time navigating a society increasingly dependent on not just the web browser but the app. It's come to be taken for granted: Surely internet access is a given, isn't it?
It isn't. Poor, rural communities in North Carolina, including in the Charlotte region, suffer from gaps in access to the internet and wireless networks, which can hamper citizens' ability to find jobs, schedule doctor's appointments, manage money, do classwork, and accomplish other daily tasks that more affluent people can complete with a few clicks. Policy discussions about technology usually focus on the potential for business growth, on gigabytes and download speeds. But stories like Adams' reveal the human potential that goes undeveloped in "broadband deserts," says Bruce Clark, executive director of Digital Charlotte. The organization, part of Queens University's Knight School of Communication and founded in 2011, focuses on closing that gap through programs to improve digital literacy in Mecklenburg County.
"For a long time," Clark says, "the conversation was, 'Oh, yeah, Google Fiber's coming to town. That's so cool!' Now we see that the gaps in digital adoption and social mobility are related."
For starters, more than 70 percent of teachers now assign homework online. GED exams are now strictly online. Eighty percent of job listings are posted exclusively online. In Charlotte, large swaths of the city's "crescent"—the ethnically and economically diverse counterpart to the wealthy, mostly white south Charlotte "wedge"—have access to internet download speeds of less than two megabits per second, far lower than the federal broadband standard of 25 mbps, according to data from Digital Charlotte. About 26,000 Mecklenburg County households have only mobile internet or dialup service. About 56,000 Mecklenburg households, or 14 percent of them, don't even have that. They lack any access to the web.
While most urban neighborhoods have the infrastructure in place to access at least one internet service provider, digital adoption—access to the internet through desktop or laptop—is more limited. Mobile devices can fill some gaps, but that doesn't help build the professional skills needed to start a career, Clark says: "A lot of people say, 'Can't people just get it on their phones?' You can't develop the next great software if you can't use a keyboard."
It's also hard to build the next great business, particularly in rural areas that desperately need jobs. A 2019 study by Amazon and the U.S. Chamber of Commerce found that rural businesses that took advantage of their full digital potential could add $47 billion to the U.S. economy and create 360,000 new jobs in rural counties, which continue to struggle with job and population loss.
Representatives from technology groups around the state made that urban-rural connection clear during a related conference in February at N.C. State University. Urban households within range of broadband access but whose occupants can't afford it outnumber rural households that lack physical access by a ratio of four to one, Marc Hoit, the university's vice chancellor for information technology and chief information officer, said during his presentation.
"This, to me, is one of the most unifying urban and rural issues," Clark says. He recalls the story of another speaker at the N.C. State conference, John Mark Lavigne, a young Scotland County farmer who used data to analyze water management practices and increase crop yields to the astonishment of his skeptical grandfather. North Carolina farmers, Lavigne said, cannot compete without the internet.
To Adams, developing digital skills means not only building better careers but better lives. But some of the same economic forces that hinder internet access for the marginalized frustrate attempts to help them. For three years, Adams worked as a regional manager for EveryoneOn, a national nonprofit that connects people to affordable internet packages and teaches digital skills. But she says she and seven other employees were laid off in 2018 because of a funding crisis. Her Historic West End job helped, but she says it's a reminder of how perilous professions can be in the digital age—even before a global pandemic made internet access even more critical for people who need services and routes to employment.
"Even this situation with the coronavirus," Adams tells me in March. "If they're asking you to work from home or if they close access to the building, some people can't afford to miss two or three paychecks. Having those skills allows you to be more agile in a not-so-empathetic world."
CHUCK McSHANE is a writer in Charlotte. Reach him at chuckmcshane@gmail.com or on Twitter: @chuckmcshane.