Brooklyn Decker Wants to Organize Your Closet
The Charlotte native on college hoops, staying busy, and pictures from a Five Guys bathroom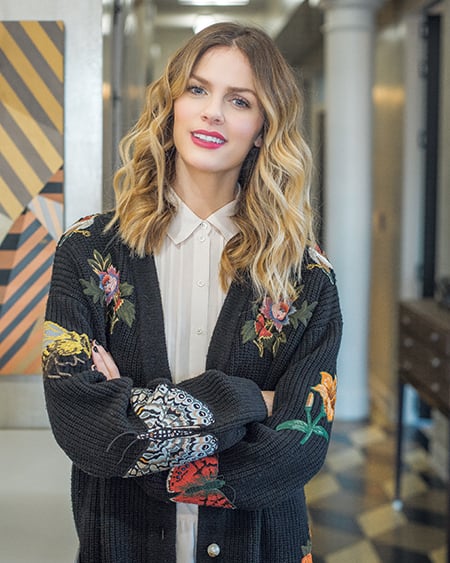 WHEN YOU'RE THE PARENT of a small child, and that small child happens to be with his grandparents, and you're a UNC fan, and the Tar Heels are playing in the NCAA national championship game, you order food and put on your Carolina blue and turn up the volume on your TV.
You do this because you're from North Carolina, and because one time you dressed your English bulldog (named Bob Costas) in a UNC onesie.
You do this if you're actress Brooklyn Decker, because that's what Carolina fans do.
"We got to scream and act like idiots, because we didn't have to worry about waking the baby," she tells me, about three weeks after the championship game. She and her husband, tennis star Andy Roddick, have a son, Hank, who'll turn two in September. "Wait," Decker says, pausing the conversation, "you're not an N.C. State fan or a Duke fan or anything like that, are you?"
Decker, who was born in Charlotte 30 years ago and graduated from Butler High School in 2005, takes her college hoops seriously, even though she was too busy to watch much basketball this season. "Up until the Elite Eight, I didn't watch one game the entire tournament," she says. "I was a terrible fan this year. I blame parenthood. There's just no time."
***
DECKER'S CANDOR—and her willingness to honestly portray her life online—is part of what makes her likeable. Her Twitter feed is a mix of updates about her various projects, exclamations about sports ("HEEEEEEEEEELS!!!!!" after the game), and pleas for potty training tips for Hank.
As images of violent demonstrations in uptown made international news last fall, Decker posted, simply, "Charlotte ."
"I have so much pride in where I come from," she says today. "My school was incredibly diverse, the city is incredibly diverse, both racially and economically. That's what makes Charlotte so beautiful."
Her fluency about this city and its people is informed by frequent trips home to visit her parents, who moved from Charlotte to a farm in Lincolnton in 2015. She flies in on breaks from running a new digital start-up out of her home in Austin, Texas, and filming a TV show in Los Angeles. "I have an incredible job," she says, "but I'm kind of at the mercy of a production schedule, which can be really challenging when you have a baby."
The latest venture, Finery, is a digital platform that Decker bills as a "wardrobe operating system," an online tool that helps women manage what's in their closets. She launched it in the spring with longtime friend Whitney Casey, a former CNN anchor.
Finery's target customer is Decker, if you subtract the whole movie-star-and-swimsuit-model thing: a stylish, young woman with a full calendar who shops online and asks for parenting advice on Twitter. "Women will spend more money on their clothing than they'll spend on their education in their lifetime," Decker tells me. "And it's not because they love clothing or they love fashion. It's because you have to get dressed." Finery tracks your online purchases and wish lists, notifies you when items go on sale, and makes recommendations based on what's already on your hangers.
Decker and Casey knew they wanted to launch a business together, and first considered some kind of online shopping site. But they ruled that out, because the market is crowded, and because e-commerce comes with practical challenges that are tough to overcome.
"Logistically, it was a nightmare," she says. "You're having to deal with storing items, shipping, managing inventory." Her acting schedule—when we talked she was in California, on a break from filming the fourth season of Netflix's Grace and Frankie with Jane Fonda and Lily Tomlin—isn't forgiving. And being a newish mom doesn't leave time for much else. "The time you do have is spent on your child, which is wonderful," she says. "But unfortunately, you can't let the rest of your life go."
***
OVER THE CHRISTMAS HOLIDAY last year, Decker and Roddick drove into Charlotte for a day to explore. They come back to North Carolina every couple of months, but typically spend time with her family or at a mountain house they own west of Asheville.
"We tried to actually live Charlotte as tourists, because I had never done that before," she says. They ate at YAFO Kitchen in SouthPark, drove by the Duke Mansion, and had drinks at Stoke. "As Charlotteans know, and I was late to learn, downtown is no longer exclusively a banking city." She catches herself. "Uptown, I should say."
Plenty has changed, of course, since she moved away in 2005. Decker is reminded of that when she comes home and cruises through NoDa or has a cocktail at The Punch Room. "When you live in a place, you never really explore it. You just kind of do your daily routine. And I got to see the side of Charlotte that wasn't there when I was there, but also just something I was never exposed to, growing up in Matthews."
Not long after she graduated from high school and left Matthews for Manhattan, this magazine put Decker on its cover in a fedora, men's suit jacket, and bikini and declared, "We give it three years—max—and you'll be seeing Decker on the cover of magazines everywhere."
That was 2007.
Not to say we told ya so, but exactly three years later, in 2010, Sports Illustrated put her on the cover of its swimsuit issue and Esquire named her its Sexiest Woman Alive.
She hasn't forgotten our decade-old photo shoot, though. Some dudes won't let her. "A Five Guys has it in their men's bathroom," she tells me, laughing. "I get a tweet from a guy in a men's bathroom of that cover, probably every two months."
ADAM RHEW is the associate editor of this magazine. Email him at adam.rhew@charlottemagazine.com, or follow him on Twitter: @AdamRhew.