Brothers
Darryl and Ricky Childers were hometown heroes, football stars at Davidson, and friends. One was in the Peace Corps, the other a banker thinking about seminary. Then came the tragedy of October 22, 2009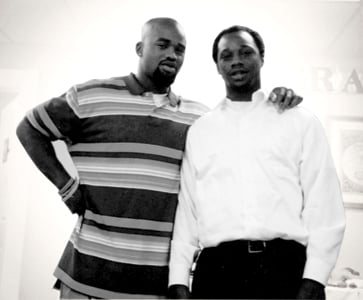 Darryl and Ricky Childers played youth football together, starred at South Rowan High School and Davidson College, and then moved on to what surely would be long and meaningful lives. You'd think it would be hard for their parents to pick out the single best time they had watching the boys grow up, become best friends and teammates, flourish in the classroom, make everyone so proud.
But their father, Christopher Childers, needs only an instant to answer the question.
"I think we missed out on the best times. I think the best times were ahead."
---
With the start of another college football season nearing, this seems like a good time to remember Ricky Childers.
On October 22, 2009, he drowned off the coast of the Dominican Republic while visiting his brother, Darryl, now twenty-eight, in the Peace Corps. Ricky was twenty-five years old, living in Charlotte, in love with his Davidson sweetheart, working in banking.
Christopher and Rena' Childers sit at the kitchen table in the family's Salisbury home. The TV's on. This is the family gathering spot, where they meet to share meals, talk about their day, watch the news. On this day, though, they are searching for some lesson in the loss of their son. Some insight that might bring even a moment's comfort.
None comes.
"I'm continually looking for how can I move forward," their father says. "I'm not there yet."
The family's only solace is in knowing that they do not cry alone.
It's a Friday-night tradition at South Rowan High School in China Grove for the football team to gather under the goal posts after the game. On the autumn night the news began to spread, South Rowan High principal Donald Knox recalls the celebration over a win fading in a chorus of text messages to the team's coaches: "Something happened to Ricky."
By the next day, most everyone who was part of Raider Nation knew what had happened to Ricky.
---
Pretty much from the moment they were old enough to walk, Darryl and Ricky ran toward the playing fields in China Grove, a town of 4,300 in Rowan County. China Grove is just up I-85, but a world away from Charlotte—it's probably best known for its landmark restaurant, Gary's Barbecue.
The oldest Childers child, Cherese, now thirtythree, was a star in the classroom. Her two brothers did just fine there, too, but it was on the athletic field where they began shining at an early age. Christopher and Rena' Childers, high school sweethearts married for thirty-six years, remember standing between two T-ball fields years ago, each one watching a different son's game because the age difference put them in different leagues.
Darryl got hooked on football around the fourth grade. There was a weight limit on running backs, where the best kids usually wound up, so his coaches told him to watch what he ate. "That whole year, he wouldn't eat seconds," says Christopher Childers, fifty-five, a star offensive guard for Salisbury High School in the early 1970s. "He loved football. He always loved football. He had that thing you couldn't teach. He was not afraid of contact."
It didn't take long for Ricky to follow him onto the football field. "He had that older brother he looked up to," their father says.
The brothers shared a room, filling the walls with posters of the usual cast of superstars—Michael Jordan, John Elway, and the like. Darryl says the two of them figured out early how to save their aggressiveness for the games. "We fought more when we were younger," he says. "By the time we were teenagers, we figured out how to get along."
And they were leading the South Rowan Raiders. Football stars in a small town—is there anything better? In the two years they shared the high school football field, Darryl—the bigger of the brothers, the one who especially loved hitting—starred at running back and linebacker. Ricky, smaller and faster, played at various points in his prep career at cornerback, safety, linebacker, quarterback, running back, and wide receiver.
Both made All-County, and when their time came both drew interest from universities. The Ivy League's Dartmouth College reached out to Darryl, but the promise of all that New Hampshire snow and being so far from home ruled out the Big Green. "We did not want him to go there," says Christopher Childers, the thought of his son in faraway New England too wrenching to even consider.
Darryl settled on Davidson because of its academics, the short drive to China Grove, and the fact that, at six feet tall and 220 pounds, he could compete against players his own size at a smaller football program. Same for Ricky: he drew some looks from Division I schools, including Stanford. But at fivefeet-ten and 200 pounds, with good grades and a brother two classes ahead of him, Davidson was a perfect fit. Ricky isn't here to ask, but it would be hard to say who was more excited about the chance to be schoolmates and teammates.
"We played best together," Darryl says.
---
For all the Friday-night and Saturday-afternoon heroics, folks around China Grove and at Davidson embraced the Childers brothers for more than football.
Sue Dodd, who taught all three Childers children at China Grove Elementary School, remembers them having their mother's smile, their father's sense of humor, and good manners. And on those rare occasions when they'd forget to do their homework, she knew just what to say. "All I had to do was say, 'I'm gonna call your daddy.' "
Dodd, now retired, says she isn't surprised all three Childers children chose paths of service: Cherese Childers McKee, married with two children, is an English as a second language teacher in Durham County. Darryl joined the Peace Corps. Ricky was working sixty-hour weeks as a project manager with Wells Fargo, but family and friends wouldn't have been surprised if he left the business world for seminary—he majored in religion and had a natural warmth, a charisma.
"Oh, man," says Derrick Thompson, one of Ricky's teammates at Davidson. "It seemed like he could do anything he wanted to. I think he would have wound up in seminary. People got such great comfort talking to him."
Donald Knox, the South Rowan High principal, stands in awe of how their parents raised them. They respected their elders, carried themselves with dignity, and understood the importance of family. They followed through on obligations. As far as the boys, Ricky was the outgoing, sociable one, Darryl the quieter one who tended to keep things in.
Davidson stories abound. Thompson remembers the first day he ran into Ricky. Actually it was the other way around. Thompson was a freshman offensive lineman from Providence Day School, nervous about starting college, especially nervous to be stepping onto the football field during preseason training camp.
That's when Ricky introduced himself. "I wasn't looking. BOOM. He clobbered me out of nowhere. He stood over me and cracked a big smile. I couldn't get mad." The two became close—as teammates; fellow Bonner Scholars, winners of a prestigious Davidson scholarship that stresses community service; and then as young graduates building lives in Charlotte.
Thompson, twenty-five, who works for Bank of America, says Ricky talked him into getting into banking. If it was Friday night in Charlotte and nothing much was going on, Thompson would head over to Ricky's apartment in South End and play video games. Ricky loved the Tiger Woods and Madden NFL games. No telling who might be there, just hanging out. Friends say Ricky had an open-door policy along with the "everything phone plan"—he kept his door unlocked so all his friends could come in, and his cellphone rang constantly. Ricky welcomed friends and even friends of friends of all backgrounds.
"If you were at Ricky's house on a Friday night," Thompson says, "it would look like the world. All kinds of people. Ricky was all about enjoying life."
Davidson teammate Jackson Whetsel, twenty-five, a tight end from Knoxville, says Ricky was the first upperclassman on the football team to introduce himself. Ricky wore number three and Whetsel four, so their lockers were side by side. "That was my main man, for sure," Whetsel says. They were football players. But when they walked across campus or hung out in the union, Whetsel says they rarely talked about football. Instead, they tackled topics like race and class—a young black man from a small town in North Carolina and a young white man from a city in Tennessee. "We saw the world in the same way," Whetsel says. "We saw similarities, not differences."
The night before Ricky left for the Dominican Republic, Whetsel hung out with him as he packed and talked about how excited he was to be visiting Darryl. This was going to be Ricky's first time out of the country. He hadn't seen his brother in more than a year. He was ready for a break from work. "He was looking forward to getting some rest," Whetsel says.
Davidson College football coach Tripp Merritt talks about the Childers brothers' love of the game, how hard they hit, how losing Ricky was like losing a member of the family. It's what you'd expect a coach who lives and breathes football to say.
Then he shares another memory. After every home game, he'd look over to the track that rings the field at Richardson Stadium and see the parents of the players. There were Christopher and Rena' Childers. "They were always waiting for Darryl and Ricky."
---
Christopher and Rena' Childers agreed to share their loss because they want everyone to know that Ricky was more than a football player.
After he moved to Charlotte, his parents were stunned but proud to learn that Ricky would stop and talk to homeless people on the street for thirty minutes, so moved was he by their stories.
"He was a caring person," Christopher Childers says. "I want people to know how passionate he was."
Neither parent, though, sees the need to relive the drowning in painful detail. As Darryl goes back to that evening on the beach, Rena' Childers gets up from the table and walks to the kitchen to resume working on the cake she was baking. Christopher Childers politely but firmly cuts off questions about what happened.
This much is all that needs to be shared:
Ricky and his sister, Cherese, arrived in the Dominican Republic on October 21, 2009, to visit Darryl and his wife, Trenita.
Darryl and Trenita Childers had a storybook romance at Davidson—the linebacker on the football team and the cheerleader—and married in January 2008. Both were passionate about wanting to serve others—they joined the Peace Corps and left for the Dominican Republic that summer to develop sex ed and other health programs for youth.
This was going to be the first time the three Childers kids and Trenita had been together in a year, which seemed like forever to such a close-knit family. Ricky and Cherese brought movies and speakers for Darryl's computers. The newlyweds often watched movies on their laptops. That first night together, Darryl says, they stayed up late catching up.
Early the next morning, they headed to a small, isolated beach on the northern coast that Darryl liked. Darryl recalls the bus ride taking four to five hours. They checked into a hotel, then walked over to the beach. Only the two brothers went into the water that early evening last October. Darryl says they both quickly ran into trouble in the dangerous currents.
"It just pulled us apart," Darryl says, his mother working on her cake in the kitchen, his father about to cut off the questions.
Darryl says it wasn't until the next morning that authorities took Ricky from the beach. The funeral was held in the Childerses' church, First Calvary Baptist, in Salisbury. Christopher Childers remembers the outpouring of people, but not much else. "As far as any specifics," he says, "it's still a blur." Davidson hosted a memorial service in the student union. Ricky's parents couldn't go. "Darryl stood in for the family," Christopher Childers says.
The team gave the Childers family a poster with a photo of Ricky in his Wildcats uniform and the familiar verses from Ecclesiastes that include this one: "A time to be born and a time to die …."The framed copy that hangs in the family den was signed by many of Ricky's former teammates and friends, including his girlfriend. His Davidson sweetheart, she lives in New York and is having a difficult time,
Christopher Childers says. Ricky's parents stay in touch, but try to give her space and honor her privacy. The two weren't officially engaged, but they planned to marry and had talked about moving to New York afterward.
"You will always be my angel, my heart, my life," she wrote on the poster. "I love you, buddy."
That's what she called Ricky. Her buddy.
Darryl says the Peace Corps understood when he and Trenita left to come home. After the tragedy, there was no way to continue. They plan to settle in Durham, where she'll pursue a master's/PhD in sociology at Duke University. He'd like to get into nonprofit work or pursue a master's degree in social work. Most importantly, their first baby is due September 4.
As he looks back on what happened on October 22, 2009, Darryl is trying to focus on October 21, 2009, the day his brother and sister came to visit. "We had been apart for a year," Darryl says, "and we had one day together. I've tried to appreciate that one day."
---
Life goes on. Sort of. Rena', fifty-four, commutes to her job at Duke
Energy in uptown Charlotte. When Ricky graduated from Davidson and started working uptown, they'd meet for lunch. For no particular reason, she remembers the afternoon they grabbed some Chick-Fil-A, found a comfortable place outside, and just sat and ate and talked.
The best times with Ricky?
His mother answers the question differently than his father. "It was always the best time," Rena' Childers says, reminiscing about that Chick-Fil-A lunch. His brother, too, has his own answer. Darryl says the best times came before he and
Trenita left for the Peace Corps, when the guys would get together in Charlotte to work out or just hang out with Davidson friends. "That regular, everyday sort of stuff," he says.
Darryl has a lot on his mind now, nearly all of it exciting. The baby on the way. Moving to Durham. His wife starting grad school. Trying to figure out his next step. When he thinks of Ricky, which is all the time of course, he tries to turn it into a positive. "Lately I've been trying to keep in touch with my friends better," Darryl says. "Ricky was so good at it."
Christopher Childers retired a decade ago from the PPG fiberglass plant in Lexington. Bad knees. He does the cooking at home, tends to family members' yards and volunteers at church.
Saturday afternoons used to be spent watching their boys play football at Davidson College. The only game Christopher and Rena' Childers missed in the six years a son played for the Wildcats was at the University of San Diego. They were at Davidson, though, for the big one—that cold, gray Saturday afternoon in 2000, Darryl's freshman year, when the Wildcats beat Georgetown to go 10-0 for the season.
Christopher Childers smiles sadly—he's one of those guys who always seems to be smiling or at least trying to smile—and says he doubts he'll go to many more Davidson games.
There are no more sons playing.
Ken Garfield, a regular contributor to Charlotte magazine, is director of communications at Myers Park United Methodist Church in Charlotte. Recent pieces include a profile of Holocaust survivors in Charlotte, and an essay on the generosity of Leon and Sandra Levine.