Buddy System
A local woman fights cancer with Chemo Buddies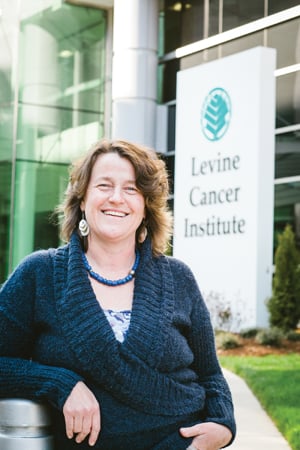 Forced to endure 10-hour days of chemotherapy while battling ovarian cancer, Katya Lezin was grateful she was never alone at the hospital. Friends and family signed up to make sure someone was always there, often with baskets full of goodies. But Lezin, a writer and mother of three, noticed that fellow patients weren't as fortunate. So days after she finished five months of treatment, she was back at the Levine Cancer Institute meeting with hospital administrators. She created Chemo Buddies, a volunteer program that kicked off last November. The goal: simple companionship. "No one should have to do this alone," Lezin says.
Patients can request volunteers—whom Lezin helps train—to accompany them during their treatments. On average, about 20 patients per day use the buddies program, and as of February, there were 17 volunteers. (For more info, call the CMC volunteer office at 704-355-6188.)
Lezin documented her battle against cancer and the genesis of the buddies program in a memoir, But I Just Grew Out My Bangs! A Cancer Tale. "I wouldn't have picked to go on this ride, but Chemo Buddies makes it feel worthwhile," she says.