Bug City: Spectrum Center Ranks Last For Food Safety
ESPN report also details Bank of America Stadium's fourth-worst ranking among North American pro sports venues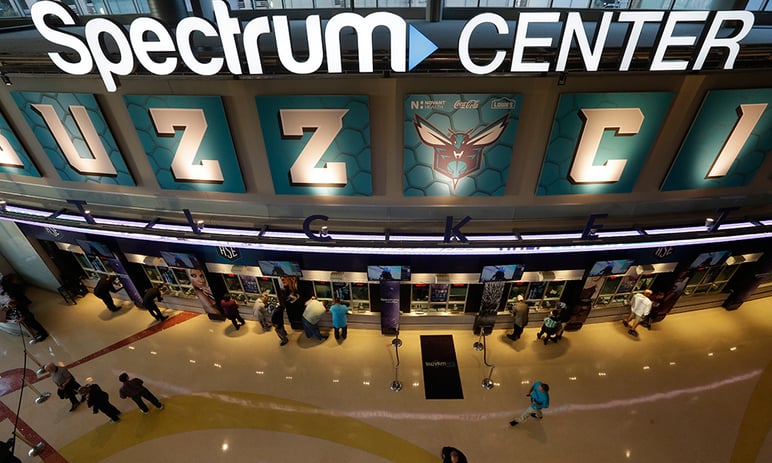 Charlotte's two professional sports venues are among the four worst in North America for food safety—and Spectrum Center, home of the Charlotte Hornets, is worst of all, according to a story published Thursday by the ESPN investigative series Outside the Lines.
The program compiled "more than 16,000 food-safety inspection reports from health departments that monitor the 111 professional football, baseball, basketball and hockey facilities across North America" over 2016 and 2017. OTL found that, at 28 percent of the venues, half or more of the food service outlets earned at least one "high-level violation—one that poses a potential threat for foodborne illness," according to the project website.
Spectrum Center topped the list with a violation rate of 92 percent—reflecting Mecklenburg County Health Department inspectors' discovery of at least one high-level violation in 23 of their 25 inspections over the two years. Spectrum, which opened in 2005, averaged 1.34 high-level violations per inspection, the highest rate on the list. Bank of America Stadium, the home venue of the Carolina Panthers, fared little better, ranking fourth; inspectors found at least one high-level violation in 57 of the stadium's 69 inspections, for a violation rate of 83 percent and an average of 1.33 high-level violations per inspection.
Among the specific findings for Bank of America Stadium vendors: the discovery on June 16, 2016, of "moldy, expired cream cheese" and a "significant amount of dried food residue" on a slicer from the previous day; and, on August 9, 2017—the date of the Panthers' preseason opener—employees observed not washing their hands before putting gloves on, and handling raw beef and utensils with the same gloves.
At Spectrum Center, inspectors saw beer leaking from the ceiling in one of the bar areas on December 20, 2016; and noted after two inspections on March 16 of that year a "consistent failure" to properly document "when food should be cooked, served or discarded because it was no longer safe to serve," the OTL report says, adding: "The violation was noted using all capital letters."
The only two venues on the list that rival Charlotte's for lack of food safety are American Airlines Center in Dallas, which ranks third on the list, and the Palace of Auburn Hills in suburban Detroit—which, the story notes, closed in October 2017.