Build Your Own Sofa
N.C. furniture manufacturer lets customers choose every detail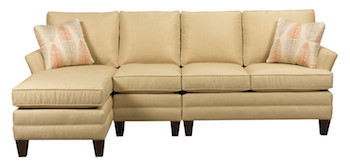 When someone walks into Denver Furniture Center on North Hwy. 16, Marty Mull learns a lot about him. Mull is the third-generation owner of the independent furniture store his grandparents started in 1944. He knows furniture. But he also knows people.
"You get in touch with how people live their lives on a day-to-day basis," Mull says. For example, a woman came into his store this past week to look for a sofa. She told Mull she needed something durable because she has three sons and two dogs.
"I know a lot about her already," he says.
Denver Furniture has 10,000 square feet of showroom space. But the store's offerings extend beyond what customers see on the floor. Mull carries several brands of furniture, and one of them is Kincaid. The furniture company is based in Hudson, about 70 miles northwest of Charlotte. One of Kincaid's hallmarks is its build-your-own-sofa program.
"Off the shelf, someone might like 90 percent of it, but if Miss Jones says, 'I don't want a skirt on this,' well, that's achievable." Mull says.
Customers usually start with the sofa's arms. They can choose sock, panel, track, English, or fan pleated. Then they select the back, base, seat style, seat depth, and type of sofa (such as small, medium, large, or sectional). The final step is to choose the fabric. Kincaid offers 600 choices, including 50 Sunbrella fabrics for interiors. All options considered, the build-your-own program gives customers 13,000 ways to create their next sofa.
Customers usually move through the choices pretty quickly by process of elimination, Mull says. He shows them examples of each piece, but the Kincaid website allows customers to see an entire sofa with their selections. Anyone can access the build-your-own-sofa tool by clicking the "Build Your Own" tab on the Kincaid homepage.
The customization feature doesn't increase the price significantly, Mull says. And for the options it affords, many customers eagerly take advantage of it.
"We're going to give that customer not an off-the-shelf look, but something to make their own," Mull says.
Many Denver Furniture customers are repeat buyers. They purchased something from Mull, or his parents or even his grandparents, years ago, it wore out, and they return. But others are newcomers. With more people moving to Denver and the surrounding Lake Norman area, many new residents are looking to outfit their spaces. They also want to support their new community, so they visit the independent furniture store where Mull waits with a line of custom North Carolina sofas that they can make their own.