Bulking Up: Best Bets for Shopping in Bulk
Whether you're searching for hard candies, herbs, spices, snacks, grains, or even barrels of honey, these Charlotte shops are your best bet for buying in bulk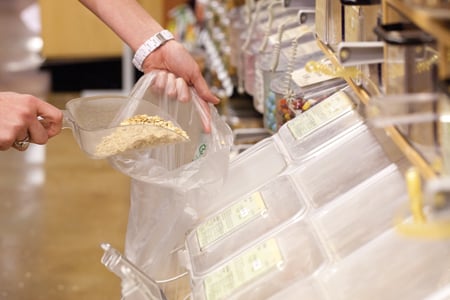 Charlotte's oldest health food store has been doling out scoops of bulk ingredients since 1972. Specializing in herbs and spices, Berrybrook also offers dried beans, grains, nuts, dried fruit, trail mixes, and granola. The market's most unusual bulk item is nutritional yeast flakes—a protein powerhouse that tastes like cheese.
Where: 1257 East Blvd.
Charlotte, NC 28203
(704) 334-6528
A North Carolina–based health-food supermarket, Earth Fare features shelves of candy, nuts, and dried fruits, all likely to be more fresh than their packaged counterparts due to quick turnover. Looking for a sweet deal? Try the store's agave nectar syrup, sold for just $4.49 per pound.
Where: 12235 N. Community House Rd.
704-926-1201
721 Governor Morrison St.
704-749-5042
This gourmet store chain isn't known for bargains. And while its barrel bins packed with tasty snacks and candy may look appealing, you likely won't find a deal there. But the often-exotic herbs and spices come at discount prices that can compete with any grocery store.
Where: 4223 Providence Rd.
704-365-6659
7625 Pineville-Matthews Rd.
704-541-1882
20623 Torrence Chapel Rd., Cornelius
704-892-8802
This expansive grocery store offers a variety of bulk ingredients from herbs and spices to healthful snacks like nuts, cereals, grains, and several types of honey. The health-centric shop's finest bulk offerings, though, are its salts, which come in hard-to-find types like Celtic and natural mineral.
Where: 2707 South Blvd.
704-522-8123
5410 E. Independence Blvd.
704-536-4663