Burgers, Beer, Battle
BLT Steak hosts an awesome way to support your team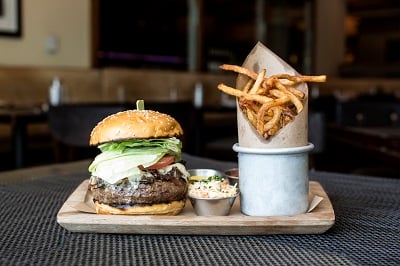 Today, Monday, November 30, through Saturday, December 5, you can support your favorite ACC team with burgers and beer. No joke, BLT Steak in uptown Charlotte is celebrating the 2015 ACC Championship – a clash of the Carolinas this year – with cocktails and barbecue.
How's it work? Head to BLT steak Monday through Saturday this week and order a school spirit burger and/or craft beer cocktail made in honor of whichever team you stand behind. If you hail from North Carolina, you can sip on a Tar Heel cocktail made with Woodford Reserve, apple cider, simple syrup, and Triple C Baby Maker. Pair that bubbly autumnal goodness with the specially-made NC BBQ Burger, topped with crispy onions and a fried egg.
Rooting for the other side? Opt for the Tiger Stripe cocktail which brings together Aperol, lemon juice, simple syrup, and Unknown Brewing Co.'s Ginger Wheat beer. It pairs perfectly with the Blue Cheese Burger – a combination of ground beef, smoked bacon, and balsamic onions.
If you're like us, you may just refuse picking a side, and order all four Carolina specialties. Call 704-972-4380 for reservations or visit the website.