Business As Usual For Many Uptown Restaurants, But Not All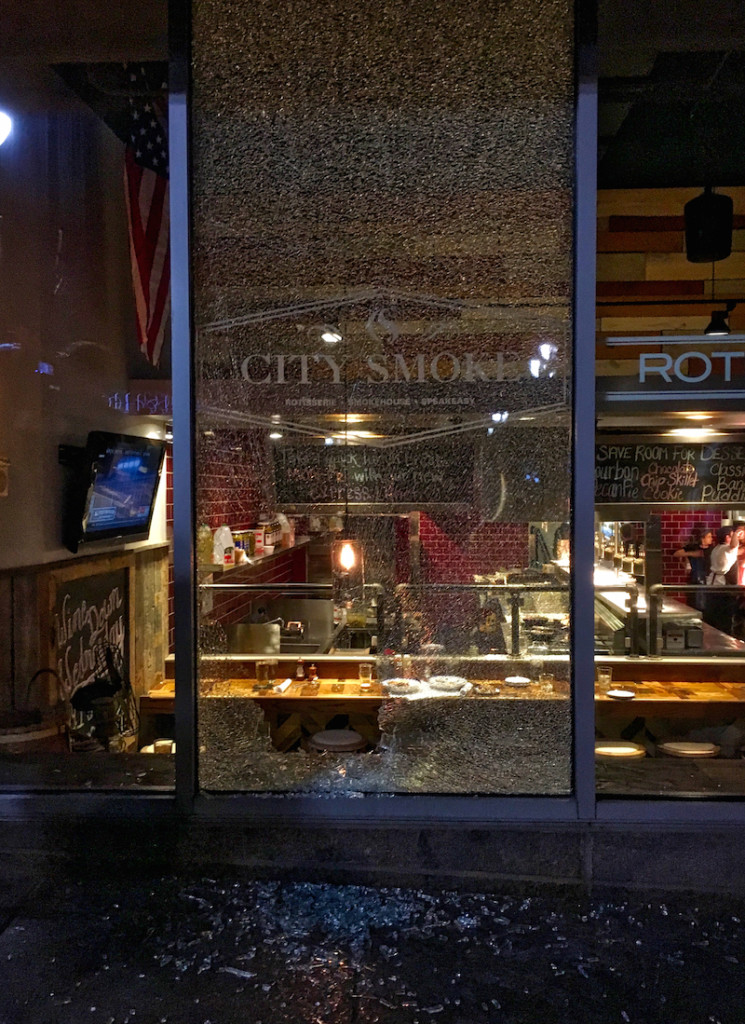 Note: this article continues to be updated as we hear from other area restaurants.
Things are business as usual for many Center City restaurants today, even after a second night of unrest left some of them with the frustrating tasks of repairing damages and cleaning up. City Smoke, which had a large window smashed in, has announced on Facebook that they will still be open today. A representative for them and their sister restaurant Aria next door noted that Charlotte-Mecklenburg police "did an incredible job protecting the staff and guests; no one was hurt and the police protected and prevented any further damage or looting to both Aria and City Smoke."
The Hilton Garden Inn, which also suffered damage, also plans to open their Garden Grille for lunch and dinner. Buffalo Wild Wings will not be open today due to clean up efforts, but plans to be open for business tomorrow. Citing concern for their staff and the number of Uptown events canceled for today, Sea Level chose to close today. Halcyon, The Punch Room, and Passion8 in Elizabeth, Rooster's Uptown, King's Kitchen, and City Lights will also be closed this evening.
Some restaurants and other businesses elected to close early last night as a precaution. But many—including the Asbury, Stoke, Evoke, and Rooster's—still plan to be open today to serve workers and other guests who are in the Uptown area. Restaurateurs, along with other business owners, are staying apprised on the news to guide decisions for this evening, however. City officials during a press conference late this morning stressed that it's "business as usual" in Center City today and have thus far not elected to invoke a curfew.
Despite this and a strong desire to continue to serve the community on a difficult day, restaurant managers say that the staff's safety is their priority. "Safety of the family here at work is paramount," says Executive Chef Matthew Krenz of The Asubry.
Food-related events scheduled for this evening have also been impacted. The Chefs For Kids' Cancer event at the Fillmore has been postponed. Organizers are currently working with the venue to reschedule. Tonight's cooking class for Chef Alyssa's kitchen has also been canceled; those who had signed up for that class will receive a credit to use for the rescheduled date or for another class that they offer.
If you are a restaurant owner or event organizer for a food/drink-related event and have closed or canceled, please contact me via Twitter at @catyicarter.