Butcher, Baker …
... Craft Cocktail Maker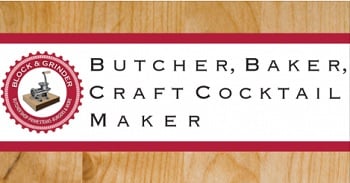 If you haven't heard, Block & Grinder's Chef Ben Philpott will be hosting the first of a series of classes called "Butcher, Baker, Craft Cocktail Maker" focusing on "food and booze" according to a video posted on Block & Grinder's Facebook wall. The cut being explored this week? Venison tenderloin.
The first of the classes aimed at the culinary curious will take place this Saturday, January 17, 2015, from 11am to 1pm. The class will delve into butchering meat, baking, and craft cocktails – all art forms the Cotswald restaurant is known for. Price per ticket is $45 plus taxes and fees.
You've never been to B&G? The restaurant stands out a bit from the Charlotte crowd for acting as both a butcher shop and restaurant. Having opened in March 2013, the eatery focuses on farm-to-table concept and, especially, on quality. So, not everything may be from NC or close, but all the cuts of meat – be it beef, pork, venison, buffalo, or wild boar – are from the best ranches around. For the home cook, however, cooking wild game can be a bit intimidating since the cuts aren't as common.
The classes will likely help to remove some of the mystery surrounding these delicious albeit rarer choices. Additionally, the Block & Grinder's reputation for craft cocktails will also be on hand as students will learn some of the secrets to creating a boozy and delicious drink.
Chef Ben says "Come out; hang out; have some wine and learn about some venison tenderloin."