Buyer Beware
I was in love with being a homeowner. Then I met my new neighbor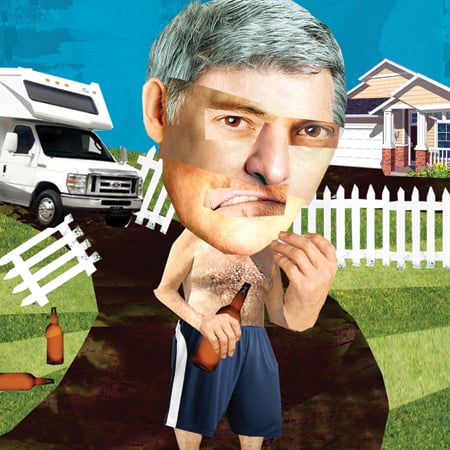 People buy houses for different reasons. Some are looking for a good place to raise a family. Others are searching for a convenient spot to store that dining room table they inherited. I bought my house because mice were getting the upper hand in my rental, and I couldn't bear the thought of poisoning them.
Some people considered my line of reasoning to be a terrible one for purchasing a home. Those people instructed me to consider things such as "investment value" or "real estate trends"—not moral dilemmas involving rodents.
Nonetheless, I began to house hunt and fell in love with the NoDa and Plaza Midwood neighborhoods. The thing about moving to a new place is that you suddenly envision a totally different version of yourself. I was certain that if I were to live in NoDa, I would be one of those laidback people who meanders down the block late on a weekday evening to grab a drink at a local tavern before catching a live show. As someone who prefers to be in sweats before the clock hits double digits, this was unlikely at best.
When I finally chose my Plaza Midwood bungalow, I was confident that, despite my questionable reasoning and fantasy lifestyle aspirations, I'd made the responsible decision.
The home was in a safe, popular neighborhood—and, possibly most important, it was mouse free.
Captain pulled his RV onto his girlfriend's lawn next door and announced that it was stuck in the mud, and that therefore it—and he—would be staying indefinitely.
I took to home ownership as if I were the lovechild of Martha Stewart and Ty Pennington. Within a few weeks I was spending my evenings happily doing things like cleaning gutters and spending my money on faucets and azaleas. One night, I had been standing in the front yard for half an hour with my hand on my hip contemplating whether or not the sprinkler was positioned best to reach the entire yard, when I realized that I had officially exited the realm of casual home buyer and had become a devoted (read: obsessive) homeowner.
I was mentally patting myself on the back for my newfound skills in the home management department right up until the moment I met Captain*. Captain is a sixty-something man who is averse to wearing shirts, owns more cars than a rap star, and has an affinity for Budweiser 40s. All of my comparative reasoning, research on neighborhoods, and azalea purchases went out my freshly cleaned window the day Captain pulled his RV onto his girlfriend's lawn next door and announced that it was stuck in the mud, and that therefore it—and he—would be staying indefinitely.
I strongly suspect Captain is bringing down the value of my home—and not just because of the time he got drunk and drove through my fence. However, my perpetually shirtless neighbor has his charm. He provides me with endless entertainment, and I feel confident that the police presence in the neighborhood is more consistent now because they're constantly being called to his house.
Ultimately, buying and owning a home has taught me many things—like the fact that mice are inevitable and that knowing a good exterminator is invaluable. And that scientific law prohibits a sprinkler from ever reaching all of the grass in your yard no matter where you move it. Beyond those important lessons, it has taught me that the old adage is true: Good fences do make good neighbors—as long as the former is still standing.
*A remarkably close version of the name by which he actually goes.