By the Numbers: 8 Figures for Charlotteans to Know Heading Into Fall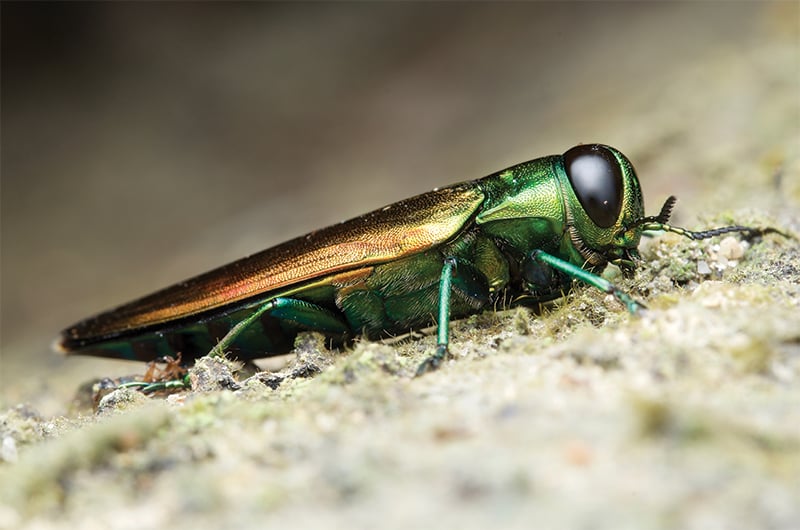 61: The number of North Carolina counties, of 100, where state forestry officials have detected the emerald ash borer, a tree-killing beetle and one of the most invasive species in the state's history. The half-inch-long, metallic-green beetles are native to northeastern Asia—Mongolia, Japan, Korea, parts of Russia and China—and were discovered in Michigan in 2002, having probably stowed away in wooden packing materials. They've since spread to 36 states, including North Carolina, where they were first sighted in 2013.
The first emerald ash borer detection in Mecklenburg County was in April 2017. Since then, the bugs have ravaged native ashes that ordinarily thrive in floodplains—like those alongside the county's numerous greenways, according to a June story in The Charlotte Ledger. Arborists advise residents to keep firewood in one spot, which limits the borer's spread, and to treat healthy ashes with insecticide.
$85,000: The winning bid for 46,000 clear backpacks that Charlotte-Mecklenburg Schools auctioned off in July. CMS had bought them in November for $441,791.71 after reports of guns in students' bookbags. But there's no evidence that the clear bags prevent students from bringing guns into school, and CMS officials found cancer warnings in them. The school board voted in June to unload them and recoup what it could.
92: The high temperature on July 27 in Spartanburg, South Carolina, where the Carolina Panthers kicked off their 2022 training camp and new quarterback Baker Mayfield took the practice field a bit overdressed. "I'm pretty stupid for wearing a long sleeve and pants," Mayfield said afterward. "But I'm stubborn, so I had to learn for myself."
18 million: The decline in the number of rider trips on Charlotte Area Transit System buses between 2014 and 2022—from 23.9 million to 5.9 million, according to a WFAE report. The expansion of the light rail system and COVID are partly to blame, but CATS continues to run short on available operators, which leads to interrupted routes and longer wait times.
51: The number of homicide victims in Charlotte during the first half of 2022, compared to 47 in the first six months of 2021. The Charlotte-Mecklenburg Police Department reported 98 homicides in 2021 and 118 in 2020.
$1,496: The median monthly rent for a two-bedroom Charlotte apartment in July, a 17.2% spike from July 2021. And lest you think stratospheric rents are only a Charlotte thing, the median rent is even higher in three North Carolina cities: Raleigh ($1,530), Cary ($1,620), and Asheville ($1,660).
9,155: The square footage of a five-bedroom, six-bathroom (plus three half bathrooms) mansion in the 5000 block of Carmel Park Drive that sold in June for $7.2 million. It was the highest-priced residential sale in Mecklenburg County in the first half of 2022.
52,673: Attendance at Bank of America Stadium on July 20. The crowd endured an hour's delay before the exhibition soccer match, and they got what they waited for: a victory for Charlotte FC over the English Premier League's Chelsea FC on penalty kicks after a 1-1 tie in regulation.
Sources: WFAE; Federal Transit Administration; The Charlotte Ledger; N.C. State Extension; Apartment List; Charlotte FC; Charlotte Business Journal; Charlotte-Mecklenburg Police Department