Calling All Foodies: Upcoming Events
An Italian festival, artisan dinner, and a picnic to name a few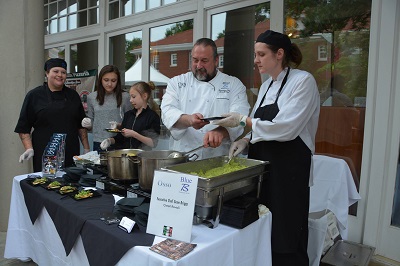 It's almost time for the weekend – and we have the rundown of all the food-tastic events going on around Charlotte this weekend and next week:
Festa Italiana: Arguably one of the biggest events this weekend is the Italian festival happening Sunday, May 17, from 1-7 pm, at Queens University, Myers Park, in the courtyards. The event serves as a fundraiser sponsored by the St. Anthony Foundation and celebrates all things Italy. Two guest chefs from Lake Como, Italy, will demonstrate primo and secondo dishes of the day (which guests will be able to taste). There will also be gelato, espresso, risotto, Prosecco, and tons of Italian food. Kids can play in the Italian Kid Zone while adults can visit the art gallery or peruse Italian specialty vendors. Single tickets at $75 per person; young adult tickets (ages 13-20) are $25; and children younger than 13 years are free. The ticket covers all food and drinks! Buy tickets here and we'll see you at the festival!
_______________________
Heirloom Dinners: If you still haven't had a chance to check out the all-things-NC restaurant, Heirloom, here's your shot. Heirloom will be featuring an Artisan Dinner on Wednesday, May 20, at 630 pm. Farmers and artisans from Laurel Gray Vineyards, Grassy Creek Vineyards, Jones Von Drehle Winery, and Raffaldini Winery will be featured. The event will feature five courses prepared by Chef Clark Barlowe for $75 – all paired with a North Carolina beverage.
_______________________
Science on the Rocks: On Friday (today), May 15, from 5-9 pm, Discovery Place in uptown will host an adults only event which, among several other discussions and demonstrations as part of the Birds and the Bees event, will feature an exploration of myths and realities related to foods said to be aphrodisiacs. From pomegranates to oysters, guests can investigate the science behind the foods. For those who want to put their taste buds to the test, the signature cocktail called The Love Potion will be on hand featuring a mix of pomegranate liquor, honey, and cayenne pepper. Tickets are now on sale for $8 per person in advance or $10 at the door; visit the website or call 704-372-6261 x300. Parking is not included. Guests must be 21 or older.
_______________________
Foxy Mixology: If you already know next week is going to be brutal, sign up now for Leroy Fox's mixology class, Foxy Mixology 4, on Tuesday, May 19, from 7-9 pm and buy your tickets here. You'll not only learn how to make cocktails but how to pair them. The chefs at Leroy Fox along with mixologist, Adam, will teach you all there is to know while you enjoy a menu featuring:
Appetizer: Grilled peach and crystallized ginger salad paired with a Fire Mule

Entree: Braised short rib tacos with orange soy glaze and cucumber salsa paired with The Narjito

Dessert: Creme brulee paired with Caramel Comfort
Price is $35 per person. Leroy Fox is located at 705 S Sharon Amity Rd. Call 704-366-3232 for more info or visit the website.
_______________________
Hops for Hospice: On Saturday, May 16, from 1-4 pm, Foxcroft Wine Co. will host the second annual Hops for Hospice event. This beer "festival" supporting Hospice and Palliative Care Charlotte Region will feature local and non-local breweries pouring beer plus awesome food by Chef Justin of Foxcroft Wine Co. There will also be a silent auction featuring gift baskets and items donated by the breweries. Tickets are $20 per person before May 16 and $25 per person on the day of the event. Call 704-365-6550 for more information.
_______________________
Picnic at SouthPark: The Charlotte Chamber's SouthPark Chapter will host Picnic at SouthPark on Wednesday, May 20, at The Pavilion at Symphony Park from 11:30 am – 1 pm The event is open to the public. Tickets are $10 in advance, $12 online and $15 at the door. The price of admission includes food, giveaways, raffle prizes and more. This year's featured restaurants include: BrickTop's Restaurant, Chuy's, Paco's Tacos, Reid's Fine Foods, and many more. The Pavilion at Symphony Park is located behind SouthPark Mall at the corner of Barclay Downs Drive and Morrison Boulevard.To buy tickets online, click here.
_______________________
Secret Chocolatier Bark Making: Just about everyone loves chocolate. Next week – Thursday, May 21, The Secret Chocolatier's Providence store will host a bark making class at 6 pm. Students will learn about chocolate, tempering, and choose from a variety of ingredients for making their own chocolate bark. Nuts, candy, fruit, and more are all up for grabs. You'll also take home half of your own creation to share with friend and family (or to eat secretly). Buy tickets here or call 704-323-8178 for more information.