Camp North End: Revitalization? Gentrification? Both?
Charlotte's gentrification debate moves north of uptown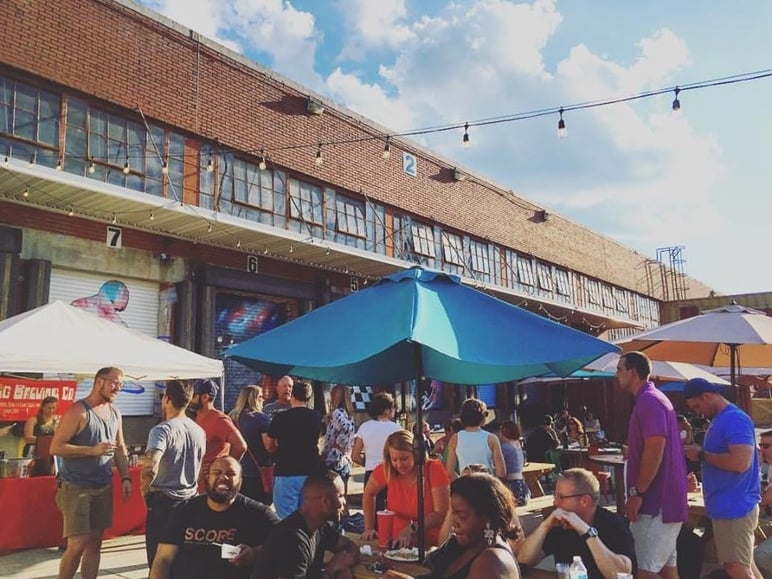 Back in February, two Charlotte City Council members, Patsy Kinsey and Al Austin, held a public meeting at St. Luke Missionary Baptist Church on Norris Avenue to let people ask questions about the big new project in the neighborhood. A New York development firm planned to turn a former Rite Aid distribution center and World War II quartermaster depot on Statesville Avenue into a mixed-use hub for a part of town freshly dubbed North End.
The meeting was pleasant enough. No one yelled. But residents of surrounding neighborhoods such as Druid Hills, Genesis Park, and Lockwood were concerned enough about its effects to turn out in droves. Darryl Gaston, the president of Druid Hills' neighborhood association, concisely summed up their worries: "It's either going to be reinvestment … or it can be gentrification."
Of course, it can be both, and usually is in urban neighborhoods where land is cheap, infrastructure is available, and old industrial sites like what's now known as Camp North End—under development as we speak—can be reborn with an infusion of money and imagination. The developer has already secured a trio of tenants—Goodyear Arts, Hygge, and Junior Achievement of Central Carolinas—and will soon announce more.
For a recent #discussCLT podcast, Andy Goh and Andy Smith took the show on location for the first time, talking with project community manager Varian Shrum and design consultant Alex Smith about the birth of the idea and its vision.
"In Charlotte, we've never done this on this scale," Shrum said. "This is 75 contiguous acres of historic buildings, and right next to uptown. We've never had this opportunity in Charlotte—to strategically, slowly, organically develop amazing historic buildings that are authentic to Charlotte, with a history that is unique to Charlotte but that no one even knows about."
Still, it was inevitable that the g-word would spring up, part of a much larger conversation in Charlotte and other cities about the downside of reinvestment. At a time when housing prices are skyrocketing and the lack of affordable and workforce housing is one of Charlotte's most difficult issues, it's not hard to see the potential for Camp North End to accelerate the virtual eviction of longtime, mostly black residents from their neighborhoods. New apartment complexes are already sprouting along Statesville Avenue, and more are sure to come—not just in North End but in west side neighborhoods long occupied by families displaced by Urban Renewal projects a half-century ago.
ATCO Properties & Management, which paid $13.5 million last year for the property, seems to understand the dangers. Shrum mentioned the possibility of a farmer's market at the new site, adding that the developer is examining other ways to mitigate Camp North End's effects on the surrounding area.
But, as everyone knows, the real estate market does more or less what it wants. If the area becomes another South End, most of the people who live in Druid Hills and Graham Heights will have to go somewhere else. The main questions are whether that's a fair price to pay for a new asset near uptown, and whether "a place where new ideas are incubated," as Shrum put it, can perhaps help solve a civic problem to which no one has yet found a solution.