Can Charlotte Find the Way Forward Through the Arts?
City and arts scene getting 'better and better,' says Blumenthal's Gabbard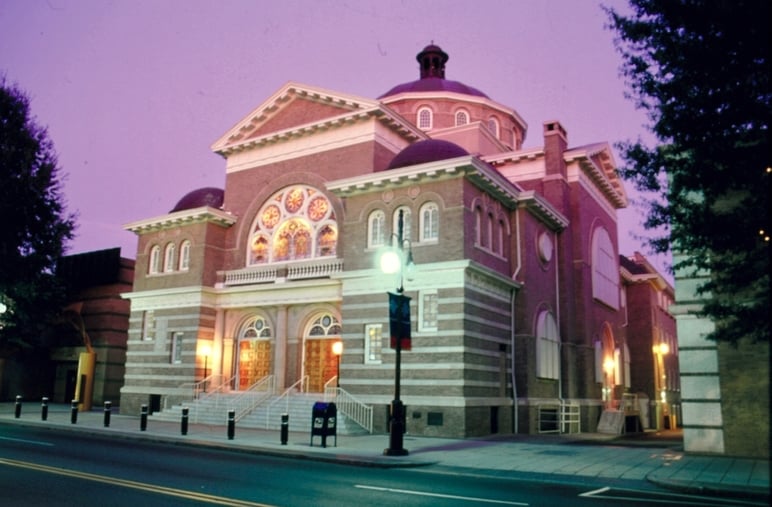 For a Bible Belt city that's home to the Billy Graham Library, Charlotte can surprise some visitors, especially arts patrons, with how provincial it's not. The city's arts scene "just continues to get better and better, just as I believe this city does, and I think it's getting better for similar reasons," said Tom Gabbard, for 14 years the president and CEO of Blumenthal Performing Arts. "We are a magnet for newcomers who are coming here from all over the world and bringing their own experiences of all sorts, including the arts."
People who have lived here for a while might react to Gabbard's assessment with a cock of the head and a lifting of the eyebrows. This is still the city where a 1996 production of Tony Kushner's "Angels in America," a play about the ravages of the AIDS epidemic in the 1980s, went on only under the protection of a court order and with dozens of protesters outside the theater.
The production remains a watershed moment for the arts in Charlotte, but 21 years later, the protests seem more like a last gasp than a precursor. Consider that "Kinky Boots"—the Cyndi Lauper-Harvey Fierstein Broadway musical about a decaying English shoe factory that saves itself by making flamboyant footwear for drag queens—was so popular when it ran at the Belk Theater two years ago that the Blumenthal brought it back in December. "There's been very little that we have not played," Gabbard said, "because we thought the subject matter was a problem."
Gabbard was the featured guest on the latest #discussCLT podcast, which covered an array of topics: the upcoming Blumenthal schedule (including "Hamilton"!); Gabbard's career as a performer, producer, and 20-year Tony voter; and the development of the Blumenthal and Charlotte performing arts over the years.
But the discussion really got interesting when Gabbard spoke with co-hosts Andy Goh and Andy Smith about how the Blumenthal tries to reach an increasingly broad audience—not just the affluent city-dwellers you'd expect but patrons from the suburbs, rural areas, and minority communities within the city. These aren't just concerns for the Blumenthal. They reflect the peculiar position Charlotte occupies in general. At the last #discussCLT event, we examined the divide between Charlotte's urban core and the areas around it. At the next one in June, we expect to talk about the cultural and economic split within the city, between rich and poor and, often, black and white.
The Blumenthal's efforts to narrow that gap, to persuade people that the performing arts are open to everyone, mirror Charlotte's nascent attempts to make the city as welcoming as possible to as many people as possible, across every line you can think of. In recent years, Gabbard has organized a jazz festival and hosted the hip-hop dance festival "Breakin' Convention" as a way to, well, break convention and find new audiences.
"Over the course of the year, I want our audience to look like Charlotte … Those are examples of things where we've said, 'Look, we think there's an audience that is not in our venue as often as they should be, in part because we haven't served them the right meal,'" he said. "So we've identified these things that really are quite divergent from what we've done in the past to try to connect with people that we haven't connected with before."
He's succeeded, to a point. Support for the arts in Charlotte has always run up against a kind of drop ceiling compared to cities with stronger cultural histories. Gabbard said he always warns production marketers to temper their enthusiasm when they see Charlotte's income and education levels, usually indicators of support for the arts. "A lot of folks here didn't grow up in a humanities-rich environment. They ran past the humanities building at college on their way to business school or law school," he said. "So that curiosity and that intellectual hunger, I think, is something that needs a lot of nurturing."
The trick, Gabbard said, is to find productions that appeal to a broad audience's tastes and carry some relevance to their lives—in general terms, to educate while entertaining. It's a delicate balancing act, and of course no one production will appeal to everyone. But he hopes the Blumenthal can, over the course of a season, strike enough of a balance to draw in all the elements of a growing and complex city's complicated life. The arts aren't the same as government, or big business, or nonprofits. But if the leaders of those sectors want to roll with the changes, they might follow the lead of a performing arts organization that won't allow itself to get too comfortable.