Can Conversations About Charlotte Actually Help Charlotte?
From the Conversation Issue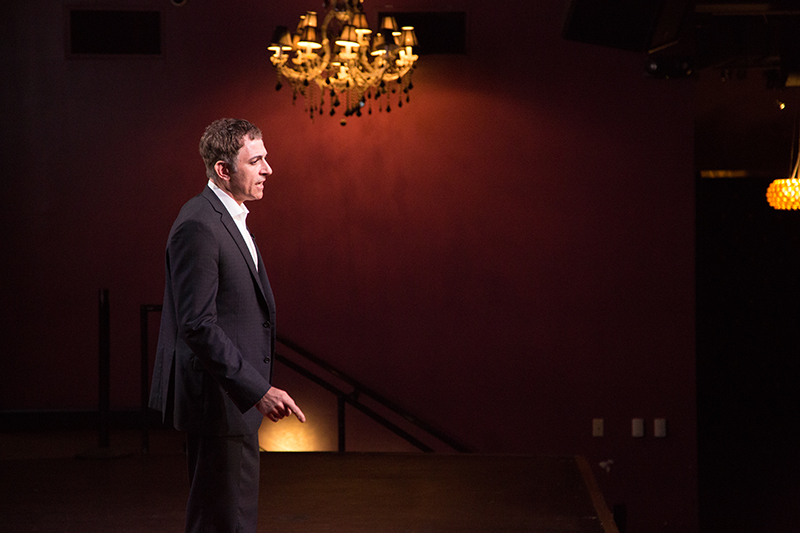 SAM WAZAN flips through a two-inch stack of printed papers riddled with handwritten notes in various colors of ink. He's the best-dressed person in the conference room at Microsoft's campus just off Arrowood Road in south Charlotte, and he knows it. He pauses for a moment before starting to deliver his speech to the empty chairs in front of him.
"You are worthless. You're nobody."
About 12 minutes later, Wazan stops talking, shuffles his notes, and turns to the coaches seated together just to the right of the room's makeshift stage. Wazan is the ninth of about a dozen people who are here today to practice the talks they will be giving at the sixth edition of TEDxCharlotte. The event is six weeks away, and on this September afternoon, some talks are more complete than others.
"If you have six minutes total to draw people in, what's the most important detail?" one of the coaches, Mike Watson, asks Sam. "It seems to me that your vision for peace starts with recognizing that everybody is worthy and everybody has value. Let's get to that faster."
As an immigrant who lived in Lebanon during the country's civil war, Wazan has envisioned a more peaceful world and wants to share that vision in his speech. His content is sound, even if his structure needs work—he wrote a book, Trapped in Four Square Miles, about his experiences in a combat zone—and it's clear he'll have no trouble starting a conversation in front of a crowd. Others are still learning as they go—former minor league hockey player Brandon Cullen loves his story, but admits on this day he's still searching for his, "So what?"
That's one of the main things the coaches are stressing to the potential speakers: If people are going to take time out of their days to listen to someone give a public speech about his or her outlook on the world, why should they care? The audience looks for a key line or phrase they can nod along with and relate to, the nugget that makes the local universal. Everyone who attends an event like this is looking to take away something.
The October TEDx is one of dozens of programs throughout Charlotte in the fall of 2015 built around live conversations. These discussions—revolving around debates, forums, and speakers—characterize the range of voices fighting for an audience in one of the fastest-growing cities in the country. If the constant cranes, orange construction barrels, and makeshift fences and barricades represent physical growth, the groundswell of dialogue happening around those things could help shape the city's character for generations to come.
Charlotte, as a city in its adolescence, is fertile ground for unique perspectives to stand out. In fact, the city needs them. The people who live here, whether they were born here or are among the 68,000 or so newcomers moving here each year, can't just assume that the city will evolve the way they hope it does. Eight years after the recession that nearly crushed it, Charlotte is back and on fire. It's at a pivotal point, and where it goes from here may start with a simple conversation.
"Come out and challenge the audience," Watson says of the speeches he's seen that stand out above the rest. "I don't even want to hear your name. Walk out there and throw a question to them. Or make a statement that seems to be abstract or alternative so you capture their attention."
Along with being a coach for the speakers, Watson is the emcee for TEDxCharlotte. He used to have a corporate job, handling satellite broadcasting for retail organizations. Communication was always paramount to his day-to-day life, but he became infatuated with using language to make connections with other people, and started professionally hosting events for businesses around town. He is now pursuing his doctorate in organizational leadership at Argosy University and is writing his dissertation over the next year.
The reasons people attend forums, TEDx or other community gatherings, are simple, Watson says: They want to hear something they've never heard before, and they want to shed their relationship with technology in favor of face-to-face interaction.
"It's the idea that there might be something that blows my mind today," Watson says. "That hasn't happened since I was a child. We get comfortable very quickly as we age, and we want the childlike wonderment of, 'I never considered that,' or, 'I never knew that existed.' Essentially that the world is still full of aha! moments. Just because you're 45 doesn't mean you have to let your dreams go."
***
AFTER TAKING OVER as innovations editor at The Charlotte Observer in 2010, Jen Rothacker organized everything from a discussion about America's water crisis to a town hall-style forum on whether college athletes should be paid. Before Rothacker left the newspaper in mid-January for a job in marketing and outreach with Myers Park Methodist Church, it was part of her job at the Observer to put together these events and bring in an audience that is not only interested in the subject matter, but also is able to ask good questions of those on stage.
This fall, Rothacker and the Observer put together a series of mayoral debates during the election season. Primary candidates met with residents at the Queens University Conference Center on September 2, answering questions and making small talk before engaging in a debate that was broadcast on wbtv.com and the newspaper's website.
In settings such as this, it becomes clear that to many audience members, it's as important to be heard as it is to hear what the candidates have to say. Moderators asked fairly typical questions of the candidates, but when the members of the crowd took to the microphones, Charlotte's issues were each given an individual name, face, and voice. Citizens fired off questions about the income gap, the public school system, potential ID cards for undocumented immigrants, racial profiling, gentrification, and the police force. Those were contrasted with questions about the future of Food Truck Friday, plans for the former site of Eastland Mall, the I-77 toll road proposal, and the city's seemingly endless condo construction.
There were dozens of other, similar conversations happening around town during the last half of last year. During Charlotte Pride 2015, for instance, a transgender community social hosted by the Levine Museum of the New South combined art, music, and food with speeches from former Navy SEAL Kristin Beck and Army Sergeant Shane Ortega. Both are transgender individuals active in promoting change at the highest level of government. While their words and stories were powerful on their own, even more powerful was an open Q&A session that saw community members asking—and at times pleading with—both Beck and Ortega for guidance on how to stop violence.
Rothacker, who spent 18 years at the Observer, believes Charlotte is having these conversations because people want to feel more connected to their city. Perhaps surprisingly, members of the generation most criticized for living too much of their lives online are turning out in droves to meet and talk in public. The rapidly growing #InstaBeerUpCLT and its offshoots, the #WeLoveCLT speaker series, the Alive After Five happy hours, or any of the packed breweries in South End on a Saturday afternoon, serve as evidence: Millennials flock to any opportunity to meet with other millennials.
"You might think young people are in it for themselves," Rothacker says, "but I've found in Charlotte that young people have this desire to be civically engaged. It's not like they're turning out in huge numbers to go vote, which is unfortunate, but they haven't really seen how that changes things. Instead, they rally around honoring their own and keeping traditions and having character in a city."
Dr. Deborah Bosley is the owner of The Plain Language Group, which seeks to help organizations and government agencies create written materials that are better organized and easier to understand. She is also one of the October TEDx speakers, and her talk is about the importance of demanding plain language in everyday lives.
Bosley believes the trend toward live conversations and an overall focus on talking and listening harkens back to an earlier era. The rise of podcasts and things such as TED Talks, she says, can be attributed to tapping into something innate—the soothing voice that speaks to someone as a baby.
"It's like being read to as a child, I think, at a deep, maybe unconscious, level," Bosley says. "It's that solitary experience. We do long for something that will pull us in. It's exactly the same thing that happens when we binge with TV, although that's a visual imprint. People can sit for three hours and watch Justified and be thrilled. This is doing the same thing for us."
***
ON OCTOBER 23, Wazan and the other morning speakers are inside Label Nightclub at the NC Music Factory, making last-minute preparations for their TEDxCharlotte talks. A line forms outside. More than 575 people will attend. Organizers have placed a pen and a notebook on each chair, and by the end of the day, very few pads will be left blank. People will write down phrases, quotes, thoughts, and pieces of wisdom throughout the day. The theme for 2015 is "Friction," and in his opening remarks to kick off the day, Watson, the coach and emcee, tells everyone, "We never do anything important if we stay comfortable."
The first TED Talks were started in 1984 by Richard Saul Wurman, and like most new ideas, TED took a little while to get its footing. After publishing mogul Chris Anderson acquired the property in 2001, things really started to take off. Anderson saw the power of live conversation, and in 2006, TED Talks started making their way online. Then came the x. In 2009, the TEDx offshoots, events in which individuals could acquire a license and put on an officially recognized local version in their own cities, were born. The TED moniker then had the potential to affect individual communities.
"Chris almost looked at it as if he was creating a mini-university," Winn Maddrey, who put on this year's TEDxCharlotte, says. Maddrey has been involved with the organization since the inaugural event here in 2010. "The original conference is an acronym for technology, entertainment, and design. But the 'x' in TEDx was an asterisk, meaning locally, independently produced events. That little experiment exploded on them and really took off. This thing became worldwide."
Whether they are there as part of a work outing or on their own volition, the attendees of this year's TEDx devour the speeches. As audience members scramble to get coffee during short breaks between sessions, the room buzzes with conversations about what they've just heard. They seem to get something out of every talk, whether it's the advice to always "be a rookie," or being implored to better preserve North Carolina's forests.
"The people that attend these events are usually ones who like to think about ways to impact the community or get their ideas out there," Angela Vish, one of the attendees, says. "By attending these events, they tend to hear similar stories and ideas and feed off those."
Joel Tracey is one of the morning speakers, and he gives the crowd an energy that carries through lunch. Tracey is a brand developer by trade, but also works to drive underground culture in Charlotte by getting local creative types such as artists, chefs, designers, and artisans together to spur change and start conversations of their own. He put on a community arts festival in May at the old Chop Shop in NoDa.
Standing onstage in a black "Be Original" shirt, Tracey explains how important it is to organically create a vibrant, unique arts sector in the city, and how that can set Charlotte apart from other places in the region. He has a question for the crowd about the place we live, a question that he says seems to be the overlying question our city faces today: "Who are we?"
Perhaps the biggest ovation comes from Wazan's talk just before the afternoon break. He walks out quietly, his black leather shoes clacking on the stage, and takes a breath before addressing the crowd the same way he did the chairs during that practice in September.
"You are worthless. You're nobody."
Wazan connects with the audience and delivers his message of peace and understanding as he explains that every person has value, and everybody is somebody. As he speaks, some audience members scribble away. Others stare intently, craning their necks to try to meet Wazan's gaze.
Where Charlotte goes from here depends in large part on the people who are seeking out these conversations, whether they're the ones talking or the ones listening. Even as local social media explodes every day, the rise in events such as these seems to reveal that the city needs—and feeds off of—these live interactions.
After he finishes and everyone scrambles outside to grab a bagged lunch, Wazan looks at the various catering choices offered by Fran's Filling Station. He's a little late to the table, so most of the remaining lunches are vegetarian. He jokes that there aren't any meat options, before asking no one in particular, "Isn't there anyone I can talk to about this?"
Martin Rickman is a senior writer at UPROXX. Although he had no idea what he was getting into when he recently bought his first house in Charlotte, he loves the city all the same, and is finally starting to understand what the word "home" means. He likes it when people say hello, and rickman.martin@gmail.com is his email address.
---
This article appears in the February 2016 issue of Charlotte Magazine
Did you like what you read here? Subscribe to Charlotte Magazine »
---