Can Doing the Elizabeth-Born #ALSPepperChallenge Actually Help ALS Patients?
The ALS Pepper Challenge is a hotter take on the Ice Bucket Challenge of 2014—and it was started by an Elizabeth resident. Here's what you need to know about the challenge, where your donation money is going, and why we still haven't cured ALS.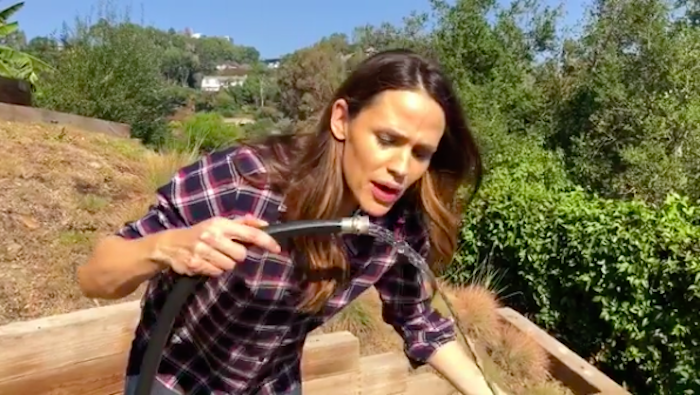 In 2014, the #ALSIceBucketChallenge swept the internet and social media, prompting people nationwide to participate, nominate friends, and donate funds to support ALS (Amyotrophic Lateral Sclerosis) research. It was a big push for an otherwise underfunded disease. According to the New York Times, these videos raised $115 million over the course of two years for the ALS Association, which eventually led to the discovery of a new gene tied to the disease. An inspiring advancement, yes—but it still wasn't enough.
Especially when Elizabeth resident and NBA writer Tom Haberstroh's family was affected.
The #ALSPepperChallenge heats up
Haberstroh's mother, Patty, was diagnosed with ALS this past October, which inspired him to start a new social media challenge to raise funding for a cure. It's much like the Ice Bucket Challenge, but instead of asking supporters to survive the shock of ice-cold water, Haberstroh's #ALSPepperChallenge invites people to endure the searing heat of a hot pepper on the taste buds.
Haberstroh posted a video on the family's donation website to introduce the new challenge—it features his family on Christmas Day, biting into habanero and jalapeno peppers, tongue-cooling glasses of milk within arm's reach.
The Haberstrohs have chosen to donate the money they raise to the ALS Development Therapy Institute, which is based in Cambridge, Mass., and devotes its time and funds to finding a cure for ALS. The motto for the organization states that ALS isn't incurable, it's just underfunded. And that's where things get interesting.
Many people, especially prior to the awareness raised by these viral social media challenges, are not too knowledgeable about ALS. Why do I need to raise money? Where would my donation be going? How is this disease curable and yet we don't have a cure? All valid questions an #ALSPepperChallenge participant might have before biting into a tear-inducing pepper.
Well, first of all, it's worth noting that new cases of ALS, also coined Lou Gehrig's disease, are just as common as new cases of Multiple Sclerosis (MS). There are about 15 new cases of ALS per day. ALS affects the nerve cells that control your voluntary muscle movement, which means, as the disease progresses, your range of movement becomes lesser and lesser. Since ALS begins in the brain, the voluntary muscle movements affected are those that help you walk, talk, and chew—all vital to survival.
The average life expectancy of someone diagnosed with ALS is a heart-shattering three to five years. Though many ALS patients such as Stephen Hawking can survive much longer than five years, those patients are, unfortunately, the exception.
Where is my donation money going?
Dr. Benjamin Rix Brooks, a neurologist with Atrium Health (previously Carolinas HealthCare System) specializing in ALS, helps shed some light on why ALS research needs so much funding for a cure.
"ALS has research costs, drug development costs, and epidemiological costs," Dr. Brooks explains. Epidemiological costs refer to those associated with determining disease causation.
The research costs might be high, but Dr. Brooks doesn't let the numbers derail him. Instead, he chooses to see new solutions. And those solutions have everything to do with these seemingly silly Ice Bucket and Pepper Challenges.
"At a recent meeting regarding the Center for Disease Control's National ALS Registry, I opined that this effort was relatively inexpensive—only 0.01 ice bucket units per year to keep the Registry going," he says. Dr. Brooks has specialized in ALS for 40 years, and he's a founding member of the World Federation of Neurology Research Group on Motor Neuron Diseases/ALS.
When you think of it like that, in "ice bucket units," a cure becomes a lot more feasible. Dr. Brooks has participated in the Ice Bucket Challenge and says he truly hopes the Pepper Challenge continues to catch on.
It's catching, all right.
As of today, since starting the challenge on December 25, 2017, Haberstroh has raised nearly half a million dollars—48 percent of his new goal of $1 million. He expanded the goal after reaching the initial goal of $50,000 exactly one month after prompting participants to eat peppers.
Celebrities the likes of Jennifer Garner, Shaquille O'Neal, Jimmy Kimmel, Andy Cohen, and Kelly Clarkson have all taken the bait, biting hot peppers with hilarious on-screen takes. Clarkson, who was nominated by Garth Brooks and Trisha Yearwood, states in her Instagram video how she thought she was in the clear until Yearwood blurted out her name. Garner, slurping water from a hose immediately after taking a bite, is shown struggling with the heat and repeating, "Regret, regret, regret."
Clarkson nominated famous friends (and fellow "The Voice" coaches) Adam Levine, Alicia Keys, and Blake Shelton to take a bite out of the #ALSPepperChallenge, too. Ellen DeGeneres has also been nominated, but we haven't seen a hot pepper take from the talk show host just yet.
How you can help cure ALS
It may be an uphill battle to find a cure for ALS, but the Pepper Challenge is heading in the right direction. Dr. Brooks applauds the work done so far by the campaign's organization of choice, the ALS Therapy Development Institute.
"This is a free-standing research institute with an amazing history if you look into it," he says. "It has a Precision Medicine Program for patients and has done amazing basic and clinical development research. The Atrium Health Neuromuscular/ALS-MDA Care Center has been collaborating with ALS TDI on several projects for nearly a decade."
Dr. Brooks also elicits hope for those desperate for a cure.
"Advances have been made," he explains. First, a drug called Riluzole was approved in 1995 to slow down the progression and improve survival. Second, he says, "Nuedexta, led by our group in Charlotte, was approved in 2010 to treat PseudoBulbar Affect, a debilitating condition caused by ALS and other neurological diseases."
The third advancement was made in 2017—Edaravone was approved to delay the progression of strength loss. And now, the money from the Pepper Challenge can certainly stimulate more breakthrough discoveries. As long as people keep participating, tagging friends, and donating money, the Pepper Challenge can become as helpful as the Ice Bucket Challenge proved to be.
And your money is not lost.
"Ongoing research is going on everywhere," Dr. Brooks assures. "We did the first clinical trial of Ibudilast at one center, recently reported, and a second clinical trial is finishing this year at the Massachusetts General Hospital. Ibudilast was found recently to slow loss of atrophy of the brain in progressive MS, and the Harvard group with Atrium Health is trying to bring this treatment to ALS patients as well."
To donate, head to Haberstroh's Pepper Challenge donation page.