Can releases this weekend from Birdsong, NoDa and Sycamore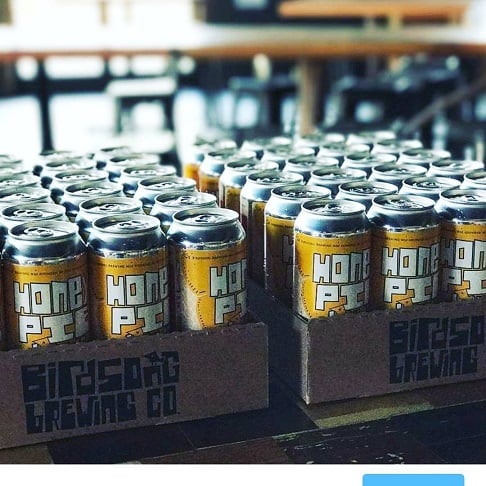 What do peanut butter, honey and milkshakes have in common? All are part of can releases from three local breweries over the next week. Here are the details:
Birdsong Brewing – Honey Pie
Speaking with Birdsong co-owner Chris Goulet a couple months ago, he told a funny story about how they usually don't put limits on their cans except for a few. One of those is Honey Pie, where Goulet mentioned someone has come in multiple years with the same M.O.: He buys a case, goes out to his car to drop it off, comes back in through another door with a different hat to try and buy another case.
That's how popular this double IPA brewed with local honey from Cloister Honey has become. This year's Honey Pie is being released Thursday when Birdsong's taproom opens at 3 p.m. Four-packs of cans will be $18 each and you'll only be able to get them at Birdsong. And yes, there is a one-case limit, dual-hat guy.
Sycamore Brewing – The Big Fat Juicy and First Clouds
Continuing its rapidly popular small batch canning series, Sycamore actually has two cans set for release this Saturday. Both are IPAs of different variations. First Clouds is an IPA hop-bursted using New Zealand Moutere hops, while The Big Fat Juicy is Sycamore's "milkshake" double IPA (the style name comes from the addition of lactose sugars) brewed with mangoes. Four-packs of both beers will go on sale at Sycamore's taproom Saturday at noon on a first-come, first-serve basis with a limited amount of each.
Courtesy of Sycamore Brewing
NoDa Brewing – Captain Peanut Butter's Chocolate Revenge
NoDa's first can of 2018 is one the brewery is bringing back from its "5 Cans for 5 Years" anniversary celebration last year. Captain Peanut Butter's Chocolate Revenge is an imperial porter brewed with cocoa nibs and peanut butter, providing a smooth and roasty beer perfect for the winter months.
The brewery is opening early on Monday (noon) for the can release, and the TIN Kitchen will also be onsite serving lunch items. Four-packs of cans will be $14.99.
Courtesy of NoDa Brewing