Can Virtual Reality Help Cure Racism?
CMPD exploring possibility of using innovative tech to train cops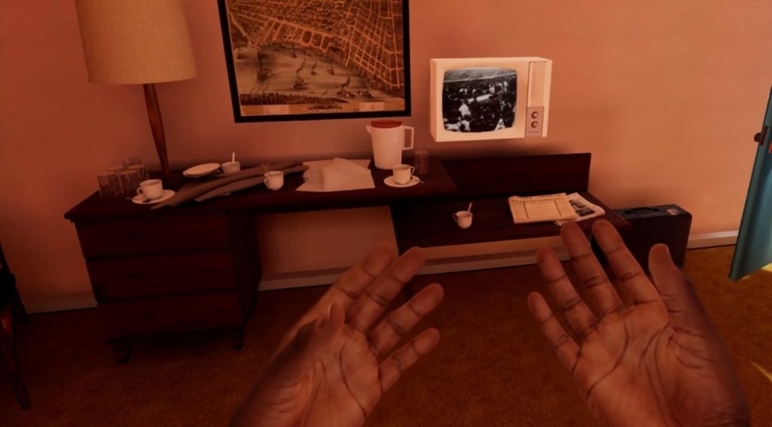 You're on a busy street in downtown Memphis, outside a jewelry and appliance store, three televisions in the display window blaring news about the ongoing sanitation worker strike. The workers march behind you, silently, stolidly, in single file. They wear coats and hats and carry signs. Each reads, in large black letters, "I Am A Man." A sign just like it sits in front of you. You reach out to pick it up.
The scene changes. You're in the parking lot of the Lorraine Motel. If you know your history, you now have no doubt about where you are, and when, and what the time and place signify. Two men stand inside the second-story railing, outside room 306. You turn to your right, into the sun, then down. You reach out to a stack of fliers publicizing the Poor People's Campaign. A shot rings out, jarring and percussive, and you jump.
Now it's after dark. You're back in front of the jewelry store. Everything has changed. Garbage cans burn in front of you. Columns of smoke rise from fires to your left, to your right. The shadowy figure of a man crosses the abandoned street. The TVs are still on, but the window is shattered, and on all three screens is Robert Kennedy delivering the news of the assassination and asking his audience which America they intend to choose. You hear a siren and a voice: "Put your hands in the air." You turn left into the blinding white headlights of a police car.
An N.C. State graphic design professor, Derek Ham, created these computer-generated scenes for a 15-minute "Virtual Reality Experience" titled I AM A MAN, which has won several film festival awards already this year. It's intended mainly as an "immersive documentary" for use by students as a way to learn about the Civil Rights Movement. But Dr. Alexandra Ivanovitch, a French social entrepreneur who lives and works in Los Angeles, sees another kind of potential for the film—and for virtual reality as a tool to help train police departments to empathize with the communities they serve, and vice versa, through a program she calls "Trading Places."
Ivanovitch has a particular police department in mind, too: Charlotte-Mecklenburg's. On Friday, she delivered a brief presentation to a crowd of about 100 at St. Luke Missionary Baptist Church in Charlotte, where City Councilwoman LaWana Mayfield had convened the first of three public forums on the relationship between CMPD and neighborhoods made up mostly of racial minorities. Two black men from Charlotte whom she'd met just a few weeks before attended the forum as well: Greg Jackson, founder of the community nonprofit Heal Charlotte; and retired CMPD Chief Rodney Monroe. Jackson explained passionately that he'd come to believe in Ivanovitch's basic pitch—that, when used properly, virtual reality can help dissolve the distances between black and white people, men and women, police officers and civilians.
"I think the ability to have somebody walk in your shoes is something you can't find in any other sector," Jackson told me Tuesday evening. "Everybody wants somebody to see what they see and feel what they feel. And actually being able to engage that and put people in that scenario—to me, that's powerful. It's a new experience, to go through that and then try to work around it."
I'd already gotten a taste of what he meant. I met Ivanovitch Tuesday morning at a South End coworking space to talk with her and experience some of her VR programs. She queued up I AM A MAN. I donned a VR headset and immersed myself, marveling at Ham's attention to detail—the straws that jutted from the discarded drink cups in the garbage I was "handling," the memorial wreath hung on the door of room 306 at the Lorraine Motel. But the most stunning detail—one that induced a feeling in me that I don't know quite how to describe—was the central point of the exercise: When I, a white man, looked down at my hands, they were the hands of a black man.
Ivanovitch was born in France to a French mother and a Montenegrin father, the internationally known economist Michael Ivanovitch, who fled Yugoslavia and its communist dictator, Tito, in 1956. Now 34, she said her heritage informs her revulsion toward any kind of discrimination. She was a child during the Bosnian genocide of the mid-1990s, which, she points out, was an act of ethnic cleansing committed by white Europeans against other white Europeans. "That's the most absurd thing you can think about," she told me. "That's just the folly, the madness sometimes, of humankind that will invent all kinds of pretexts and imaginary reasons to discriminate."
Ivanovitch studied at the Sorbonne and unhappily taught comparative literature there—"I was just mummified"—from 2008 until 2013, when she began to study digital humanities and see the potential for VR as an educational tool. She was still in Paris in January 2015 when the Charlie Hebdo terrorist attack made her think about what she could do with VR technology in the nonprofit sphere—how immersing people in the computer-generated worlds of other ethnicities and social classes might erode their prejudices. It's an idea that's emerged increasingly in scientific literature since 2013, when an influential paper by a team from the University of Barcelona in Spain showed that "embodying white people in a black virtual body is associated with an immediate decrease in their implicit racial bias against black people."
A submission by Ivanovitch and a pair of colleagues won an award from the prestigious nonprofit XPRIZE and a grant from the Roddenberry Foundation, an organization (named after Star Trek creator Gene Roddenberry and founded by his son) that supports "big, bold ideas that can change the world." Ivanovitch founded her nonprofit, Equality Lab, in March 2017 and began to reach out to potential clients. The Police Foundation, a Washington, D.C., police research and advocacy organization, signed on as a partner; the foundation's president, Jim Bueermann, agreed to sit on Equality Lab's board of directors. Last month, Ivanovitch tested a VR program titled "Becoming Homeless" with officers in Redlands, California, where Bueermann was police chief for 12 years.
She met Jackson and Monroe at a conference last month in Washington, D.C., that explored the potential for VR in police training. Jackson, who founded Heal Charlotte after the Keith Lamont Scott demonstrations in September 2016, has been working with CMPD on implicit bias, protest re-enactments, and other training championed by Chief Kerr Putney since the protests. Jackson says Putney contacted him before the conference and told him, in effect, Hey, Chief Monroe's going to this thing, and you should, too. Jackson went. He, Monroe, and Ivanovitch began talking about Equality Lab's programs, and Jackson thought of Charlotte as a perfect testing ground.
"For me, it's an opportunity for Charlotte to be an innovator and a leader," he said. "I'm tired of looking somewhere else, to some other city, for what's going to work in Charlotte. We want to lead our own thing and maybe show the rest of America how to do community policing."
Ivanovitch saw a rare chance to test her theories with a black-led community organization and police department that weren't at odds or opposed to the idea of working with her. After she and Jackson talked about their work in Washington, she said, she suggested they take an Uber to the Lincoln Memorial, where, she told me with a laugh, "I made him swear that we were going to do this."
Ivanovitch made her first trip to Charlotte in early June, when she spoke about her work to the Charlotte-Mecklenburg Black Chamber of Commerce and Rotary Club. During the visit, she went to CMPD's Training Academy to demonstrate I AM A MAN and other VR experiences to Lieutenant Sean Mitchell, who commands the department's Training Division. Her second visit began Thursday. She spent much of her time meeting with community leaders and filming 360-degree footage in Charlotte neighborhoods for use in what she hopes can be a Charlotte-specific series of training modules.
Ivanovitch has sent CMPD a proposal. Nothing's been formalized. The department "has just begun to look at these products," Melissa Treadaway, a department spokeswoman, told me via email. "We aren't yet in a position to know whether it is something that would work for us." Ivanovitch is hopeful, though.
"Right now, I'm asking for 25 plus 25. I'm asking for 25 police officers and 25 community members to pilot-test Trading Places. I'm asking for 50 open hearts," Ivanovitch told me. "We want to test this. We want to test whether it works or not. Maybe it doesn't work. We're open to the possibility of it not working."
Even if it doesn't, she figures, she can contribute the results to what remains a sparse body of data on virtual reality's effects on racial prejudices. "The science has been there since 2013, that virtual embodiment can reduce implicit racial bias, and where is the application? Nowhere to be seen," she said. "Now we need somebody, or a group of people, who have the political courage to actually make that leap and do a minimal investment in a pilot test."
It's an infant in the realm of the behavioral sciences. Researchers are just beginning to explore how to ask the questions, much less deliver the answers. But if it can break through the carapace of unconscious bias that everyone carries—if it can knock down a barrier that keeps people from recognizing themselves in others and others in themselves, that makes a white man less likely to accept black hands as his own—how much long-lasting good might come of it? "You're immersing yourself into somebody else," Jackson said. "There's no better way to build empathy."