Can We Rescue Local News?
Nonprofit tries to connect local news staffs to citizens with untold stories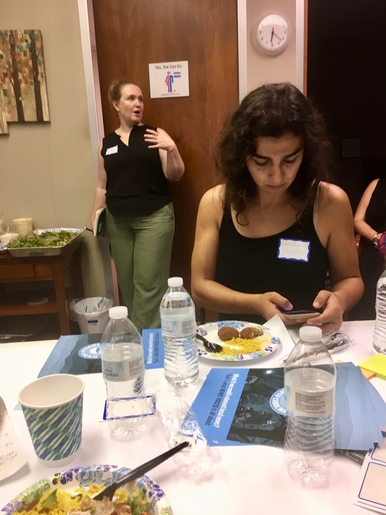 I walked into a nondescript brick office building on Albemarle Road last Thursday and into a tiny second-floor office where eight people arranged themselves uneasily around folding tables. Some were professional journalists, and familiar to me; a few others weren't. We were there to talk about how to rescue local news.
First, an exercise: The tables were covered in white easel paper and colored Sharpies. The group leader, a 42-year-old former reporter and Durham resident named Fiona Morgan, told us to draw on the paper our impressions of Charlotte's local news "ecosystem," whatever we imagined that to be. How does information flow from news outlets to consumers? Do the news outlets filter the news? Does important information get lost in the transfer? Are certain communities underrepresented, or not represented at all? That kind of thing. We were somehow supposed to illustrate this. Morgan informed us that artistic skill was not important, which was a relief, because I cannot draw.
I scribble-scratched out a loose arrangement of fuzzy blobs, each representing what I saw as various aspects of the local news industry: an aging, decaying tower with broken windows, signifying "traditional" media; a camper van emitting cotton candy and other substances, representing new, web-based media; and so on. The blobs barely touched. I imagined this to illustrate the fragmented markets for news, but in retrospect it might've just been the product of poorly executed blob placement. The others drew their own renderings, which were completely different. One woman drew a diagram of information flowing downhill and declining in quality as it descended. Big media outlets—newspapers, television, the big web aggregators—were at the top. She was at the bottom.
Morgan heads up an initiative called News Voices North Carolina, an attempt by the journalism advocacy group Free Press to counteract increasing corporate consolidation and the decay of local news staffs by connecting journalists to citizens whose concerns usually don't make it into coverage. The effort launched in April, and the meeting last week was part of a series of strategy sessions leading up to an August 26 public forum at Johnson C. Smith University. Morgan and News Voices' Charlotte-based organizer, Alicia Bell, are holding similar meetings in the Triangle area and other parts of the state—all designed to lay a foundation for local news to reinvent its relevance and, they hope, its financial sustainability.
News Voices North Carolina is only the second effort of its kind—the first kicked off in New Jersey in late 2015—and Morgan told me this week that she's still not sure where all this will go. Someone has to try, though, on behalf of the people who see themselves at the bottom of the hill.
"How are we going to have what we need? How are we going to support local journalism? We're in this crisis where we're losing local reporters all the time. We're also in this moment of a lot of opportunity and change," she said. "The Internet has made so many things possible that weren't before, and it's completely changed the way people interact and get and share information. So there are some bright spots, but there are the biggest gaps and the biggest opportunities, I think, at the local and state level."
The next #discussCLT event on August 17 will center on media—the tectonic changes in markets, products, and technologies over the last decade or so, and where the industry in Charlotte stands at a time when anyone with WiFi and a smartphone can function as an ad hoc news outlet. (There's that vexing "fake news" problem, too, the meaning of which has been warped beyond recognition via fake news itself. But we'll save that for the panel discussion.) This magazine's undergoing its own switch. Our editor for the past four-plus years, Michael Graff, will moderate the discussion on his next-to-last day on the job, then make way for new editor Kristen Wile, named yesterday. Our panel includes Glenn Burkins of QCityMetro, a web publication for an African-American readership that he founded in 2008; Burkins was at the News Voices meeting, too, along with former Observer columnist and Roll Call contributor Mary C. Curtis.
Charlotte, although it's been around in its current form since 1995, is a relatively new player on the local news scene. It's only been in the last few years that the magazine has begun to use its website as a home for timely news and perspective pieces that were impossible to pull off when it was only a monthly print magazine focused on entertainment and lifestyle coverage—a point Graff made during the most recent #discussCLT podcast.
This is not intended as a boast or self-advertisement—although, seriously, y'all, click here to subscribe—but to highlight how hard it is to get a handle these days on just what local news is, how it's best delivered, and who's willing to pay what for it. Some consumers might restrict their interest to what's happening in their neighborhood and consult Nextdoor four times a day. Others might be transplants from Rochester, New York, whose idea of local news remains the Democrat and Chronicle. Still others might care only about what happens with Charlotte-Mecklenburg Schools and share information via social media, ignoring the Observer, WFAE, and other local media outlets. Who knows exactly what "the market" wants? Does the market know what it wants?
News Voices aims to find out. Morgan spent seven years as a reporter for Independent Weekly (now Indy Week) in the Triangle, for part of that time covering media business and technology as a beat. Then she earned a master's degree in public policy at Duke and served a research fellowship studying "news deserts" in rural North Carolina communities. Morgan said she was surprised to discover citizens' hunger for local news that mattered, particularly coverage of government and big businesses whose actions directly affected their lives.
"They weren't just things that I personally cared about because I was a news nerd," she said. "They were things that people in the community cared a lot about because they understood the value and importance of local news, so they felt very invested in it."
There's a similar disconnect, she said, between different parts of North Carolina. The Triangle operates as its own news system, Charlotte is oriented at least in part toward South Carolina, and the far west has more in common with eastern Tennessee than the Sandhills. A more robust statewide system of local news outlets might help North Carolinians from all corners realize how much their separate civic issues, and they, have in common.
And if that happens, she said, consumers throughout the state could come to understand subscribing to local news as "a civic act akin to voting." (Although, voter turnout being what it is, that might not be an ideal goal.) She points to rises in contributions to National Public Radio, The New York Times, and other national media in the Trump era as an encouraging sign—even as she concedes that replicating that success over the long term and in small communities would be tough.
And yet Morgan remains hopeful. Citizens care more about local news than she would have thought before her research, she said. Maybe scarcity really does boost demand, in news as with any other commodity.
"It seems like now more than ever, it's really important to mobilize people around press freedom and the value and importance of local journalism," she said. "And it's also important for these conversations that are ongoing about the future of journalism start including the public. What I always say is that if only journalists care about the future of journalism, we're in really big trouble."