Cancer Survivor Finds a New Path in Honey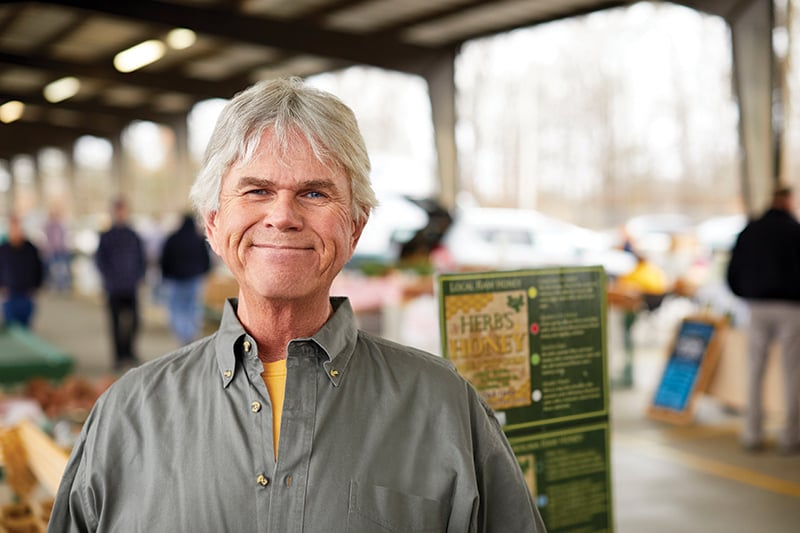 IT WOULD BE his first harvest of honey. John Herbert Caudle, new to beekeeping and excited at the prospect of extracting honey from the comb, checked on his two beehives. He looked inside the hive and was stunned.
All the bees were dead.
His enthusiasm exceeded his knowledge, he realized, so off to beekeeping school he went. That was seven years ago, and since then, Caudle's knowledge has caught up with his enthusiasm. He increased his hives to four. Success. Then 20. More success. Soon, his honey was such a hit with his family and friends that they persuaded Caudle to sell it at a local farmers' market, where it sold out quickly. And with that, Herb's Honey grew from a personal interest into a successful business.
Caudle produces raw honey, which isn't heated or mixed with corn syrup, like most processed honeys are. This allows his honey to retain its antibacterial and antimicrobial properties. Some natural health patients and practitioners believe that raw honey has health benefits, including wound treatment, allergy and sore throat relief, and skin-clearing properties.
It was honey's healing power that sparked Caudle's interest in beekeeping. In a way, it was honey that helped him through his own healing—from cancer.
***
IN 2009, Caudle and his wife LuAnn were on their way to a Shriners convention. She saw something on his neck that didn't look right. A lump. She mentioned it several times on the drive. At the event, others commented, as well. Caudle wasn't concerned, but when he returned home, he contacted a family friend who was a doctor, just to be safe. His friend took one look and told him, "You need to get that checked out."
Soon, it was a flurry of activity. A biopsy, a PET scan, surgery. Caudle alternated between frustration during the long waits between appointments and relief when unexpected openings materialized. "It was like I wasn't driving the bus," he says.
His diagnosis was Stage IV tonsil cancer, squamous cell carcinoma. It was aggressive, and his tumor was already the size of a golf ball. By the time of his surgery, the cancer had spread to his shoulder, sternum, and around his ear. One of his tonsils and a quarter of his tongue were removed.
Grueling months of chemo and radiation left Caudle much thinner, without hair, and with radiation burns from the chest up. Unable to sleep comfortably in bed, he began to sleep in his recliner, where he could breathe a little better.
One night in February 2010, something was different. At 2 a.m., still awake, Caudle tried to close the recliner but didn't have the strength. He couldn't even get up. He struggled to breathe. "I felt myself die," he says. "I told Jesus I know this is it." He was scared, but resigned.
Caudle was shocked to wake up the next morning. He was even more shocked to realize his breathing had improved and he had gained enough strength to close the recliner, loudly enough to wake LuAnn in another part of the house. That day, greeted by new health and energy, something else happened. He got a call from his niece that would change his life.
His niece knew Caudle's sense of taste had been affected by cancer treatments, making food taste horrible, "like metal or iron," he says. He resorted to covering almost everything in Texas Pete hot sauce or Tabasco. "Smothered and covered," he called it. He also ate Duke's mayonnaise by the spoonful, because "it was easy to get down."
His niece told him that some cancer patients find that eating honey straight from a hive helps them preserve their sense of taste. His wife's uncle and cousin had used honey while they underwent cancer treatment, he learned, and it helped them. Unfortunately, Caudle's taste was beyond saving, but their conversation sparked his interest in honey and the potential it offered others.
Caudle had become too sick to continue his job in landscaping, so he sought a new direction for his career and wondered if beekeeping might be it. He attended a Mecklenburg County Beekeepers Association meeting to learn more. That day, the group just happened to discuss the health benefits of honey, including preserving taste. Fascinated by the healing powers of this common sweetener, Caudle found his new path.
Keeping bees and producing honey is a complicated process, however. It's technical: learning where the hives should be located, how the bees should be cared for and fed. Beekeepers need to learn about the plants and flowers the bees will pollinate, and which nectar will affect the taste of the honey.
That first harvest, the one in which the bees died, did not go well. But Caudle learned the tricks of beekeeping, and soon his beekeeping evolved from mass casualties to strategic culling. The queen is the only one who breeds, and she can live for several years. Caudle finds queens most effective in the first year, however, after which he disposes of them. "I pinch the head off and leave it in the hive. The worker bees need to know that the queen is dead," he explains. He puts a new queen in a special screened box. One end is closed with a sugary seal. If the bees accept her, they will eat the sugar plug, releasing her.
Seven years into making honey, Caudle now has about 600 hives in locations around Mecklenburg County and five neighboring counties. He sells Herb's Honey at the Charlotte Regional Farmers Market, as well as more than 10 retailers, with plans to expand.
***
IT'S SATURDAY MORNING at the Charlotte Regional Farmers Market, and you might think they're talking about wine when you overhear conversations about "medium-sweet with a fresh berry taste" and "robust honey flavor and aroma." This, however, is the table for Herb's Honey, where Caudle and his daughters, Laura and Natalie, offer samples to customers as proof that this isn't their average honey.
Each weekend, Caudle and his daughters work this booth at the farmers' market. They display all seven kinds of honey they make, each with samples waiting to be tasted by curious passersby. The large sizes are in glass bottles and the smaller ones are in plastic. In keeping with the Caudles' natural, healthy philosophy, the plastic is BPA-free. A new product is on the table, creamed honey, which Caudle began after customers kept asking for it. "People asked for it all the time," Caudle says. So now the creamed honey—in cinnamon, coconut, and cocoa flavors—has joined the original line.
The Caudles relish the opportunity to tell new people about their product and what makes it special. Each of their varieties—with names such as Carolina Blonde and Queen City Gold—are more flavorful than processed, store-bought honey. But it's more than the flavor that brings people to this table. Many customers share Caudle's interest in the health benefits of raw honey.
About 75 percent of Herb's Honey's repeat customers buy the honey for allergy relief. Caudle works to maximize the health benefits: He now extracts honey four times a year, compared to most beekeepers, who do so once a year. Because each batch contains pollen from local plants in bloom at those particular times of year, the theory is that his honey offers a seasonal immunotherapy effect.
Herb's Honey has evolved from a personal interest into a family business. LuAnn, Laura, and Natalie are integral to the operation. Laura's husband left his job as a mechanic to help run the business. The family's interest in the honey is more than professional, however. Now that each family member takes a daily dose of Herb's Honey, they no longer require the daily allergy medicine they all used to take.
***
ON JULY 21, 2015, Caudle and LuAnn sat in the oncologist's office, anxiously awaiting the results of the tests he had the previous week. It had been like this every time they awaited the PET scan results. So much depended on what the doctor would reveal to them.
So far, Caudle had been in remission, but it was nerve-wracking not knowing if good news would come once again. This time was even more meaningful than before: It was the five-year mark, an important medical milestone. As the doctor came in, the Caudles prayed for the best.
The doctor informed them there were no detectable cancer cells, for the fifth consecutive year. "I have great news," he said. "I don't need to see you anymore."
"It's all part of God's plan," Caudle says. By "all," he doesn't mean just his recovery. He means how honey has become a conduit for a new livelihood, for spreading knowledge, encouragement, and a product that people have embraced for their own health.