Capture the Moment
A local photographer shares her thoughts on the importance of family photos and offers some tips for setting up a shoot at home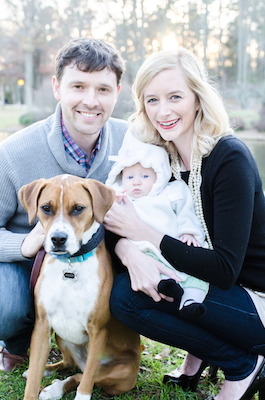 Photographer Cathy Durig moved to the Charlotte area a little more than two years ago. She now lives in Davidson and operates Cathy Durig Photography. She took time this week to speak with us about the importance of taking family photos, some of her favorite locations for photo shoots, and some tips for those who want to capture a family photo at home this holiday season. (Answers have been edited for clarity and brevity.)
Q: In an age where people chronicle every move with their iPhones, why is a scheduled photo session important?
A: People see it as somewhat threatening to the business. I don't see that at all. I love that people are coming into photography, but there is something to be said for a professional photographer taking a family picture. From a professional standpoint, there's something to be said of the difference in taking a photo with an iPhone versus using $4,000 worth of equipment for one photo. A lot of my photography, it's more moments captured than still shots where people are posing. You need that professional photography to capture that moment where a simple camera phone won't do it justice.
Q: So a professional photographer offers a different perspective, too?
A: That's the art of it. Professional photographers capture the moment; that's what I've been trying to master for quite some time. Once you get that moment, you know and you know they're going to know. The first part of every family photo session is awkward; they don't know what to do. I ask everyone to fake laugh, and everyone ends up laughing after the fake laugh.
Q: Why are the holidays a good time to take a family photo? Or what makes people think of doing it this time of year?
A: I think people forget to take family photos; they get caught up in the season. You have Thanksgiving, and all of a sudden it's Christmas. People get caught up in all the material things and forget to capture that moment. My family took a lot of photos, and I wish we had taken more.
Q: When thinking of a location or style for a photo, what should people consider?
A: I love Freedom Park. It's so open. Among photographers, it's an unspoken rule that we have our own favorite parts around the park. The backdrop is gorgeous. Between 3 p.m. and 5 p.m. this time of year, it's gorgeous. There's the canopy of trees, but the open spot where the lake is is stunning. You get a great reflection off the lake. It's something that people just don't think about. People aren't going to say, Oh my gosh, my face looks so good with the reflection off the lake, but as a photographer you think about that. … It's not crowded, and it offers a multitude of different backdrops and accommodates all sorts of different styles. Freedom Park is my go-to, and I know it is for other photographers, too.
Also, Davidson College is really pretty. At this point, there's not much foliage on the trees, but the brick buildings are stunning. The campus in general is just a gorgeous backdrop. The lighting isn't harsh; there's decent shade. Davis General Store is more of the rustic look, and it's fun, too.
Q: If someone doesn't have the time or resources to schedule a professional photo session during the holidays this year, do you have any tips for taking a family photo at home?
A: Assuming that they have some sort of camera, some form of a DSLR (or digital single lens reflex), such as a Nikon or Canon, the best time to do it at home is to actually do it inside. People decorate their homes all the time. I did a shoot on Sunday, and we started at Freedom Park and then moved into their home with the Christmas tree and fireplace going. It's all about the lighting. Open up as many windows as possible, but the best backdrop is your Christmas tree or fireplace. I would recommend bringing some sort of props, reading a family book on the couch, or some sort of memento to remember that moment. That's what the professionals do is find the details. Set up a timer on the camera and take a few shots. It's all about making it personal, too.