Carolina Panthers Primetime Draft Party Thursday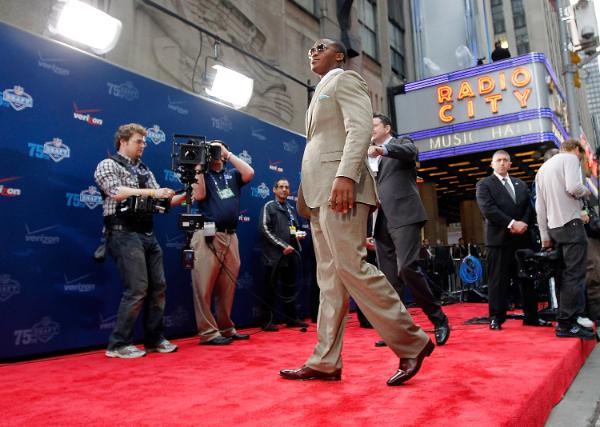 The anticipation has been building for months since the Carolina Panthers finished the season with the league's worst record, and therefore were granted the first pick in the 2011 NFL Draft. Now that the moment is upon us, will they choose Cam Newton, Nick Fairley, Da'Quan Bowers, A.J. Green, or trade the pick? As the Panthers keep you in suspense, the team invites you to come celebrate this historic moment at their Primetime Draft Party this Thursday at Bank of America Stadium, while the first round of the nationally televised NFL Draft takes place.
Presented by Bud Light, the draft party will go from 5:30-10 p.m. and admission is free. The first round of the draft will be shown live on large LED screens outside of the stadium's South Gate off Morehead Street and on the PantherVision screens inside the stadium bowl. After the Panthers make their first-round selection, country recording artist and North Carolina native Jason Michael Carroll will perform a concert at the South Gate.
Fans also will have access to areas of the stadium not typically open to the public. Tours of the Panthers team locker room will be offered, and fans can go on the playing field to participate in the Primetime Kids' Combine, featuring activities like field goal kicks, quarterback/wide receiver challenge, and more. Additional entertainment will include a performance by the Voltage Brothers, appearances by the TopCats and Sir Purr, interactive games, and a question-and-answer session with Panthers play-by-play announcer Mick Mixon. Food and drinks will be available for purchase.
Click here to see the full schedule of events for the evening. Bank of America Stadium, 800 S. Mint St., panthers.com