Casino Night with NFL Stars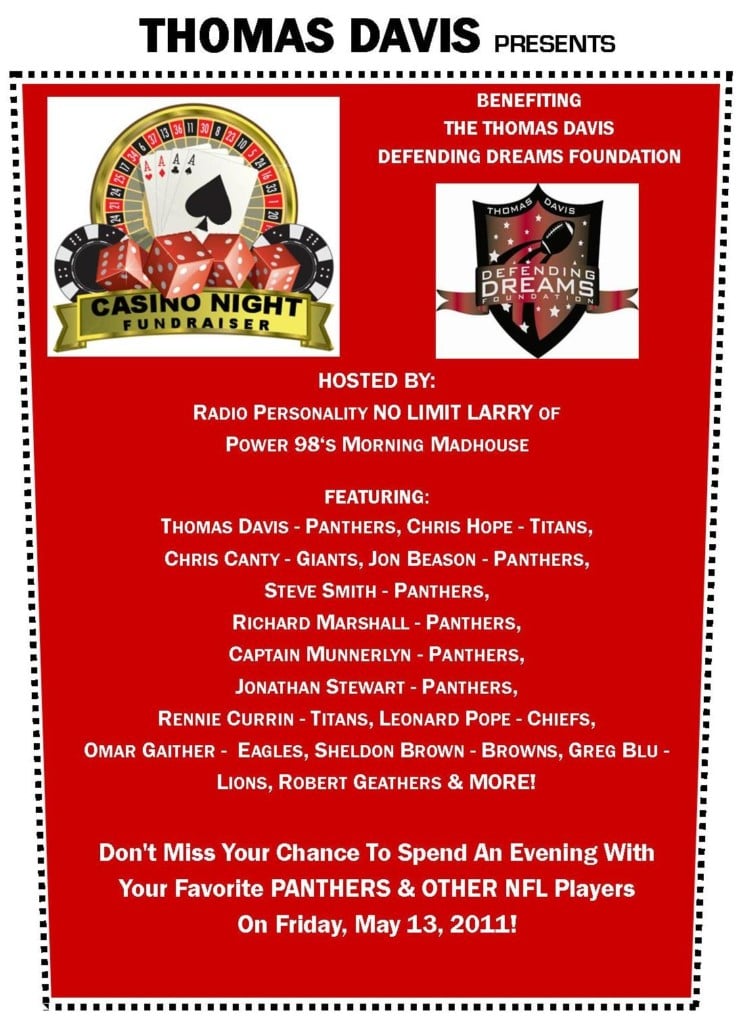 Carolina Panthers linebacker Thomas Davis is presenting A Night in Vegas with his NFL friends. But you won't have to go far because the event is this Friday night (May 13) in Charlotte. The Vegas-themed party is part of a weekend of events Davis's foundation, the Thomas Davis Defending Dreams Foundation, is holding to raise money to support its youth programs.
The event takes place at Extravaganza Depot, 1610 N. Tryon St., which is a great location for themed parties because the venue specializes in that sort of thing. The night will be divided into two parts: games—blackjack, poker, etc.—from 8:30 p.m. to 11 p.m., and the after-party from 11 p.m. to 2 a.m. Admission is $20 in advance, and that comes with $1,000 in play money—gamers can purchase additional play money, but no real money will be used in the games. There will be a cash bar. Click here to purchase tickets in advance.
Davis has assembled a good group of NFL players for the Night in Vegas: fellow Panthers Jon Beason, Steve Smith, Jonathan Stewart, Captain Munnerlyn, and more as well as Chris Hope from the Titans. Chris Canty from the Giants, Sheldon Brown from the Browns, and others. For more information on this and the other charity events the Thomas Davis Defending Dreams Foundation is holding this weekend, including a free, one-day football camp Saturday for kids ages eight to 14, go to defendingdreams.org.