CAST revisits Tuna, Texas
Director Charles LaBorde tells us about the holiday tomfoolery in a small town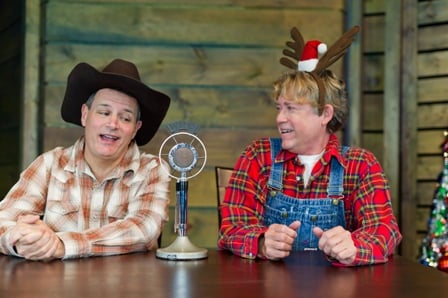 I never had Dr. Charles LaBorde as a teacher at West Charlotte, but back in the day (the early 1980s) he was the legendary drama teacher at what was then a legendary high school. Dr. LaBorde has gone on to be one of Charlotte's theater stalwarts as both an actor and director. Last month, he directed One Flew Over The Cuckoo's Nest for Theatre Charlotte. Proving he has extraordinary range, he's back this month with a play that couldn't be more different from his last project.
In A Tuna Christmas, radio station OKKK on-air personalities Thurston Wheelis and Arles Struvie report on the Yuletide activities in the tiny town of Tuna, Texas. The annual lawn display contest is what passes for big news in these parts. That is until a spaceship lands on Christmas Eve. The town, full of eccentric characters who bear a striking resemblance to one another, is atwitter.
Two actors play twenty-one characters, which — as you might imagine — adds to the zaniness of the enterprise. The play runs at CAST in NoDa from Nov 25-Dec 24. Find out more. Dr. LaBorde talked to us about Christmas in small-town Texas and trying to keep it all straight.
Charlotte magazine: What made you want to direct this show? It's crazy, and it must be tough for the two actors who have to play 21 different parts.
Charles LaBorde: This is my third time around doing A Tuna Christmas for CAST. As a native Texan, I felt a particular affinity for the material when Michael R. Simmons first asked me to direct it several years ago. Despite the fact that it is a crazy farce, there is a lot of truth in the play and I've known (and even been related to) people very much like the characters in this play.
CM: Is it tough for the audience to keep up with who's who? Heck, it may even be tough for the actors to keep up with which part they're playing.
CL: It is surprisingly easy for the audience to follow who is who — with the actors using different walks and voices. And the costumes and wigs give the audience a lot of help in keeping the characters, genders, and ages straight. And, yes, it is often tough for the actors to keep things straight in their heads. Often, they run off stage for a change and know who comes next only when they see what costumes the dressers have put them in. Thank goodness the stage manager and her dressers never lose track of where we are and who is entering the stage next.
CM: It's always fun to see what CAST has done with the lobby, the ticket booth, the tickets, and the ushers' costumes to go along with the theme of the play. Any chance you're willing to give a hint about what you're doing to transform the place into Tuna, Texas?
CL: There is distinct country atmosphere to the lobby. Anyone from Texas or rural anywhere will feel right at home. And, of course, we are ready for Christmas, so holiday decorations with a Texas flair are in order.
CM: Do you think someone needs to have seen Greater Tuna in order to fully appreciate the sequel?
CL: Each play stands on its own. This is actually the second of four plays set in Tuna, Texas (the other two deal with the Fourth of July and a side-trip to Las Vegas). While all the shows are fun, this one is the most often performed and is guaranteed to put anyone who sees it into the holiday spirit.
CM: Has CAST performed either of these Tuna plays before? What's been the reaction?
CL: This is the fifth time in six years that CAST has done A Tuna Christmas. Audience response has always been very positive with a lot of belly laughs at the nonsense. This year we are doing it in our own space for the first time, and we are taking advantage of the closeness of the audience to involve them more than ever in the action. Don't be surprised if the actors get you to help them with a prop or two or make you one of their many friends who drop in to Tuna, Texas, at Christmastime. And, please keep your legs away from Fresno, the invisible dog.
CM: Is there a Christmas message somewhere in the madness? Or, is this show purely for fun?
CL: Surprisingly, the play does have a positive message about the importance of love in everyone's life during the holiday season. The people you meet in Tuna, Texas, are good, everyday people with the all-too-familiar problems of ordinary life, but rest assured, that all turns out well in the end. After all, it is a comedy.
CM: Anything else audiences should know about this show?
CL: If [people] have seen the show before, either by CAST or some other theater company, they will get a totally new feel from this intimate, audience-centered, and audience-involved production. It is a new take on a wonderful, familiar comic masterpiece.