Catching up with Jill Dahan
The Cornelius resident, cookbook author, and mother continues to promote the benefits of clean eating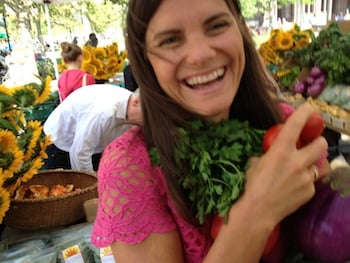 Jill Dahan's clean-eating quest began as a mother's attempt to improve her sons' health. When one of her sons was diagnosed with cystic acne and then another with a rare form of cancer, she researched the benefits of food in combating those health issues. She found that a diet full of fresh, unprocessed foods could improve not only the health of her children, but also of her and her husband. It's not a cure, but it's a start.
In an effort to share her story and encourage others to get in the kitchen and make some meals from scratch, Dahan published a cookbook called Starting Fresh! in 2013. The book includes a list of basics for restocking shelves with health in mind: coconut sugar and grade-B maple syrup instead of white sugar; spinach and fresh greens instead of a head of iceberg; and all-natural flavor boosters like herbs, balsamic vinegar, and tahini.
All proceeds from the cookbook (which costs $29.95) benefit Boston Children's Hospital, where Dahan's son has received treatment. To date, Dahan has raised about $30,000 through cookbook sales.
A couple of weeks ago, her efforts earned her an invitation to the Woodmark Children's Forum. The invitation-only event in Washington, DC, brings together 26 children's hospitals and their guests to examine the impact of philanthropy on children's health. First Lady Michelle Obama was one of the speakers.
"There were a lot of people who have been touched, like us, by childhood diseases," Dahan says. "But there were a number of people who have never been touched by it … [and] have given selflessly to help other children and families."
Dahan is currently completing an integrative-medicine program through Duke University. She is also working with a nonprofit called Joey's Wings, which supports research, advocacy, and education efforts for childhood cancer. She uses her culinary experience to raise funds and increase nutritional knowledge by putting on cooking demos and classes.
"It's affordable food that you can do quickly, and it's good for you," she says.
Dahan's website, jilldahan.com, has recipes for snacks, sides, and main dishes. It also has a list of her appearances, including stops at local farmers markets. For those who would like to set up a cooking class or demo with Dahan, contact her here.