Catching Up with Zero/Zero
In January 2009, writer Jeremy Markovich profiled Trevor Thomas, a blind man from Charlotte who through-hiked the Appalachian Trail. Since then, Thomas's life has changed course dramatically, and he's now hiking the grueling Pacific Crest Trail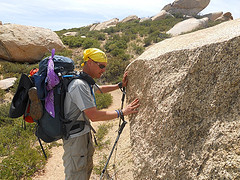 Nobody really thought about it because it seemed like such a shallow detail, but somewhere in the deserts of Southern California, Trevor Thomas and his team realized their error. They were cooking in their dark-colored clothes. In their months of preparation for the Pacific Crest Trail, nobody ever took into account that dark shirts and shorts would be more than an inconvenience under the sweltering sun. Instead, they would be unbearable. For one of the first times since Thomas became blind, he realized how important color could be.
As of this writing, Thomas is a long way from his home in Charlotte. He's resting for a day in Big Bear, California, in the house of a friend he met on the PCT. His teammates are busy uploading blog posts, videos, and pictures, doing laundry, and swapping out gear. Thomas is trying to find a way to get one of his sponsors to send him and his team some lighter-colored clothing. In just a few hundred miles of trail, he's been through temperatures as high as 100 and as low as 5, all in just a four-day span. He's dodged forest fires and fallen down ice faces, and he still has more than 2,000 miles to go.
This is the new life for Thomas, forty. Six years ago, he started out depressed as he slowly slipped into blindness, but he ended up with a career that few, if any, other people, sighted or otherwise, can lay claim to: professional long-distance hiker. He's better known in hiking circles as Zero/Zero because of his eyesight, or lack of it. The little peripheral vision he had when he through-hiked the 2,175-mile Appalachian Trail is gone.
"The AT is like grammar school," he says. "The PCT is like college." More people have summited Mount Everest than hiked the PCT end to end. It starts at the Mexican border and unfurls along the rocky backbone of California, Oregon, and Washington before ending at the forty-ninth parallel. It is steeper and longer and more treacherous than the Appalachian Trail. "The AT, you could find a town every six, seven days," says Trevor. "We've got stretches on the PCT where we're gonna go 200 miles and there's nothing. I mean, not even a crossroad." He and three others, self-named Team Farsight, have to carry more food and more water, because water sources are unreliable at best. "We're sacrificing comfort for survivability," Thomas says.
The PCT runs straight through deserts and over the tops of 14,000-foot peaks. He says it took his team four days to make their way over a single peak in the San Jacinto Mountains. At one point on Fuller Ridge, snow and ice kept him and his team from going forward or retreating. "I was happy as hell to get off that mountain," he says.
Thomas will be the first to tell you that he hiked the Appalachian Trail for himself. The PCT is different. He's trying to prove to others that blindness is not a handicap; it's just part of who you are. He finished law school but failed the bar. Instead, he's been telling his story to anyone who wants to hear it. He's spoken at Bank of America. He's talked to the Lions Club. The underlying message, to inspire people and help them reach their full potential, is always the same, even if the presentation changes. "If I talk to a Boy Scout group, I know for a fact that I need to concentrate on bear attacks," he says.
Trevor was a marketer in his sighted life and now he's a marketer again, selling himself, his blindness, and his story to eek out a career as a motivational speaker, a fundraiser for charities, and a professional hiker. It's only that last title that some people have a problem with. This latest expedition is highly commercial, with sponsors and gear companies agreeing to help fund Team Farsight in return for reviews and mentions of their products. A footwear company wants Trevor to help design his own hiking shoe, which he'd like to see named the Zero/Zero. That's led to a few negative comments online. "I know there are going to be some purists that are not going to be happy with me," says Thomas about his professional status, "simply because I've done something that they can't do."
Still, he says he's happier now than he's ever been. Because of his team, falls are less frequent. Because of his gear, the aches and pains of long-distance hiking are less severe. And because of what he accomplished on the AT, his one-time disability is now an inspiration. "What I'm doing has a purpose," he says. Even a blind man can see that.
Follow Team Farsight: